treocentral.com >> Products & Reviews >> Software
CitySync
Paper competition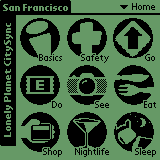 In most instances, I think I would still prefer the paperback versions of the guides. There is more information (including the Staten Island Ferry tidbit in the paper new York Guide, a comprehensive list of theaters in the Chicago guide, etc.), a slew of full color maps, and you have the ability to thumb through each guide easily. And, of course,  paperbacks are only about 15 bucks a pop. However, the trend in recent guidebooks is to give a history lesson. In that sense, the electronic guides are less verbose, thankfully, and electronic searching and organizing is a big plus. Did I mention the bookmark feature? Or the ability to take notes on the handheld?  Those are both very nice.
Conclusion
All, in all though, the guides are quite wonderful – presenting me with really useful information. Clear, concise and well organized. Supplementing them with a real map may be all you need.
Note: Springboard module with cities coming in August. But why you'd need it, I have no idea. The CD ROM (or downloading) seems just dandy. Maybe it's the approx. 2MB the 4 cities take up. But I got 8, count em, 8 whole MEGABYTES and I'm not out yet!



Criteria

Rating

Content
4
Organization
4
Usability
4
Installation
3
Overall
(not an average)

Pros
- Extensive
- Easy to navigate
- Fun to read
- Demo version available

Cons
- Maps are hard to read
- A bit pricey at $49.95 for 5 cities ($19.95 for one)
- Some surprising omissions
- Searching is sometimes a bit slow
Copyright 1999-2016 TreoCentral. All rights reserved : Terms of Use : Privacy Policy

TREO and TreoCentral are trademarks or registered trademarks of palm, Inc. in the United States and other countries;
the TreoCentral mark and domain name are used under license from palm, Inc.
The views expressed on this website are solely those of the proprietor, or
contributors to the site, and do not necessarily reflect the views of palm, Inc.
Read Merciful by Casey Adolfsson