treocentral.com >> Products & Reviews >> Software
TCPMP
Overview

Move Over iPod. Step aside Kinoma

Ever want to play the latest episode of ďCurb Your EnthusiasmĒ while driving down the street like Larry David in that new Toyota Prius? Or maybe watch ĎAirplaneí on your flight to Denver? There are a few options for you to check out, but before empty your wallet on that new iPod Video 30GB model, you may just want to check out this nifty little open source free media player for your Treo 650 or 700w.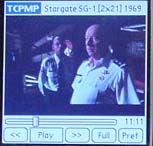 The Core Pocket Media Player (TCPMP) is a stand-alone audio and video media player for both the PalmOS and Windows Mobile platforms, making it ideal for both the Treo 650 and Treo 700. Playing almost every format of video file in the known universe isnít bad either.

The Core Pocket Media Player Features


Video playback for most common video file types.

Easy to use video controls, like a VCR!

Plays files from anywhere on an SD card.

A/V Controls

Plays MP3s too!


TCPMP has a pretty cool and logical interface, albeit with some drawbacks. Itís an open source product, so give it a try and see for yourself that you really can watch full movies on a Treo! It wonít cost you a cent.

Created by a few over-caffeinated, perhaps under medicated guys in Hungary, TCPMP is a fully-fledged audio/video player for most PalmOS (and Windows CE) devices. Supporting almost every video encapsulation known to humankind, it kicks the new iPod Video in the butt for compatibility with your existing media library. Weighing in at only 627K, TCPMP also works as a handy MP3 player, though its playlist configuration leaves much to be desired.

The Ins & Outs:

TCPMP is a fantastic tool for playing almost any video on your Treo. Compared to the commercial Kinoma, itís like checkers and chess. While Kinoma requires you to convert your existing library to its own native format, TCPMP lets you play almost any AVI, MPEG, MP4, Ogg Media, or ASF file, and it even plays Matroska media files (a big plus for anyone with a library of Japanese animation).

Even the new iPod Video locks you into two formats MPEG-4 and H.264. Either way, you are looking at converting most of your entire video library to use on the go, which for some of us would take a very long time.

The only downfall, which is more of a Treo issue than a problem with the software, is data space. The current Treo can only use up to 2gb SD cards: higher volume cards are not supported at all. This means that when those road-mapped 32GB cards come out, you wonít be able to use them for your videos (unless someone figures out a workaround). So, if you need to carry around 30GB of video on you at all times either stock up on SD cards or pass on this option.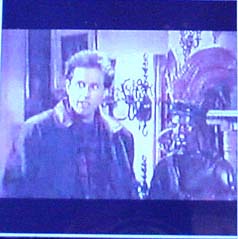 TCMPM does allow for playlist configuration, however you canít save your playlist once made, or keep multiple playlists as you can on other media players like Busker or PockeTunes.

With TCMPM, playlists are kept in memory until you make a new one. Each time you select ďopen filesĒ, you can check multiple files to play (tick the little square boxes to the left of the filenames) and TCPMP will keep these in memory as a playlist. Your playlist will remain in memory even if you reset your Treo, or change the battery, which is, of course, a big plus.

Unfortunately, each time you want to make a new playlist youíll lose your old one. This is more irritating than problematic, as it is time consuming to make a video playlist, and swap it for an audio playlist.

TCPMP does let you access any directory on your SD card through a hierarchical menu structure, so if you place your videos in one folder, and sort your songs (by artist, or in folders full of ďplaylistsĒ) you can avoid some of the extra work to switch between them.

Comparing TCPMP to programs like PockeTunes isnít really a fair contrast: While TCPMP does play audio files such as MP3 and Ogg, it does not have a built in equalizer or cross fader that most commercial apps have. It does allow for a choice of audio output formats like mono, stereo, reverse stereo, etc., but does not really have a lot of flexibility for audio configuration. Then again, itís meant mainly as a video player, so this is an acceptable trade-off and you sure canít beat its price.


The Nitty Gritty


Video controls on TCPMP are straightforward. You get a ĎPlayí button, which also functions as a stop button. Tapping the screen will also pause the video, though you still have to tap ĎPlayí to resume. Other buttons are ĎFullí which makes the video play full screen; as the upper menu and title vanish along with the lower controls. ĎPrefí brings up preferences, which let you control the volume, video display, and speed and shuffle settings.

There is a time slider, with a digital time display and two arrow buttons, which move you back and forth through your playlist. Unfortunately, those little arrow buttons are the only control you have over selecting a video or song from your playlist. Dynamic selection from a playlist menu (ala PockeTunes or Busker) isnít available. I hope the developers address this little issue soon.

There is also an included benchmarking utility, which is built right into TCPMP. Iíve yet to find a use of it, but if you want to know just how well TCPMP performs on your Treo, itís there. On the developerís website is a comparison chart showing benchmarks on various PalmOS and Windows CE devices if you want to see where you stand.

The truly remarkable thing about this little marvel is its file size: only 627k! It must be the smallest media player Iíve ever seen, and it can run standalone from a SD card. (Which means you donít need to put it in the Treoís limited internal memory if you donít want to: you can have it on the same SD card as your videos!)

Video play is smooth as silk. Every video Iíve played has been clean and free of jitter or glitches. This was initially shocking, as Iíve experienced portable video players before and would never had expected a 350MB video file of ďStargate SG-1Ē to play as if I were watching it on Satellite TV! This is how perfect the video playback is with TCPMP.

What to do when you have a video larger than 2GB you ask? Well, there are a few ways to work around this problem. There are many video splitters and shrinking tools out there to meet your needs. Most videos you record from TV will be less than 400MB, if even 100MB so this should not be a concern for most people.

Another little trick Iíve used is to connect my Treo to my car stereo and listen to the audio of TV programs and movies while I drive. All you need is a cassette adapter or an FM transmitter and a jack converter (3.5mm to 2.5mm) to plug into the Treoís little earpiece jack, and you are set to go. This is great for road trips, and does wonders for the battery life of my iBook.

Speaking of battery usage, I have not noticed any significant drain on my Treoís battery from running TCMPM, so if you want to run an hour or two of video a day on your Treo, I donít foresee battery life issues. You may want to keep a car charger or spare battery handy though, just in case.


Conclusion >>



Copyright 1999-2016 TreoCentral. All rights reserved : Terms of Use : Privacy Policy

TREO and TreoCentral are trademarks or registered trademarks of palm, Inc. in the United States and other countries;
the TreoCentral mark and domain name are used under license from palm, Inc.
The views expressed on this website are solely those of the proprietor, or
contributors to the site, and do not necessarily reflect the views of palm, Inc.
Read Merciful by Casey Adolfsson