treocentral.com >> Products & Reviews >> Software
ThinkOutside Boomtube H201
Overview

ThinkOutside's Boomtube H201 three piece portable speaker system unquestionably has a "wow cool" visual and physical impact. Let's examine its layout, ergonomics and controls, and then get into what really counts in a speaker system: how it sounds, and what they did right, what they did wrong, and some suggestions to make it better.

When the rubber meets the road, when it comes to loudspeakers, you can throw everything else away and ask "how do they sound?" Because no matter how cool a speaker system looks, sound is all that really matters.

The Boomtube ("BT") is a 40 watt (20 watts RMS per channel) self-amplified three piece, aluminum body, cylindrical speaker system, with a big honkin' L-ion battery in it for portability. About a foot long, and just shy of 3" in diameter, tipping the scales at a little under 4 pounds, it's compact, stylish, relatively quick to set up or tear down to pack away and carry around.

The good news is that everything you need is in the box. The BT system, all the cables, AC adapter, Treo jack converter, heavy duty black rip stop nylon carrying case, and a quick start paper guide. No CD, no software drivers, this is purely a powered, portable speaker system, no more, no less.

You'll find something else in the box that's good for a giggle. Looking for all the world like a suppository, a 2" long smooth plastic cylinder with a sticker on it that says "For your neighbors" separates to reveal two squishy blue plastic earplugs. The implication of this trinket is that this system is so loud and powerful, that it'll get you evicted. Cute, but let's not stretch it, folks.

More cuteness sprang from its moniker "H201", and what is that? Water. Hello? Why name this speaker system "water"? I quizzed ThinkOutside's marketing VP as to how they came up with a wet model name for a speaker system that is neither waterproof, nor water-resistant, and his explanation was something along the lines of "Well, it's tubular, you see, like tubular, dude, gnarly, surfers, surfing, water. Get it?" Umm.. okay, if you say so. ThinkOutside has a sense of humor, but their talents would have been put to better use putting more boom into this tube.

So this is a ready to rock'n'roll right out of the box system. You don't need to buy any other accessories which is always a plus, but with a frequency response rating of 50 Hz to 20 kHz, the low low bass its name implies simply isn't there, and all the marketing gimmickry in the world can't overcome the rules of physics and speaker design. Don't get me wrong; this IS a good-sounding speaker system. It doesn't sound cheap or shrill or honky. It really shines in many ways, but thunderous low bass reproduction is not one of them.


Usability


If you stay on top of jungle of consumer electronics, the Boomtube might look familiar to you. It's a re-badge job of the Boomtube EX system from the defunct Virgin Electronics. Only the logo and packaging has changed.

This is in no way a Treo-specific speaker system. You can cable it to anything that has an audio-out jack, whether standard stereo mini-jack (3.5mm) or with the included adapter, a 2.5mm phone jack. Treo, laptop, any MP3 player you can name, Walkman, iPod, whatever. It sounds a hundred times better than the horrible, tinny and shrill 1" NoFi speakers built into most laptops. When you're not toting it around to a backyard party, the beach, a friend's house, or even using it on your car seat, if your ride has a lousy sound system, you'll probably want to use it at home with your laptop or desktop system.

Two sweet-sounding satellite speakers, about the size of a can of soup chopped in half, securely mate with and quickly twist off or back onto each end of the central subwoofer section and connect to it with their included one meter, thin wire cables that terminate on both ends with male RCA connectors. This is good, since if you ever accidentally lose either cable, they're easily replaced at any Radio Shack or similar store for a couple bucks. Another included cable with a male stereo mini-jack on each end runs from the central tube to your sound source. An AC wall wart supplies power to the amps and charges the beefy internal L-ion battery to full in 2-3 hours. The LED around the power button blinks while the battery charges and goes off to let you know it's fully charged. In all its color modes, the LED is just the right intensity, bright enough to see but not so bright as to be annoying.

Build quality is excellent. Nothing about the Boomtube feels flimsy or fragile, thanks to its high quality aluminum casing.

Although it separates into three pieces, this is a four speaker system. All four are identical 2" aluminum coned drivers. The satellite speakers' cones, which are extremely directional, are mounted in their enclosures face out. The speakers built into both ends of the central sub section face in, supplying what ThinkOutside calls "MaxxBass", whatever that means. All three aluminum pieces, while round, have squat plastic feet to prevent them from rolling around when set on a flat surface.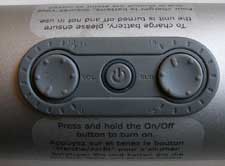 Atop the central subwoofer are the system's only controls, two flat, round knobs or pots (potentiometers) one for overall volume, one for subwoofer oomph, and between them, the power button, ringed with an LED that changes colors (green, amber, and red) depending on what state the system is in: plugged into AC power, unplugged and running off its battery, low battery, really low hey my battery's almost out of juice, or plugged in and charging.

ThinkOutside claims the battery's good for five hours of unplugged battery-powered portable listening. This is really impossible to benchmark, because a full battery charge's life is going to vary wildly depending on if you're softly playing Chopin etudes at your garden tea party, or blasting Metallica at a friend's house. In my non-scientific tests with a wildly diverse selection of music, and spoken word audio, I could get anywhere from 2 to 10 hours of use before the battery gave out, so five hours is an average. Luckily, there's room in the system's carrying case for the AC adaptor, so plan to take it with you when you take the system away from home to use somewhere else.

Unlike most any portable you-name-it with an internal battery, the BT's battery charges only when the system is plugged into AC and turned OFF, so you can either listen or charge, but not both at the same time. Two tri-language stickers flanking the controls remind you to press and hold the central button to turn it on, and that charging only happens when the unit is plugged in and powered off.

The designers got cutesy with the volume knob, as it's marked from 0-11. This is, of course, sheer marketing hype. Although the flat knob has raised bumps on it, and it's easier to turn by pressing and twisting it with your fingertip than trying to grasp it with thumb and forefinger, there are no detents and the knob is solid gray, lacking a white pointer, so if you really care where it's set on the 0-11 scale, you have to get up close and eyeball it. The same goes for the subwoofer knob which is marked from -5 to +5 with no detents, and no white pointer to easily see where it's set. But this really isn't important. Just twiddle the knobs until you get the volume and bass you want.

So how does it sound? >>



Copyright 1999-2016 TreoCentral. All rights reserved : Terms of Use : Privacy Policy

TREO and TreoCentral are trademarks or registered trademarks of palm, Inc. in the United States and other countries;
the TreoCentral mark and domain name are used under license from palm, Inc.
The views expressed on this website are solely those of the proprietor, or
contributors to the site, and do not necessarily reflect the views of palm, Inc.
Read Merciful by Casey Adolfsson