treocentral.com >> Stories >> Special Reports
The 411 on the 2006 CTIA Wireless Show
The numbers tell an interesting story


On the first day, Steve Largent, the president and CEO of CTIA -The Wireless Association announced that 25.7 million new wireless subscribers were added in calendar year 2005. To put that in perspective, he said that was like having the entire population of Texas becomes new subscribers all in one year! As of year-end 2005, the total number of wireless customers in the U.S. was an astounding 207.9 million (a 14.2% increase over last year). Largent also announced that the annual data revenue was quickly approaching $9 billion, with nearly 49 billion text-messages sent in the last six months of 2005 alone. And 1.5 trillion wireless minutes were consumed.


Billions and billions



Speaking of billions, in the Third Annual Mobile Entertainment Awards (Mobies) announcement by CNET Networks Games & Entertainment it was stated that analysts are forecasting mobile phone content, including music, gaming, and video, will reach $43 billion worldwide by 2010. This is up from just 5.2 billion in 2004.

These numbers are huge… HUGE! So huge, it's hard to put in perspective. Needless to say, many companies have recognized the market potential of what Mr. Largent is calling the "third screen" and that's why there were so many announcements last week.

"Mobile devices are quickly becoming the 'third screen' for consumer awareness and lifestyle, following TV and the PC, as evidenced by the many innovative services, applications and devices revealed at this year's show" – Steve Largent

And the Winners Are…

Along with the Mobies, CTIA was also a stage for recognizing accomplishments in the category of "emerging technology." The Wireless Emerging Technology (E-Tech) awards were announced during the show and Palm won first place in the Smartphone/PDA category with the Treo 700w. Samsung won "Best of Show" for their T509 camera phone. Read more here.


Content is King.


There were a lot of announcements regarding content for cell phones. Here are just a few examples.

Atom Entertainment, and Verizon Wireless, announced a multi-year exclusive agreement to bring AtomFilms® original short-form entertainment to V CAST customers. An AtomFilms mobile video channel will debut in May as part of V CAST's basic entertainment programming. This exclusive deal with Verizon Wireless marks the first time AtomFilms' bite-sized entertainment content – ideally suited for on-demand digital distribution – will be widely available to consumers on mobile phones. AtomFilms also recently launched AtomFilms To Go™, a new section of its award-winning Web site that makes content available on portable devices.



Heavy.com, the provider of digital entertainment, including original series, extreme sports live-action clips and pop culture spoofs, the hottest sketch comedy and viral videos, announced a deal with Verizon to provide their original programming exclusively to Verizon Wireless's V CAST phones.

Real Networks announced the addition of two new mobile games to its growing library of mobile titles. Gorillaz Entertainment System (GES), the eagerly-awaited animated game, will be launching on carriers worldwide later this month, while The Apprentice title will be rolling out to U.S. carriers in May and to European carriers later this fall.




SEGA of America has partnered with PlayPhone to create a SEGA Mobile™ content channel for mobile phone users in North America. Under the terms of the agreement, SEGA of America, Inc. will leverage PlayPhone's online and mobile storefront to market and distribute its premier and legacy mobile games directly to end users via Premium SMS billing with major North American carriers.


Third Screen Becomes Third Place – A Community




Community sites were active too. MySpace, the leading lifestyle portal and social networking community announced a deal with Cingular, making Cingular's Mobile Music Studio available exclusively on MySpace.

Cingular's Mobile Music Studio is a first-of-its-kind platform that offers hundreds of thousands of unsigned artists and bands on MySpace the tools needed to turn their self-produced music into ringtones.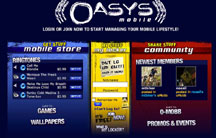 Oasys Mobile, a leading provider of premium mobile media content, products and services, announced that a new "Mobile Community" section has been added to its popular OasysMobile.com portal to let teens and young adults manage their mobile lifestyle. The new, expanded site now includes an Oasys Mobile Blog ("OMobb"), a social network where users can join a community of their peers, create an online profile and post photos and comments directly from their mobile phone or PC.

Make Money Money Money >>



Copyright 1999-2016 TreoCentral. All rights reserved : Terms of Use : Privacy Policy

TREO and TreoCentral are trademarks or registered trademarks of palm, Inc. in the United States and other countries;
the TreoCentral mark and domain name are used under license from palm, Inc.
The views expressed on this website are solely those of the proprietor, or
contributors to the site, and do not necessarily reflect the views of palm, Inc.
Read Merciful by Casey Adolfsson