treocentral.com >> Products & Reviews >> Software
IM Plus for the 700w
Overview
If you enjoy instant messaging, but are frustrated because your friends are scattered across the various services, IM+ will solve your problem. IM+ serves as a single client (similar in concept to VeriChat for handhelds including PalmOS Treos and the 700w) or Trillian for Windows) but unlike those, which work with four IM services, IM+ connects to six of them: MSN, AOL, Yahoo!, ICQ, Google Talk, and Jabber.

The developer included several new features in the Windows Mobile 5 version for Pocket PCs. You can run IM+ as a Today screen plug-in, if flagged, and itíll display connected services, number of online/offline users, and number of unread messages for all users.

You can group contacts by group name, service, status, or alphabetically. In Jabber, you can create custom status messages.

Another powerful new feature is cut and paste into any of the services.


Usability



Installation is simple and straightforward using a standard downloaded .exe file. An alternate method is to copy a CAB file to your 700w, and run it to install the program.

You can display this polyglot interface in English, German, Italian, French, or Russian. Strangely, Spanish is missing. Thatís disappointing, as I chat in Spanish now and then, so I hope SHAPE services add it soon. Drop them an email if you agree. Also, on the installation screen, if you want to be picky, French is misspelled "Franch." You can exchange messages in whatever languages you install.

IM+ maintains records / logs of all messages for quick reference.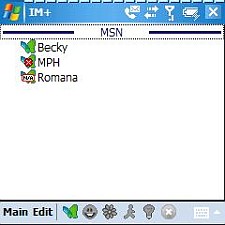 Itís curious that there is an icon for every service but Google Talk on the bottom tray, but you can invoke Google from the configuration screen drop down box. Once you set up Google, you'll see a green circle instead of a question mark.

For some strange reason while setting up services on my Treo, AOLís AIM+ service wouldnít recognize me and let me sign on, yet I could logon through my desktop.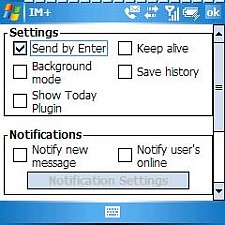 You canít create new accounts on the IM+ services with IM+ ; you have to do this on your desktop or laptop, but you can use your existing accounts for each service if you already have some. Creating an account on any of the services is free. Once you have your account information, (user name / nickname and password) you simply enter it into the IM+ configuration screen, save it, and connect.

Compared to its competition, IM+ is fairly bare bones. Most of the fancy bells and whistles you may be accustomed to with your desktop version IM client are missing, but you can send ďemoticonsĒ (Smilies). But, what the heck, chatting online is the main object here, and you can do it on six different services at the same time on a handheld.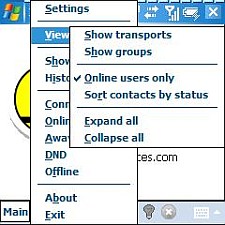 You may find the brief help menu useful for setting up your device. For the life of me, though, I could not find the setting for making IM+ appear on the desktop. Then again, thatís the last thing I need - another item on my Today screen, and maybe thatís why I didnít look too hard.

Your contacts (a.k.a. ďbuddiesĒ) are stored on the server so they are always there no matter what device you use to logon.

You can download this one-client-does-all and run it in trial mode for free for a measly five days. If you decide you want to keep using it, the price of admission is pretty hefty $39.95, but unlike VeriChat, thereís no yearly or any other kind of subscription fee.

Conclusion >>



Copyright 1999-2016 TreoCentral. All rights reserved : Terms of Use : Privacy Policy

TREO and TreoCentral are trademarks or registered trademarks of palm, Inc. in the United States and other countries;
the TreoCentral mark and domain name are used under license from palm, Inc.
The views expressed on this website are solely those of the proprietor, or
contributors to the site, and do not necessarily reflect the views of palm, Inc.
Read Merciful by Casey Adolfsson