treocentral.com >> Products & Reviews >> Software
Astraware Sudoku
User Opinions
No reader opinions available.
Details
Availability
Pricing
Sorry, wrong number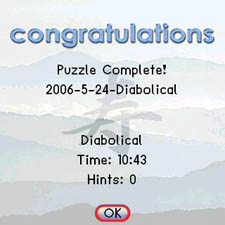 Yet another way to fudge, better known as cheat, is: speculate. Make an educated (or otherwise) guess about the contents of a square, tap the guess, and if it's wrong, try something else. If the square can have only two possibilities, well there you go.

You can polish up your halo and choose not to use hints, automatic pencilmarks, and wrong answer flags. So, use the assistance sparingly, at least, and keep your Cheaters Anonymous membership dues paid up.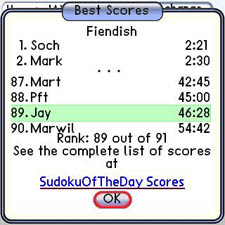 One of the nicest features of Astraware's Treo Sudoku is the Puzzle of the Day. There's a new one of these for each of the six categories of difficulty every - well, every day of course. Click the button and the Treo will download today's puzzle over the Internet (data connection required, natch).

Sudoku's mostly a private thing. Like crosswords, you can have other people help out, but mostly it's all in your mind. There's little on the planet that hasn't been turned into a competitive sport, even solitaire, even Sudoku. When you complete a diurnal Sudoku, you can choose to upload your score (http://www.sudokuoftheday.com), and see how your completion time rates among others who have shared theirs. That's "score," not actual completion time, because the website adds penalties for accessing the help systems, guessing wrong, and using the automatic pencilmarks facility.


I have my suspicions about the top two dozen on that list - no way they didn't cheat. I didn't, and rated not so high. Okay, I rated in the bottom three most of the time. I had great fun solving the puzzles, though.

Astraware's program handles all the network communication - you don't have to load Blazer or surf anywhere, although you can if you want to inspect the scores, buy coffee mugs, and download more blocks of 100 pre-made puzzles.

Keyword "Pre-made". Astraware's Treo Sudoku can calculate new puzzles, or load them from previously made collections that it stores. Calculating higher difficulty levels eats up considerable processing, since the algorithms work through all of the possibilities for each square - a massive amount of recursion.

Paper Sudoku on your Treo

Astraware's Treo Sudoku has the ability to solve puzzles, too. Intended for entering puzzles from other sources like books and newspapers, the feature considerately checks for solvability before accepting the puzzle. It takes only a few seconds.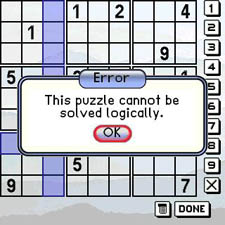 There's no provision to save the puzzle, or to retrieve it if you use the "Abandon" menu option - out of frustration or necessity to do other things. This is a heinous oversight, as it's tedious to enter the given data from a paper puzzle, and once entered it ought to be retrievable before or after you solve it.

In my tome of 1600 Sudoku puzzles, everything after 1200 is extremely difficult. Number 1599 kept two Sudoku-obsessed friends and me sweating all day. So, I put puzzle number 1600 into the Treo, and within 10 seconds the Astraware program pronounced it solvable and accepted it.

Astraware's program installs in and runs from SD Card space. Drag the icon into the SD Card box on your PC. You can download extra puzzle packs to your PC and install them on the Treo from there, or use Blazer to get them directly from http://www.sudokuoftheday.com.


Quibbles


Although you can have the program delete solved puzzles from its databases so they won't come up again, you can't ask for one by name or number. This is unpleasant for puzzles that you go to the trouble of typing into the Create Puzzle feature.

Astraware counts the seconds it takes to solve a puzzle, but it doesn't tick off elapsed time. When the last square is filled in, you get a congratulatory screen that shows the level, the number of hints you took, and the time. Since there's no option to pause the timer - to answer the door, visit the facilities, or whatever - the time might be considerably askew from actual.

Paper Sudoku has no timer option, so completion time isn't really part of the experience. However, especially if you're clocking competitive results for the Puzzle of the Day name-in-lights list, a "pause" feature would be welcome, besides providing yet another way to cheat.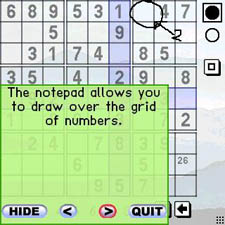 Remembering that it runs on a Treo, which includes a cell phone hooked up to the real world, the program handle interruptions admirably. For example, just as you get that crucial square figured out, a call will definitely come in. It's a gremlin thing, monitored by Murphy himpersonalself. Don't worry about the puzzle in progress, go ahead and answer the phone. When you hang up, tap the menu item for Sudoku, and your puzzle will come back to life just the way you left it, pencilmarks and all.

I'd be remiss if I didn't talk about Astraware's highly trumpeted write-on option. I'll just be remiss. For one thing, I can't figure out its raison d'�tre. You get to draw on the screen with the stylus, erase what you've drawn, and return to the puzzle with your drawings obscured. Big deal. Where's the benefit?


Conclusion >>



Copyright 1999-2016 TreoCentral. All rights reserved : Terms of Use : Privacy Policy

TREO and TreoCentral are trademarks or registered trademarks of palm, Inc. in the United States and other countries;
the TreoCentral mark and domain name are used under license from palm, Inc.
The views expressed on this website are solely those of the proprietor, or
contributors to the site, and do not necessarily reflect the views of palm, Inc.
Read Merciful by Casey Adolfsson