treocentral.com >> Products & Reviews >> Software
Word Monaco Solitaire
---
Wed Jun 14, 2006 - 3:49 PM EDT - By Jay Gross
---
Overview
Word Monaco Solitaire, by Smart Box Design, has nothing to do with the Riviera and little to do with that bane of office workers' existence, solitaire. The travel theme is in there to spice things up, and maybe it does. It's certainly more interesting than a green felt table. The game does relate to words, looks like the time-wastingest card game of all time, and transports you to a place beyond the here and now where the rent isn't due for 10 more days. Or not. Add imagination as needed.

A game for one solitary person with a good vocabulary, decent spelling skills, and plentiful patience, Word Monaco promises the warm sun of the Mediterranean (well, at least admire the nice retro graphics), and a cool game of solitaire. With words. Bring on the refreshments.


Playability


Noted for word games, Smart Box Software put their wishful thinking into a program, dressed it up in poster-worthy artwork, and concocted some alluring verbiage to accompany their new thrill on an old theme. Think solitaire. Playable anywhere, thanks to your Treo, Word Monaco's screen looks like part of a Klondike layout, except the "cards" have letters on them, instead of hearts and spades.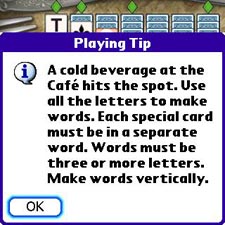 There's no additional deck to flip through, so the 28 cards - slash - letters on the table when you start are all you're going to get. No, you can't buy a vowel.

On each of the seven stacks - just like Solitaire - one card faces up. The visible letters don't spell anything. That's your department. You simply drag the cards from stack to stack to spell whole, real words vertically. Easy.


Wait. It's not that easy. When you move letters onto a stack, they must begin a sequence that if completed would spell a word that lives in Monaco's dictionary. Here's where it gets tricky. With its 80,000-entry word list, the game knows where you're going with your spelling, and it can tell when you try to fudge. It won't accept another "h" at the end of "fishing," and it rejects all occurrences of triple "o."


Don't even bother trying "hhiouuly" or "efoi". They simply won't work, even though they're perfectly good technical terms in the Fooomestinian dialect from the planet Venus. Forget "foie." It's French for liver, but this Riviera speaks only English. Two- and three-letter combinations don't count at higher levels of difficulty. Moreover, the harder levels implement designated characters that you must correctly distribute among words.


The Beach, Café, and Train Station puzzles give you increasingly difficult challenges. The train puzzles contain the entire alphabet, while the others stop short of inflicting Q, Z and other notorious Scrabble extra pointers. If you get stuck, peek at the deck, hit "Undo" or just start over.

Forget extra "points" for using difficult letters and for creating longer words, there's no bonus but satisfaction. The program considerately forces a constant ratio of consonants and vowels. Though it might appear otherwise, all of the games are winnable, statistically speaking. Use the Undo button repeatedly, with impunity. You'll need it.


Ring, ring


The program handles phone call interruptions admirably, and you can put the game on hold to do other things for a short or long time. Tap the app for Word Monaco and your puzzle in progress will reappear just as you left it.

You can install Word Monaco in internal memory (eeek!) or on an SD Card in your Treo 650 and 700P. Pick card, even on the 700P, and save the internal memory.


Quibbles


The documentation - "help" screens, an intro, and some tips screens - could use some development. It's minimal, which is what you want for a simple word puzzle, but it would be nice to have some examples, some more detail, and some explanation in several places. For example, there's no mention of whether all the puzzles are solvable. This would be a useful piece of information when the o's, i's, and h's stare at you off their incomplete stacks. Do you give up or start over?

With card-wise solitaire, winnable is a rarity, but it is always true of Monaco. The company says their algorithms make every puzzle probably solvable, though some might require considerable trial and error. Don't let your stylus wear holes in your Treo's screen protector.

Conclusion >>



Copyright 1999-2016 TreoCentral. All rights reserved : Terms of Use : Privacy Policy

TREO and TreoCentral are trademarks or registered trademarks of palm, Inc. in the United States and other countries;
the TreoCentral mark and domain name are used under license from palm, Inc.
The views expressed on this website are solely those of the proprietor, or
contributors to the site, and do not necessarily reflect the views of palm, Inc.
Read Merciful by Casey Adolfsson