treocentral.com >> Stories >> Business
Palm Earnings Wrap-up
Overview
Palm just announced its earnings for the fourth quarter of fiscal year 2006 and for the entire year. Here are some highlights:

Q4 FY2006:


Revenue grew 20 percent from $335.8 million in the year-ago quarter to $403.1 million

Palm posted a profit of $27.2 million, or 25 cents a share. That was up 54 percent from $17.7 million, or 17 cents a share, the same quarter a year ago.

During the fourth quarter of fiscal year 2006, Palm shipped approximately 623,000 smartphones and 495,000 handheld computers. To date, Palm has shipped almost 36 million units.

FY2006: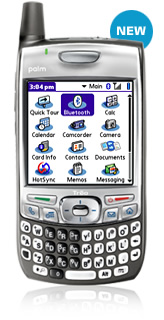 For the full fiscal year 2006, revenue totaled $1.6 billion, up 24 percent from fiscal year 2005.

Palm shipped approximately 4.7 million mobile-computing solutions during fiscal year 2006, including 2.3 million Treo smartphones and 2.5 million Palm handheld computers.

The Treo surpasses $1 billion in revenue
"Treo smartphone sales surpassed an important milestone -- $1 billion in revenue for the fiscal year," said Ed Colligan, Palm president and chief executive officer. "Our product engine is firing on all cylinders as evidenced by our recent introductions of both the Treo 700w and the Treo 700p, each of which offers a different operating system, 3G radios and robust application suites, and we delivered these products to multiple carriers simultaneously. We enter fiscal year 2007 as a strong leader, capable of delivering on the rich potential of mobile computing on a global scale."

Other Items of Note:


Palm said it will stop European sales of its Treo 650 phone by June 30 because the product doesn't meet new environmental requirements on lead content.

The 650 version is the only phone the company sells in Europe - a market that Palm is looking to for growth. It hopes to sell another phone in that market later this year.

Palm's Chief Financial Officer Andy Brown noted that sales of the Treo 700w (released in September, was the first Palm device to run on a Microsoft operating system) have not been as strong as hoped.

In the past 12 months, Palm has felt the heat from Research In Motion's BlackBerry devices, which continue to dominate the smart-phone market despite RIM's lengthy patent lawsuit, which at one point threatened to halt BlackBerry e-mail service in the United States. RIM also posted increased profits Thursday.

Last month, Palm shares tumbled when Motorola introduced its own smart-phone, known as the Q, and analysts said Nokia plans to ship its similar E61 model in the United States later this summer.

Looking Ahead:


Despite the near-term hit to sales, Palm said its yearly revenue will grow 20% to 25% over the $1.6 billion it reported for the fiscal year ended May 31. The company's chief executive Ed Colligan said Palm expects to see growth from new phone products and

He said smart phones sales will comprise 85% of the company's total annual revenue, up from 69% this past fiscal year.

The company also plans to invest more in software development

Read more here.




Copyright 1999-2016 TreoCentral. All rights reserved : Terms of Use : Privacy Policy

TREO and TreoCentral are trademarks or registered trademarks of palm, Inc. in the United States and other countries;
the TreoCentral mark and domain name are used under license from palm, Inc.
The views expressed on this website are solely those of the proprietor, or
contributors to the site, and do not necessarily reflect the views of palm, Inc.
Read Merciful by Casey Adolfsson