treocentral.com >> Products & Reviews >> Accessories
Parrot Rhythm n Blue Car Stereo
User Opinions
100%
0%
Details
| | |
| --- | --- |
| > | Name Parrot Rhythm n Blue Car Stereo |
| > | Company Parrot |
| > | Disc Support CD/CD-R/CD-RW/MP3 |
| > | Output 4x45W |
| > | Line Out 4ch x 4V / 4ch x 2V |
| > | Tested With Unlocked Treo 650, SE K750i on T-Mobile |
| > | Fact Sheet & User Opinions |
Availability
Pricing
Overview
Bluetooth headsets are perfect for road warriors who want to safely drive around town or across the country. Bluetooth headsets, however, have batteries that have to be recharged. You can easily charge your Treo while on the road with a car charger, but having a power cable plugged into your headset that you're wearing would be unbelievably lame. Besides, many won't work while a charger's plugged in.

The solution is a car kit. These speakerphones turn your car's cabin into a personal conference room with supposedly better audio clarity on both ends of the call. You can get car kits that sit inside your cupholder or attach to your windshield, but for the best experience you need an integrated solution that uses your car's speakers.

Most integrated car kits are purely speakerphones, but the Parrot Rhythm n' Blue has the added bonus of being a full-featured car stereo. Some of the buttons on my old stereo were starting to wear out, so I took the opportunity to upgrade and gave the Rhythm n' Blue a full workout on the open road.

Features:
Detachable faceplate

Telephone keypad

CD Player behind the faceplate

132x132 LCD with seven backlight colors

Software updates via Bluetooth

ISO Connection to vehicle

1 RCA PRE-OUT for external amplifiers

4x45 watts

DSP presets such as Classic, Rock, Pop, Flat

AM/FM RDS tuner

18 FM presets & 12 AM presets

Displays ID3 tags on MP3 CDs

Up to 5 Bluetooth devices

Full duplex conversations with echo cancellation
Installation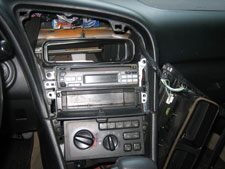 Depending on the age of your vehicle, installation of the Rhythm n' Blue can be quick n' easy or long n' painful. If you don't have any experience with car installation, spend the money and have it professionally installed. My father owned a car stereo business for fifteen years, so we did it the "hard way" and installed it ourselves in my 1997 Toyota Celica.

It's really not that difficult to install the Rhythm n' Blue if you know what you're doing. The first step is removing your old stereo. Every car is different, but for mine it was a matter of finding the right places to pull at and removing a couple of screws in order to get to my old stereo, which easily came out. I was also pleased that there was plenty of room inside my dash to get to the old cables and move them around as necessary. Many vehicles are very cramped in there, making it a real pain to do any work.

The car stereo has ISO connectors, so if your vehicle uses them it's a simple matter of unplugging them from your old stereo and plugging them into the Rhythm n' Blue. Nothing comes easy, and my car didn't have those connectors, so we spliced the wires together. I'm proud to say that my father didn't even need the wiring diagram (fifteen years of experience will do that), but the one-page installation guide inside the manual does indicate where each of the wires on the ISO connector go should you or your installer need some guidance.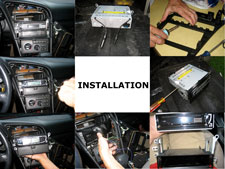 The back of the Rhythm n' Blue has cables that connect to a manual antenna if needed (it wasn't) and to the microphone cable, which you will want to somehow route around and behind your car's interior trim pieces and get it near your rearview mirror or some other central location. The cable is plenty long so take your time and find a good spot for it. There's also a 15A fuse on the back of the car stereo. I hope it never blows, as the entire stereo would need to be removed in order to replace it.

Once we got everything all plugged in and ready to go, we did a quick test and things seemed to work properly. Then comes the hard part of every car stereo installation, which is to make sure that the stereo is situated so that it's flush against the dashboard and also fits correctly. There is an outer trim piece on the Rhythm n' Blue that didn't seem to like my dashboard very well, so we took that off and used the original one from my old car stereo. Unfortunately, even then we couldn't remove the faceplate of the Rhythm n' Blue after it was installed because the old trim interfered with it. D'oh!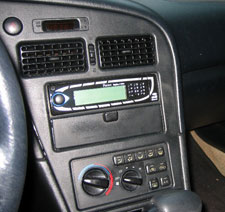 So after some creative cutting of the Rhythm n' Blue's trimplate and the back of my Celica's dashboard, we got the car stereo to fit properly in my dash and eject properly. We also had to snake the external microphone around and hide it such that no cables were exposed, and attached it to the top of my rearview mirror. The picture on the left is how the Rhythm n' Blue looks in my car.

I know it sounds daunting, but according to my father, it was a very standard installation. The "Installation" picture is a large collage of photos that I took during the process. Now that the Rhythm n' Blue was installed properly, it's time to try out all its features.


Tuner >>



Copyright 1999-2016 TreoCentral. All rights reserved : Terms of Use : Privacy Policy

TREO and TreoCentral are trademarks or registered trademarks of palm, Inc. in the United States and other countries;
the TreoCentral mark and domain name are used under license from palm, Inc.
The views expressed on this website are solely those of the proprietor, or
contributors to the site, and do not necessarily reflect the views of palm, Inc.
Read Merciful by Casey Adolfsson