treocentral.com >> Products & Reviews >> Software
Softick Audio Gateway
User Opinions
100%
0%
Details
| | |
| --- | --- |
| > | Name Softick Audio Gateway |
| > | Company Softick |
| > | Tested with Treo 650 on T-Mobile |
| > | Bluetooth A2DP, AVRCP profiles |
| > | Memory Used 239K |
| > | Version Tested 1.06.657 |
| > | Fact Sheet & User Opinions |
Availability Pricing





Overview

I hate wires. They get in the way and have a nasty habit of getting tangled up across my desk. I may not have always felt that way, but I have seen the light. After enjoying the freedom and safety that Bluetooth headsets offer, I always find it annoying that my headphones have a wire that always gets in the way when I'm lying out by the pool.


There is a solution, though, for Bluetooth headphones that support the Advanced Audio Distribution Profile (A2DP). Headphones with A2DP allow the user to stream their music from a compatible mobile phone to their headphones without needing a cable. Some Bluetooth headphones offer music play only, while others also double as a headset for making phone calls.

Of course the Treo doesn't directly support A2DP, but for Treo 650 users, there is a solution called Softick Audio Gateway [Info|Buy] (referred to often as SAG) that allows A2DP functionality for the Treo 650 (the Treo 700 is not currently supported).

Features of Audio Gateway:
Advanced Audio Distribution Profile support (A2DP)

Audio/Video Remote Control Profile support (AVRCP)

High quality stereo streaming, up to 304Kbps audio bitrate

Wide-range players and audio software compatibility

Easy setup and usage

Support for Mono and Stereo sound stream

Automatic up sampling and down sampling depending on Bluetooth headset capabilities

Built-in audio post filter to improve low bitrate audio quality

Setup


To make this all work for you, the first things you need are some Bluetooth headphones with A2DP support. Audio Gateway has been fully tested with the following Bluetooth Headphones:
Plantronics Pulsar 590A Headset

Bluetake i-Phone BT420EX Bluetooth Hi-Fi Sports Headphone

Logitech iPAQ Bluetooth Stereo Headphones

Bluetake A2DP enabled PC dongle

Samsung SBH-100 Stereo Headset

TEN naviPlay (Bluetooth Wireless Stereo Headset for iPod)

In the TreoCentral Forums, there is an extensive thread on A2DP that includes other Bluetooth headphones that work with Audio Gateway. This thread should be required reading for anyone looking for a pair of Bluetooth headphones. I decided to give the Motorola HT820 (~$80.00) a try since I've used the company's headsets before, I like most of Motorola's products, and I love being adventurous and using unsupported products.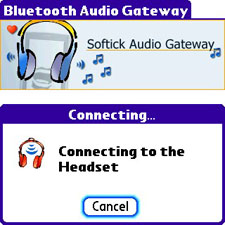 After pairing the Motorola HT820 with the Treo, I downloaded Audio Gateway and installed it into my Treo 650's main memory. From there, it's a simple matter of going into the AudioGateway application on the Treo and changing the Stream from Internal to Remote. Audio Gateway then connects to the headphones.

Once connected, you can then open the built-in RealPlayer application on the Treo and start playing music over your headphones. However, the headphones' Play/Pause and FFW/REW buttons do not work with RealPlayer. For the full wireless experience, you will want to also get Pocket Tunes [Review|Buy], which is a much better MP3 player anyway.

With Pocket Tunes installed, the Play/Pause and FFW/REW buttons worked flawlessly, allowing me to not even need the Treo nearby.


A Word About the HT820 Headphones



When it comes to headphones, I'm a behind-the head or clip-behind-the ear kind of guy. The Motorola HT820 headphones really impressed me. The buttons are separated such that the phone controls are on the left side, and the stereo controls are on the right side of the headphones.

One very surprising thing I found with the HT820 is that I could really get a good distance from the Treo with no loss of audio quality from my music. Normally I have to be within 5 feet of the Treo in order for a headset to be used, but the Motorola HT820 headphones let me walk away over twenty feet!

Alas, such was not the case when I was on the phone. While it was much better than the 5 feet that I normally get with headsets, I could only get around 10 feet away from the Treo before the crackling began.

Sound Quality on the HT820 is very good. Music sounded fantastic, and callers were able to hear me very well. The HT820 also includes a cable should you want to use them with your iPod and paired easily enough with my Mac so I can use it in iChat conversations, though it would seem that my PowerBook lacks A2DP capability since I couldn't stream my iTunes music to the headphones.


Usability


When using Audio Gateway for music only, I had no problems at all jamming with the best of them. But I was curious what would happen when I wanted to make or receive a phone call. The Treo would reset itself when I tried making a call while listening to music. If you plan on making a call on unsupported headphones, it's best to stop playing your current music and set the audio stream in AudioGateway back to Internal.


When a call came in, the Treo treated the HT820 like a regular Bluetooth headset. The music would pause and the Treo would ring. After the conversation ended, the music started back up after a few moments. During those few moments, the Treo is a bit sluggish but quickly returns to normal when the music starts. I didn't experience the slowness while on a call though and could still look up appointments, etc. during a conversation.

There are some additional settings within the AudioGateway application that lets you tweak the quality of the output from 180 Kbps to 304 Kbps (the default) and a Performance Test (the HT820 was 5445 FPS). I never needed to change any settings.


Conclusion >>



Copyright 1999-2016 TreoCentral. All rights reserved : Terms of Use : Privacy Policy

TREO and TreoCentral are trademarks or registered trademarks of palm, Inc. in the United States and other countries;
the TreoCentral mark and domain name are used under license from palm, Inc.
The views expressed on this website are solely those of the proprietor, or
contributors to the site, and do not necessarily reflect the views of palm, Inc.
Read Merciful by Casey Adolfsson