treocentral.com >> Stories >> TreoCast Podcast
TreoCentral TreoCast Episode 3
Don't forget to enter to win a Black Tie Treo 650!

How to listen
News
The Treo 750v is now available! Check out TreoCentral's first look video interview. We'll have continuing coverage of this great new device.
We also discuss the Palm Developers Network interview.
There's also the ongoing financial woes that Palm seems to be experiencing, more details here.
Lastly, if you haven't checked it out yet, you'll want to read TreoCentral's full review of the 700wx.
Black Tie Contest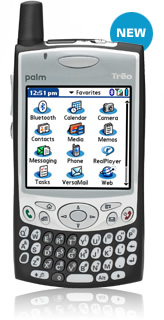 Palm has given TreoCentral a Black Tie Treo to give away! To enter, simply call us up at 800-557-6819 x222 and tell us: How would your favorite fictional character use a Black Tie Treo 650?. The deadline for entry is midnight EST, Sept. 25th. The winner will receive the Limited Edition Black Tie Treo (more information here).
Two runners-up will win a Palm Compact Wireless headset. So get dialing! All three winners will have their entries played on the air. (Yes, you can also email in your entry to [email protected] - but how is that fun?)
Great accessories
The TreoCentral Store has a couple of great headsets available now:
GPS
We discussed the basics of how GPS works on a Treo. The short and sweet version, though, is to just order the Palm GPS Navigator Smartphone Edition 2 (TomTom 6) for Treo 700p, 700w|wx, 650 bundle.
For more information about GPS, check out our Wiki article on GPS - which will be updated with all the information from our TreoCast later today.
TreoCentral Community
There are two new forum sections now: 700w/wx and 750v. Lots of good stuff in there. Dieter is particularly fond of the thread started by Whatever7 called "OK now that the 750v is official, explain to me why it's a 750v, not a 700v?".
Mike likes the thread by oalvarez called "Treo in the news: facing competitive heat".
One more, this thread started by a guy who's been around since the VisorCentral days – Keefer Lucas: "Is your treo your drinking buddy?". And we both embarass ourselves trying to do the Wingman commercial.
Credits
Special thanks to Palm for donating the Limited Edition Black Tie Treo 650 for our giveaway!
Thanks to the TreoCentral Store for sponsoring the TreoCast.
Music comes from ccMixter.org, a great Creative Commons music site. Our specific music is the following:
Discuss the TreoCast in our forum.
Copyright 1999-2016 TreoCentral. All rights reserved : Terms of Use : Privacy Policy

TREO and TreoCentral are trademarks or registered trademarks of palm, Inc. in the United States and other countries;
the TreoCentral mark and domain name are used under license from palm, Inc.
The views expressed on this website are solely those of the proprietor, or
contributors to the site, and do not necessarily reflect the views of palm, Inc.
Read Merciful by Casey Adolfsson