treocentral.com >> Products & Reviews >> Software
mVoice

User Opinions
No reader opinions available.

Details Availability Pricing





Archiving Your Calls

mVoice saves your calls in an mVoice folder, right in the root directory of your card, and creates sub-folders under it for each category you create.

When you are ready to clean up and save them off to your desktop machine, you have a few options including the built in built-in Desktop Conduit, which magically turns your Treo into a USB SD card reader. Just connect your Treo to your fave PC or Mac, and tap the conduit button and mVoice mounts your SD card, while still in its Treo-based cubby, bridging the internal card port with your big box and allowing the quick transfer of your recorded calls.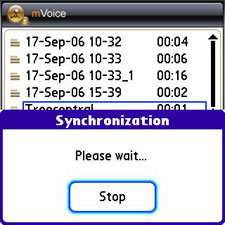 Just cradle or cable connect your Treo to the USB port on any PC or Mac, and select from the pull-down menu "Sync With Desktop", then click OK and your SD card will mount instantly without the need to install additional software or drivers. Not only is this feature cool and handy, but it also means that mVoice is a dual-function program. You can use your Treo as a card reader on anyone's system, anywhere or anytime, eliminating the need to carry a card reader.

There are other stand-alone apps such as Softick Card Export II that ONLY perform this function, so when you buy mVoice it's like getting a 2-for-1 special. Even if you never use the voice recording features, the ability to use your Treo as a card reader is worth the price alone. Of course, if you already have a card reader connected you can simply use that instead, or send them across via e-mail (better with EVDO) or broadcast them via Bluetooth if you feel like taking a coffee (or dinner) break.

If you don't feel like going through the extra step, mVoice will also play back the calls it records directly from your card, and will even play back the calls from one version back (4.x) without a hitch. It is not however within the ability of mVoice to play back calls from its grandparent releases, so nothing from versions 1.0 to 3.x is going to play on the latest (as of this writing) v5.

When you play back a file, you can choose where the sound output goes by pressing the D, S, or P keys on your keyboard (default, speaker, or phone). If you are using a wired headset, keep the output set to default, or you won't get any sound at all while your headset is connected. You can twiddle the fader control to boost your end of the conversation, or the pump up other party's voice. This can be a subtle shift, making one end of slightly louder, or a dramatic muting of one person in entirety. Nifty.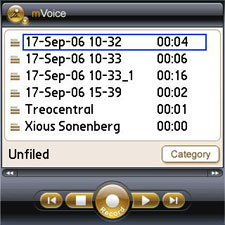 You can also append recordings, to keep more than one phone call stored in a file, and making it simple to keep similar (or serial) conversations together. Organizing your calls is simple as well, both by sorting them into categories that you create by tapping the "Category" button and entering a name when prompted, and with mVoice's sexy file naming feature that allows you to name the file when after it finishes recording.

Say for example you just got off the phone with Christopher Walken, discussing his salary for your next film. When you hang up, and stop the recording mVoice presents a dialog with the default file name (the date and time), which you can instantly rename to some sensible, human-readable nomenclature.

This means no sorting through hundreds of calls for the road-warrior on the go while shooting down the I-5 on your next business trip. You can find exactly what you want, fast and easy, as long as you remember to use some basic organizational skills.


Support and Registration


Registering mVoice is very easy; you get a serial number emailed to you upon paying for the product. While the key can be used three times, some people have noticed that it can vanish during a hard reset and, if you seem to zero out your Treo on a weekly basis, you may find it difficult to get your key replaced.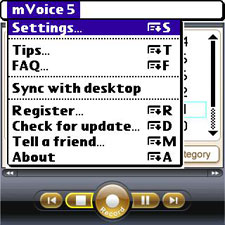 I have had several conversations with both the head of MotionApps and their Director of Technology and have pointed out quirks, and made feature and improvement suggestions. Some of them have appeared in the latest versions of their products, and some are still on the drawing board.

While e-mail support can be tricky, what MotionApps recommends is to use their support form, rather than just emailing them. In any case, make sure you describe both your problem in gruesome detail, and define what model of Treo on which carrier you're using, as these are very important details, which expedite solving your problem.

One thoughtful thing about MotionApps is that, unlike too many software firms, they list their phone number directly on their contact page which gains a tremendous amount of respect from me and deserves a standing ovation for making it easy to reach them by phone.


Is it legal to record calls?


The big question: is it legal to record a phone call? According to the American Legal Guide to Recording Phone Conversations it seems to be, though the laws can get kind of sketchy depending on where you live:
"The U.S. federal law allows recording of phone calls and other electronic communications with the consent of at least one party to the call. A majority of the states and territories have adopted wiretapping statutes based on the federal law, although most have also extended the law to cover in-person conversations. 38 states and the D.C. permit recording telephone conversations to which they are a party without informing the other parties that they are doing so.
12 states require, under most circumstances, the consent of all parties to a conversation. Those jurisdictions are California, Connecticut, Florida, Illinois, Maryland, Massachusetts, Michigan, Montana, Nevada, New Hampshire, Pennsylvania and Washington."
So.. before you go recording every conversation you have, and expect them to hold up in court, check your local legal code and make sure you do it by the book. If all else fails, ask for permission form the other party and see if you get it. Chances are, you probably will. If not, then don't.


Conclusion >>



Copyright 1999-2016 TreoCentral. All rights reserved : Terms of Use : Privacy Policy

TREO and TreoCentral are trademarks or registered trademarks of palm, Inc. in the United States and other countries;
the TreoCentral mark and domain name are used under license from palm, Inc.
The views expressed on this website are solely those of the proprietor, or
contributors to the site, and do not necessarily reflect the views of palm, Inc.
Read Merciful by Casey Adolfsson