treocentral.com >> Products & Reviews >> Software
Sound and mOcean
A Review of the new mOcean 3.0 from MotionApps
Not too long ago, you went with us on a cruise through the virtues of mOcean (pronounced "em-ocean" or "emotion") the iPod-esque audio player from MotionApps, and while checking out the touristy sites, discovered a few things that needed improvement.
If you're wondering where the product name originates, one of the developers is a fervent SCUBA diver, and as he loves the sea, decided to settle on "Ocean" as a product name. Of course, all of MotionApps products begin with an "m", designating their connection to each other. The "emotion" pun hasn't been overlooked either, as the guys behind the player are very enthusiastic about it, and hope you will be too.
Since that time, mOcean (mO) has seen quite a few changes; enough to warrant alerting the lifeguard to, and it's just about time you to hear about them.
As I mentioned in the past, mOcean 3.0 (300k-1081k, depending on installed extras) illustrates a vivid picture of the direction that Treo apps are migrating towards, and give insight into the future of how we plan to use our Smartphones in times to come.
Re-Inventing the Wheel
It shouldn't shock you that, just as Apple has moved their iPod from a simple audio player to a fully-fledged video-toting multimedia device, so has mOcean moved on from a fancy looking MP3 player to a potent A/V player supporting a decent handful of media formats.
Using your Treo's built in video handlers, mOcean will play any compatible media file in the DCIM folder on your SD card, or lurking in your internal memory which you planned to move to your card ages ago, but have since forgotten about.
To access videos on your device, simply turn the wheel— what's that? You say that missed out on this the last time?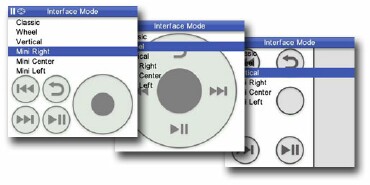 Well, mO's standard interface, which is entirely customizable with an SDK (Software Developers Kit) for making your own skins, looks and acts very much like an iPod with a virtual "wheel" on the right that you rotate in either direction to move up and down menu trees. It's fully analogue, meaning that the menu scroll speed is relative to the speed at which you rotate the wheel. Tap it's center to select an option or sub-tree and using the four buttons around or next to it to move back up in menus, or shuffle between songs.
Of course, you can set up which style of wheel and button arrangement you like as a preference, but from the get-go it's a small wheel with four buttons to its left, which to me just feels right and is easily fingerable in case you lent your stylus to your dog or kitty cat.
Now that we have the "wheel" in motion, lets' get back to video files.
Thus, to access your video library, just turn that wheel over to the Video option and select it. The list "slides" over with a click, just like that Apple incarnation, and displays what videos are on your Treo; the available formats depend on which Treo model you use, with the most diverse being the 700p.
The Treo 700p supports the following formats and containers: MPEG4 with AAC Audio or H.264 (AVC) with AAC audio (both are .mp4 files) and MJPEG, whereas the video formats supported by the 650 vary depending on the carrier and phone type (GSM or CDMA). A basic list of 650 video formats is available here.
So, as you can see, while mOcean doesn't play as many file formats as CorePlayer or TCPMP, it does cover some basic essentials for now, allowing your to view your internal videos, or if you have a 700p directly play any videos you've recorded on the Neuros, with more file formats down the road.
A codec plug-in based system would really be ideal in this case, with different modules for each supported video format, thus minimizing the amount if internal memory eaten up by the application. This is how TCPMP works, which means if you only use two or three video formats, you only need to install plug-ins for those file types and no others.
Currently mO only employs interface "skin" plug-ins, which allow you a very flexible and memory efficient style-setting opportunity.
If you'd like to see more video formats in the future, it's a good idea to write a short letter to the developers and tell them about it. MotionApps is always keen on user opinions and desires, so send them a note and tell them what you want to see happen with the next version.
Playing a video is simple, as once you highlight it in the list, (if it is playable) tapping the wheel button (or the hard keyed middle button in your Treo's 5-way pad) will start it. Tap the screen or any button to bring up a video controller panel with standard VCR-like controls.
I've run a lot of videos through mO and everything I've recorded using my Neuros 2 plays perfectly, though it's a pain moving them from the MP_ROOT directory to the DCIM directory before hand. Thanks to some friendly advice from customers, MotionApps have added the Neuros directories to the programs "where to look" routines so Neuros owners can simply run in "plug & play" fashion with their SD cards.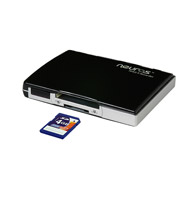 Unfortunately, a good deal of my personal video collection is in AVI container format, which is not presently playable. So, I guess I won't be playing the new season of "Doctor Who" anytime soon, unless I convert it to .264 or MPEG4 format first. If you feel like taking the time, you can always convert your videos to a type playable on your Treo by using the Palm "Quick Install" utility, but this does require Windows to use, so Mac users will need to resort to another program, such as those designed to transplant videos onto iPods.
Of course, because of the formats built in to your 700p you'll also be able to play all of your iTunes videos as well, transferable to your Treo with mO's new iTunes conduit. If you have a 650, you may or may not be able to play these depending on what video codecs are built into your device's ROM, but luckily mO allows you to run it in trial mode for an infinite period of time, so you can test d(r)ive it first. Unfortunately, MotionApps has changed the way their trial period works. Their new "demo" mode allows you to explore any part of the program, but does not allow for any playback, so you won't be able to listen to any music or watch videos until you buy a key.
Style and Glamour vs. Function and Versatility >>
Copyright 1999-2016 TreoCentral. All rights reserved : Terms of Use : Privacy Policy

TREO and TreoCentral are trademarks or registered trademarks of palm, Inc. in the United States and other countries;
the TreoCentral mark and domain name are used under license from palm, Inc.
The views expressed on this website are solely those of the proprietor, or
contributors to the site, and do not necessarily reflect the views of palm, Inc.
Read Merciful by Casey Adolfsson