treocentral.com >> Products & Reviews >> Handhelds
Treo 270 Review
User Opinions
83%
17%
Details
| | |
| --- | --- |
| > | Name Treo 270 |
| > | Company Handspring |
| > | Screen 12-bit passive matrix color |
| > | Battery Life 3 hrs talk, 150 hrs standby |
| > | Color Steel Gray |
| > | Processor 33 MHz Motorola Dragonball VZ |
| > | OS Palm OS 3.5.2H |
| > | Weight 5.4 oz. |
| > | Other Features Jog rocker, Ringer switch with vibrate option, Headset jack, Personal speakerphone, Protective flip lid, GPRS upgradeable upon availability, Microphone, Backlit keyboard |
| > | Size 4.2" x 2.8" x 0.82" |
| > | Memory 16 MB |
| > | Fact Sheet & User Opinions |
Availability
Pricing
Treo 270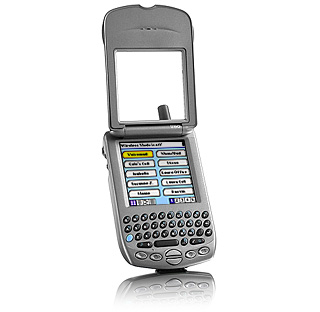 When Handspring first introduced the Visor Prism, it was the first time that color truly made a difference in a Palm-compatible handheld computer. Handspring now tries to duplicate that magic with the Treo 270, a color version of the mobile communicator that the company sells. When I first used the color Visor Prism, I swore I would never own another monochrome PDA. Will the color Handspring Treo 270 make me feel the same way about mobile phones?

The Hardware

I'll say this about Handspring: the company listens to its users' needs. The Treo 270 is an upgraded version of the Treo 180 that takes the 180's feature set and improves upon it in every way. Like its predecessor, the Treo 270 has a Jog Rocker on the left side that can be used to quickly select and dial phone numbers when the Treo is opened. Unlike the Treo 180, the Treo 270 does not have a Graffiti input option. In normal Palm OS applications, the jog rocker can be used in place of the scroll buttons. I really like the Jog Rocker and want all Palm OS applications to become "rocker-aware" so that I can scroll and select any button on the screen.

The most talked about feature of the Treo is its QWERTY keyboard, which makes text input very easy for new handheld owners and Palm mavens alike. There are 34 total buttons on the keyboard, including a blue Option (OPT) button that is used for typing the blue characters above some keys. You can also use the OPT key in conjunction with the application buttons to launch additional applications. The keys can only be changed using Buttons-T, which is free. See the Treo 180 review for other details on keyboard use and general information on the Treo.
The Tre 270's keyboard is backlit, which is a most-welcome feature that is sorely lacking from the Treo 180. Just double-press the power button to turn the keyboard backlight on and off. When you turn on the keyboard backlight, the Treo 270's screen dims to conserve power. I did notice that the PhoneBook application automatically turns on the keyboard backlight without dimming the brightness, and then dims after about five seconds of non-use. This is the only application that I saw automatically turn on the backlight.
The backlight works very well. It is green and lights up every key and button on the Treo except for the spacebar. It and the application buttons don't light up very well except in complete darkness. Overall, the backlight is a winner. This feature alone almost makes the extra cost of the Treo 270 worthwhile, and it makes me wish my PowerBook had one on its keyboard!

The Color Screen >>


Copyright 1999-2016 TreoCentral. All rights reserved : Terms of Use : Privacy Policy

TREO and TreoCentral are trademarks or registered trademarks of palm, Inc. in the United States and other countries;
the TreoCentral mark and domain name are used under license from palm, Inc.
The views expressed on this website are solely those of the proprietor, or
contributors to the site, and do not necessarily reflect the views of palm, Inc.
Read Merciful by Casey Adolfsson