treocentral.com >> Products & Reviews >> Accessories
Z9 Bluetooth Headset
Overview
With two microphones somewhere in there, plus a rechargeable battery good for hours of talk time and enough electronic circuitry to live up to impressive noise cancellation specifications, plus tons of features, BlueAnt's thumbnail-sized Z9 weighs only a third of an ounce. Can this be possible? Surely there's a wizard in the wings waving wands.
My grateful ear is playing host to a shiny new Z9 Bluetooth headset, an amazingly powerful little device that does indeed do all that and more. In fact, it pretty much sets a new standard for noise reduction. I actually find it hard to believe my left ear, or rather, what's flowing into it from the nearly weightless headset.
For headsets, the first thing I want is quality sounds, and that means both directions – incoming and outgoing, listen and talk. The Z9 delivers, and with amazing clarity and volume. I'd add "for its size," but that doesn't appear to matter. I'd stack it up to headsets many times bigger. For noise suppression, it's right up there with my TheBoom Quiet headphones.
The Z9 sits on, not quite in, one ear, and the Quiet is circumaural – around – both ears. TheBoom is for music listening and costs more than twice as much, but oh, the joy, free of traffic sounds from outside, free of air conditioner whirrs, free of everything the composers didn't intend.
Both devices simply and effectively remove extraneous noise without appreciably distorting the sound that passes through. They employ different technologies to do it, but from a listener's point of view, who cares? The result is glorious, quiet, peace.
The Z9 works its magic with electronics. BlueAnt is quick to point out that they have patents on all of it, plus trademarks on the proprietary words that describe it. But again, who cares? The result is excellent. In big cans like TheBoom Quiet, big deal, but in the fingernail-sized Z9, the sound is nothing short of amazing. I keep looking around for a man behind a curtain.
BlueAnt claims an 85 dB (that's "decibel") difference, and I believe every smidgeon of it. If you're not up on audio lingo, 85db is best described in non-engineerspeak as a lot. Actually, 20db is quite a lot, and the scale is logarithmic. So, call it an extreme lot.
However the engineers quantify it, though, I hung the Z9 on my ear and fired it up in a terrible-case-scenario noisy room – my office. A window air conditioner on high beam blows across my desk. There are three computers running 24/7, five external harddisk drives, and in this downtown location there's traffic noise and even a building under construction less than a block away. Without nodding toward the ceiling - the upstairs neighbor constantly hosts hippopotamus races - we are talking plenty of noise. Major dB's. It's so bad I often retreat to the bathroom when a Treo call comes in, so I won't have to strain to hear.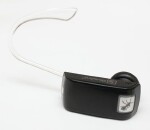 Yet, with the Z9 I could hear my caller fine, notwithstanding the room noise battering my other ear. The sound coming out of the Z9 headset was amazingly quiet, the caller's voice was crystal clear, and the volume was plentiful – though I did max it out with the Volume Up button before I started.
---
Usability
Fabulous as the audio is, the BlueAnt Z9 is one of those headsets that makes you push buttons in combination, hold them down for X number of seconds (where X varies from 1 to 6), and memorize arcane codes to communicate your wishes.
Hold down the "multi function button" (The documentation calls it the MFB.) for six seconds with the device turned off and enter pairing mode. Quick-push Volume Up and Volume Down at the same time, while a call is in progress, to invoke call waiting. Hold down the Volume Up button for three seconds while in standby mode to redial the last number. It goes on from there.
There are so many of these combinations and "mode" requirements that the company kindly provides a laminated, pocket-friendly "Quick Start Guide" that charts the codes. Maybe you can remember all this, but I find it a barrier.
The device communicates with you by flashing its LED – cutely etched as an outline of the company's blue ant logo in the big square multi function button – using different colors with various numbers of blinks to indicate what's going on. Or not.
Power on is a solid blue glow that lasts five seconds. The ant glows red while the headset's charging. If it's powered on while it's also charging, the ant glows solid red and adds a purple flash. During an ongoing call, no LED"s flash, but who'd care, anyway, since the thing's in your ear and you'll have a hard time looking at it there.
The good part of all this coded blinking is that you can turn it off. (Hold down the Volume Up and Volume Down keys for three seconds while the unit is in "idle" or "standby" mode. The manual explains that "idle" is when the device is on and paired to a phone. "Standby" is when it's on, but not hooked up to anything.)
Come on, this is a headset, not a super-secret cryptographic encoder! Is all of this necessary? Or any of it? I can live with the blinking, but I don't know about complex button-pushing to use the extensive features. I want a headset to do the headset thing, and I really don't need it to make pancakes, take out the trash, and wash my car. Okay, fine if it washes cars, but I can happily do without learning all those codes and just not bother with the other niceties.
---
Sound Quality
What I want in a headset, Z9 delivers a-plenty, and that's quality sound. After confronting the user interface's complexity, and after locating my magnifying glass to read the microscopic print on the Quick Start Guide, I've put the headset through some tests. It behaves as the Guide promises, and actually packs all those encrypted features into its miniscule size. Don't lose that Guide!
There are people who will delight in the lack of buttons on the device. I'm not one of them. A button or two extra would be welcome if it made the thing simpler and more intuitive to use, and especially to figure out in the first place. As for the blinking codes, it's nice to have communication from the headset, so it can let you know what's wrong if anything is, and what it's trying to do, in case it's attempting to perform something you don't want. I'd like to see a single function button dedicated to answering or ending a call - one quick push is enough. The headset answers if the phone's ringing, hangs up if you're already talking. Or is that "multi" functions?
Currently, you "click" the MFB to answer a call. Tapping "Answer" on the Treo's screen does the same thing. Hold down the MFB for three seconds to reject a call. When I tried this it worked fine, but you have to press against something, so I ended up grabbing and squeezing, pushing the Volume Up button, too. The device is so admirably small that this button pressing-holding business needs some re-thinking, especially for my big klutzy fingers. Fortunately, it's easy to operate the Treo from the Treo's screen and not fiddle with the Z9 at all.
My plea for simplification applies to all headsets, not just the Z9. The user should not have to know a "code" to use the device. For features that aren't often used, some multi-purposing would be okay, but I favor a simple way to invoke the things you need frequently, even if that requires some extra buttons.
---
What's in the box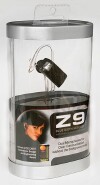 The pictures tell most of the story. The rounded, clear plastic package contains three ear hooks, a USB charging cord (with which you can also update the internal firmware, the company says), wall current cord (my review unit is U.S. only), a hefty booklet that documents the product, the Quick Start Guide, and other paper items that aren't worth mentioning. Oh, two-year warranty. Nice.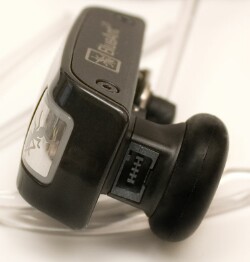 Here's the feature list:
Pair with up to three devices and easily switch between them. The device emits a blink sequence that visually indicates which device it's currently talking to.
Switch between light and heavy voice isolation. You probably only need the lower level in most situations. On the sidewalk outside, with the offensive drivers racing by, I needed the higher level, which was impressively effective.
Redial last number. Sweet. Treos ought to have a quicker way to do this, too.
Voice dial. The phone has to support this.
Mute. Hold Volume Down for three seconds while on a call. The Treo has this, easier to operate.
Variable ring tones for contacts and unknown callers
Includes USB hookup cable and wall charger, but no car charger
Can operate while charging.
Conclusion >>
Copyright 1999-2016 TreoCentral. All rights reserved : Terms of Use : Privacy Policy

TREO and TreoCentral are trademarks or registered trademarks of palm, Inc. in the United States and other countries;
the TreoCentral mark and domain name are used under license from palm, Inc.
The views expressed on this website are solely those of the proprietor, or
contributors to the site, and do not necessarily reflect the views of palm, Inc.
Read Merciful by Casey Adolfsson