treocentral.com >> Stories >> Rumors
Treo 850 Full Specs Leaked
Overview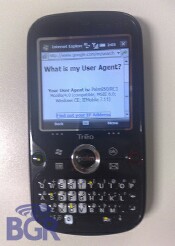 Well, well, it looks like the leaks are still coming out on the GSM Treo 850. Last week we saw some leaked photos of the 850 emerge from BGR. Now the specs have leaked over at TamsPPC.
Tam says that he got his information from a friend working at Palm who recently got his box. Tam's friend described the 850 as being codenamed "Skywriter" and being an evolution of the Treo 750 and not a WM version of the Centro. The device is a little wider than the Centro but slimmer.
The 850 has 175 MB for user and 32 MB SDRAM and runs Windows Mobile Pro 6.1.
Below are the full specs:
14 mm in thickness, width 60 mm and length 113 mm
GSM, EDGE and UMTS HSDPA 3.6
assisted-GPS receiver
Wi-FI b/g
320*320 screen, touch panel
micro-SD slot under the battery
2 MP camera
1500 mAh battery
a micro-USB connector for both power and sync
bluetooth 2.0 EDR A2DP, 256 MB NAND-Flash (> 175 MB for user), 32 MB SDRAM
Windows Mobile Pro 6.1.
I'm very happy to see Wi-Fi and the 320x320 screen. A 1500 mAh battery doesn't sound too bad either, but I was just listening to the latest WMExperts Podcast, and Dieter and Malatesta both say that there's no way that size of battery would be able to fit in that thin of a device. I look forward to hearing more about this device.
via WMExperts.
Copyright 1999-2016 TreoCentral. All rights reserved : Terms of Use : Privacy Policy

TREO and TreoCentral are trademarks or registered trademarks of palm, Inc. in the United States and other countries;
the TreoCentral mark and domain name are used under license from palm, Inc.
The views expressed on this website are solely those of the proprietor, or
contributors to the site, and do not necessarily reflect the views of palm, Inc.
Read Merciful by Casey Adolfsson