treocentral.com >> Stories >> Software
Email Complications with VersaMail on Verizon Centro
Overview
Here's a heads up for those of you who are thinking about buying the new Palm Centro on Verizon. If you use the email app on your phone, you'll be interested to know a couple of things about the Verizon Centro
I've got a Verizon Centro review unit as I'm working on a short review of the device. I had written up a short article yesterday about Verizon Centros having the special version of VersaMail Personal Edition. So being curious about the app, I looked for it on the review Centro unit. Well, I sure didn't see it. I made sure that I was on the "All" screen, but there was no little "Mail" icon there. There is however an icon for WirelessSync Email. WirelessSync Email is the default Email app that ships with the Verizon Centro.
I clicked on the "MyCentro" icon and then clicked on the "Bonus" tab at the top of the screen. Aha! There I found the option to download VersaMail Personal Edition. I downloaded it to the Centro and then set up my Gmail account that I have on my AT&T Centro.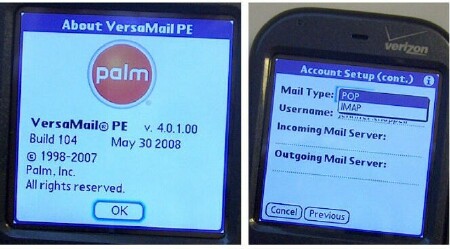 As I mentioned in my article yesterday, with the VersaMail Personal Edition, which is Build 104, you don't get Microsoft Exchange ActiveSync support. I tested to make sure that there was no option for EAS under settings by attempting to create another account. Sure enough, I only got the option for POP and IMAP. So the review unit I have in my possession, which I of course haven't bought or paid for any particular priced data plan, comes with the option to only download the Versamail Personal Edition.
Palm confirmed to us today that if you go out and buy a Verizon Centro (or order online), and you sign up for the $29.99 plan, you'll only get VersaMail Personal Edition (Build 104). If you sign up for the $45 plan, the MyCentro app knows that you have the more expensive, "full" data plan from Verizon, so you should be able to download the better version of VersaMail (Build 103), and you'll have access to EAS.
We discovered this on our forums:
We didn't have any problems connecting through the $29.99 smartphone data plan but we did have to download the regular edition of Versamail 4.0 (instead of the Personal ed.) using the MyCentro application. (Verizon's WirelessSync is installed by default.)
It's confusing to me how someone paid for the $29.99 plan and got the option of downloading the "regular edition" of VersaMail. So, head on over to the TreoCentral Forum thread on this issue and let us know: Which version of Versamail were you able to download and what Verizon data plan do you have?
There is no technical reason why you shouldn't be able to get EAS with the $29.99 plan - it's just that Verizon wants more from your pocket. Bad Verizon, bad.
Verizon has a long history of limiting core functions of the smartphones they sell. From limiting Bluetooth file transfers and dial-up to locking down built-in GPS to only function with TeleNav, Verizon has a long and bad history of this. They've recently made noises about being more "open" with their "Any App, Any Device" program.
Copyright 1999-2016 TreoCentral. All rights reserved : Terms of Use : Privacy Policy

TREO and TreoCentral are trademarks or registered trademarks of palm, Inc. in the United States and other countries;
the TreoCentral mark and domain name are used under license from palm, Inc.
The views expressed on this website are solely those of the proprietor, or
contributors to the site, and do not necessarily reflect the views of palm, Inc.
Read Merciful by Casey Adolfsson