treocentral.com >> Stories >> Software
Treo Software Roundup - v071808
Palm OS
Welcome to this week's Treo Software Roundup! Let's get started and roundup up the new and updated software....
Palm OS New:
DVD Catalyst Free v1.0.1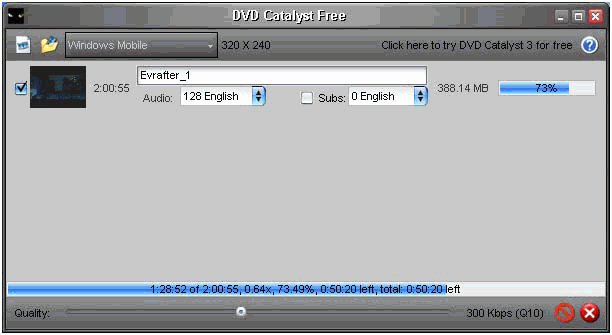 DVD Catalyst Free, by DVD Catalyst, is a 1-click desktop application for converting movies and tv episodes into a format that can be played on your portable video player device.
(Requires the free TCPMP or other DIVX-capable player application for playback)
It is a FREE version of the award-winning DVD Catalyst applications, and while not as feature-packed as DVD Catalyst 3, DVD Catalyst Free does support the most popular video player devices.
It can convert DVDs (movies and TV episodes), as well as all common video file formats (avi, mpeg, divx, xvid, mp4, mkv, flv (youtube), etc) without the need of any additional software.
It can create video files that are fully compatible with the following devices:
iPhone (1.0 as well as 2.0)
iPod Classic, Nano (3G), Touch and iPod Video
Palm Treo / Centro (DIVX format, you will need something like TCPMP as a video player application on the device)
Playstation Portable (Firmware version 3.03 or higher)
Windows Mobile PocketPC/Smartphone, both QVGA and VGA (DIVX format, you will need something like TCPMP as a video player application on the device)
Zune 30 (First Generation)
Zune 4/8/80 (Second Generation)
DVD Catalyst Free does not contain any spyware/malware/virus/toolbars/adware.
DVD Catalyst Free does not contain many of the features available in DVD Catalyst 3. If you want more freedom and control of your conversions, a wider selection of video player devices, or utilize more powerfull features such as automatic black bar removal, start-stop adjustments, please download the 7-day, unrestricted trial version of DVD Catalyst 3.
Features:
One-Click DVD conversion for free! DVDs are automatically detected, just select your video player, and start the conversion.
Easy to use single-click interface. Just put in a DVD and start the conversion. No endless clicking through numerous steps.
Ejects DVD when finished. No need to keep looking at the computer screen, Just wait untill the DVD pops out.
Works on Windows 2000, Windows XP and Windows Vista.
No additional software required to perform conversions. Other free (and some commercial) conversion methods require the use of one or more additional applications. DVD Catalyst Free works completely by itself.
Adjustable video quality / filesize, Create higher quality files or smaller filesize. Build with the high quality conversion engine of DVD Catalyst 3, DVD Catalyst Free creates smaller but better quality files out of the box. However using the quality slider you can freely adjust the quality as well as the filesize of your video files.
Converts movie DVDs, TV episode DVDs as well as all common video files. commonly called "Converter Suite" or "All-In-One".
Multi-Core processor support for most conversion formats. Dual-core as well as Quad-core. Ipod/iPhone/PSP and Zune (4/8/80) conversions utilize as many cores as you have to speed up conversions tremendously.
Language and Subtitle selection. Easily select the desired audio language and/or subtitle text you want.
Automatic batch conversions. Multiple DVD drives, multiple video files, you can queue up as many as you like, without having to start the conversion for each individual selection.
Get it here for FREE.
---
BlackJack Classic (Palm Os)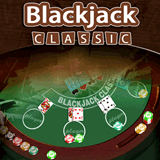 Feeling lucky? In Blackjack Classic, by In-Fusio Inc., you compete directly against the dealer. You are dealt two cards and may draw additional cards until your hand adds up to, or is close to 21. As long as you don't go over 21 and still beat the dealer's hand, you win. You can play on 7 different hands to increase your profit, but be careful not to lose all your bets!
Features:
To win, you have to do more points than the dealer without exceeding 21.
The value of the cards is indicated by their number. The 10, Jack, Queen and King are all valued at 10.
With an Ace and a 10 valued card, you have a Blackjack.
I've always LOVED to play BlackJack and this game sounds like a winner!
Take a gamble and get it here, it's only $11.95!
---
Cinci Stroke Demo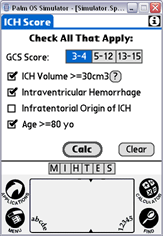 HandHeldDoc has released its Cinci Stroke Demo.
Continuing in the tradition of EM Rules and Sepsis EGDT, Cinci Stroke is our newest project designed to help practitioners with the management of ischemic and hemorrhagic stroke. Cinci Stroke is based on the 2007 guidelines put out by the AHA for acute ischemic and hemorrhagic stroke. A partial list of the tools are below:
ABCD2 Score for TIA
Anticoagulation Management
BP Management for ICH & Ischemic Stroke
Calculators for Weight & Temperature Conversion
Cranial Nerves
DVT Prophylaxis in ICH
Elevated INR Managment
Heparin Induced ICH Management
Hounsfield Units
Hypercoagulation Labs
Imaging in Stroke (Diff. Types of Modalities)
and MANY more..
Get the free demo here.
---
Hexagon Deluxe v2.05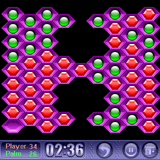 It hasn't been that long since I wrote about the introduction of Hexagon, and Hexagon Deluxe 2.05 is now available!
Hexagon, by Deluxeware, is one of most popular animated board games of strategy, loosely based upon Othello and Ataxx!. The original version was written in 1992 by Argo Games, and is now updated for the Palm by Deluxeware.
Features:
Excellent 16 bit graphics
Low-res and Hi-res devices support
Running under Palm OS 3.5 with 16 bit screen
Enhanced digital sound effects for Palm OS 5 devices
2 type of gameplay
A choose 3 difficulty level
Visual effects and animations
Undo last move
High-scores table
Optimization system for memory saving
Pause available
I've heard this game is fun, but have yet to try it.
Get it here for only $9.95!
---
Palm OS Updated:
PrettyMap Full - World Map with 3D Elevation Surfaces and GPS support
Maciej Komosinski has updated his PrettyMap Full - World Map with 3D Elevation Surfaces and GPS support to version 5.2.
PrettyMap lets you view vector and raster maps and images (such as country boundaries, world cities, rivers, satellite photos), search in geographically-referenced data, visualize and analyze spatial information, download current weather reports and forecasts, extend your knowledge by taking an educational quiz, and edit your own simple maps.
A limited version, PrettyMap Basic, costs $24.95.
Features:
support for vector maps (points, lines, areas)
support for raster maps (terrain elevation and bathymetry, images, symbolic)
handles multi-attribute data associated with vector map objects
displays maps of various planets
supports GPS, logging GPS locations, "follow GPS" mode and export to KML/GPX
so that you know where your fleet is, and others know where you are
displays current weather maps, detailed weather reports and forecasts (requires Internet connection)
all maps are free: political - country boundaries with country names, capitals, population sizes; major cities with names, status, population ranks; comprehensive sets of data for each country, based on the current information from The World Factbook; USA states; major rivers; satellite photos and images; elevation data for Earth, Moon, Mars, lunar mountains, craters, seas, lakes, and many more!
spherical projection
relief and 3D elevation (DEM) view with vector map overlay
shows day and night regions, computes shadow length and sun/north orientation
various color schemes for elevation maps
user-defined elevation colors
zoom range from whole planet to meters
multiple, configurable vector map layers
data search for vector map databases
versatile quiz with teacher mode for vector map databases
bar charts and color-by option for numeric features in vector map databases
distance measurement
integrated user-defined locations (Points Of Interest) editor for work in the field
synchronization of map data (map with map, map with server)
sessions to quickly save/restore program state
adjustable water level for elevation data
numerous settings to customize the program
"PrettyMap Basic" is a lower-priced license
users who purchased version 4.x can upgrade to 5.x for $10.
Get it here for $39.95.
---
Bonsai 4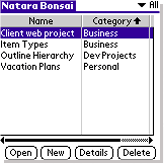 Natara Software has updated its Bonsai to version 4.2.7.
Natara Bonsai is a full featured Palm OS outliner with FULL one step synchronization to a companion Windows desktop application! Use it to outline ideas, as a hierarchal to do list, a simple project manager, or ALL in the same outline. Stay connected with the Natara Bonsai outliner, a Palm OS outliner that was "Born to Sync".
Features:
True synchronization with a conduit for Windows HotSync Manager.
A complete Windows application for creating and editing outlines.
Modeless in-place editing of outline text speeds data entry.
Mix 3 forms of outlines anywhere; outline, to do, and tasks.
Numerous display options for numbering, fonts, colors, check boxes, and number of lines per item.
Rearrange the outline by dragging, or cut and paste.
Use icons for Category and Keyword display.
Sort by any attribute.
View your outlines using powerful Filters that you define and save for later use.
Zoom in on an outline branch for concentrated work.
Define and use color schemes to call attention to areas of interest in your outline.
Link with the built-in To Do, Calendar and other Bonsai outlines.
Use Keywords and Contacts to further organize your outline.
Color, Hi-Res, Virtual Graffiti, Landscape, DPAD, and Jog wheel support.
Categories at both the outline and item level.
Supports both a local and a global find command.
Beam outlines to others.
Export to DayNotez, the memo application, or Palm Doc format.
Custom Template based export from desktop for power users!
PalmPrint and TealPrint support.
The name put me in mind of some mindless game, but after reading this description - this sounds like a pretty dang nice program!
You can read fellow writer Andre's Bonsai 4 review here.
Get it here for $37.95.
---
2LaunchMe
MetaViewSoft has updated its 2LaunchMe to version 2.3.
2LaunchMe is an application launcher which allows you to launch apps, prefs panels and DAs using the Treo keyboard. It also has an online traffic counter included.
Features:
Hotkey-app launcher: launches apps, prefs panels and DAs on longer key press on the Treo keyboard
Command bar access: press Options Menu (in short sequence) to open the hidden command bar on your Treo
Sublaunch another application (your launcher maybe?) as a second application over the currently open application
Control the keylight with the "volume select" key of your Treo.
GUI redesigned
More options: Menu on Green (Treo 680), Switch z/y key (for US-devices in Germany)
Optional online display of Time, Date, Battery, Operator, Traffic
Tactile feedback
Adjustable online traffic counter
Automatically keylight switch off after 10 seconds
phone on or toggle with automatically PIN entering (needs 2PlayMe with a defined PhoneOn-Alarm)
New in Version 2.3
automatic resets for traffic counters definable
after each traffic reset the amount of traffic and online time is stored in a log
new accessorizer included
tactile feedback also available on each pendown event
With so many 'launchers' available, maybe Palm should include better launchers as stock?!
Get it here for $15.00!
---
Secret!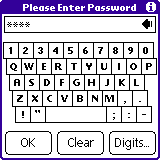 LinkeSOFT GmbH has updated its Secret! to version 4.0.
Secret! stores all your confidential data encrypted with a password of your choice.
Features:
Easy-to-use, secure and robust. Continously developed and enhanced since 1997.
Strong encryption with proven 128 bit IDEA algorithm
Free text entry for maximum flexibility
Special paragraph and TAN modes
Optionally synchronize with Secret! Desktop for Windows
Shhhhhh... keep your confidential data just that... SECRET!
Get it here for $19.00.
WM Software >>
Copyright 1999-2016 TreoCentral. All rights reserved : Terms of Use : Privacy Policy

TREO and TreoCentral are trademarks or registered trademarks of palm, Inc. in the United States and other countries;
the TreoCentral mark and domain name are used under license from palm, Inc.
The views expressed on this website are solely those of the proprietor, or
contributors to the site, and do not necessarily reflect the views of palm, Inc.
Read Merciful by Casey Adolfsson