treocentral.com >> Stories >> Software
Treo Software Roundup - v072508
Palm OS
This week we look at HandReview and Pyramid Solitaire, both new for Palm OS. Updated Palm OS apps include Skinner, Destaller Pro and Memory Scanner. New in WM is InterKey Standard and Message Alerts. Some updated WM apps are FairwayWatch, Skb Group SMS and Scheduler, and more...
Palm OS New:
HandReview v1.0
HandReview by Handcase is an app composed of a combo, editor and reader reviews. The Editor has resources for the creation and organization of reviews and a list which defaults to an alphabetical order, and with search by name. It has option of Note for each review (shared with others through the reader you send to anyone you want - example: you created reviews, reader and sent them to 30 persons, they may add comments on Shared Notes and returned to you the reviews, you can then read the maintained or archived reviews, and read in the Reader). More, copy and paste text of Memopad and vice versa directly. In English.
Features:
combo editor and reader reviews
Share review notes
send reader for friends
The description (in English?) is a bit confusing, but it sounds like a useful program - similar to Google Documents perhaps - only not in real-time.
Get it here for $10.00.
---
Pyramid Solitaire v2.0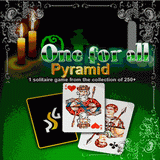 Pyramid Solitaire, by Paragon Software (SHDD) - Penreader, provides advanced features and offers new unique possibilities for everyone who is keen on solitaire.
Pyramid Solitaire is one of 250 solitaire games presented in Can't Stop Solitaires Collection, so if you need a specific game, you can purchase our single solitaire games. Klondike, Freecell, Spider and Canfield solitaires are also available in single version.
More than 100,000 of Palm users all over the world have already played our solitaire collections, which are top-rated in the world's most famous, best-selling lists.
After proceeding with the on-line order via Internet secure connection, you will get registration code within 3-5 minutes, which turns your demo-version to the full one.
Features:
Detailed instruction, rules and visual demonstration for Pyramid Solitaire
A variety of cards backs and backgrounds
Alternative add-on appearance themes, each including some card backs and backgrounds
Hints on available moves in the case of complicated game situations
Bookmarks on a card layout
Different user profiles can be created to save personal settings and score
Never tried Pyramid Solitaire? Believe me, it IS addictive!
Get it here for a MERE $4.95!
---
HandCheckers v1.0
Handcase announces HandCheckers! HandCheckers is a game of draughts or checkers with a sober and traditional design. 2 modes for play and with 3 levels, moves back, exchanging sides, automatic save of the game and graphics in high definition. In English. Only for Palm colored. By E-mail. Free only for users of the games of Handcase the GameScore for you to organize all your moves for any type of game, console, arcade, pc or web.
Features:
2 modes
3 levels
moves back
exchanging sides
automatic save
Free only for users of the games of Handcase the GameScore to you organize all your moves for any type of game, ours game, console, arcade, pc or web.
Sounds like the bases are covered if you hate to lose at checkers - what with changing sides if you're losing or taking back moves LoL!
Get it here for only $9.00 and become a better checkers player (or change sides if you're losing).
---
Palm OS Updated:
Skinner for Treo 650/ 700p/ 755p / Centro (CDMA) v3.6
Got word from Jennifer that Skinner for Treo 650/ 700p/ 755p/ Centro (CDMA), by 79bmedia GmbH, has been updated to version 3.6!
Skinner allows you to change the look of your Treo/Centro phone dialpad and favorite buttons. There are many skins in all varieties available without additional costs.
Skinner also allows you to change the splash screens. You can create your own custom splash screens with a funny photo from your personal collection. There are several splash screens to choose from online.
Skinner's download includes a free copy of the Skinner Desktop application, allowing you to create your custom skin - for example with a background image of your choice. The enclosed tutorial (PDF) and sample files (dialpads, Photoshop and GIMP templates) will make it easy for anyone to create such a custom skin.
Give it a try.
Download the free trial version of Skinner for Treo 650/700p/755p and Palm Centro now! The trial will run for a whole two weeks without any limitations.
Features:
changes look of dialpad and favorites buttons
changes splash screen
selection of skins and splash screens available
Windows tool included to create your very own skins and splashes
Download the trial here, use it for two weeks and register for only $14.95!
Note: Only the CDMA version of the Centro is supported.
---
Destaller Pro
RoGame Software has updated its Destaller Pro to version 3.3.
Destaller Pro is an application oriented uninstaller. Applications store many different files that often cause resets and the necessity to do a hard reset when not removed properly. Destaller removes this danger and headache. In addition Destaller allows you to maximize the memory of your device by allowing to safely remove single files, 'a68k' Files, saved and unsaved preferences and more.
If you ever had problem with an application and were told by tech support to gather specific information about your device plus a list of all installed applications and Hacks, you will greatly appreciate why Destaller Pro is an excellent tool for trouble-shooting problems. It can export or copy a list of all applications found in RAM and on memory cards, has an extra screen for important device information, and lets you delete an application's data files separately.
Lite version (free) Features:
Maximizes RAM
Application centric
Easy to use
Great interface
File grouping
8 sorting parameters
Enhanced for Palm OS 5
Safely removes applications from RAM or memory cards
Safely removes individual data files, like eReader books, mp3s, etc.
Safely removes saved and unsaved preferences
Safely removes a68k files
Exports and copies list of applications
Device Info screen
Memory Info screen
Reset and scheduled reset options
Full DIA support (320 X 480 Portrait and Landscape modes)
Extended online help
The application is distributed in two forms, a free lite version and the full version - Destaller Pro, which includes MANY more features!
Get it here for $15.95.
---
Mobiola Video Studio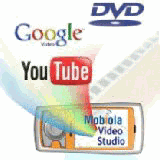 Mobiola Video Studio, by Warelex LLC, has been updated to version 2.1.30.
Universal video converter, comes with free player. Get videos or groups of videos (from YouTube/DVD/hard drive) to your phone with a single drag and drop mouse move! Blazing fast performance, excellent quality, automatic settings and very low price (compare to competition)
Supported formats: avi, 3gp, mov, mpeg, mpg, mjpeg, mp4, mg2, mve, m4v, mkv, flv, smk, str, vob, rm, fli, flc, wve, uv2, wmv, 3g2, asf, m4a
Trial version lasts 15 conversions
Features:
Converts DVD, YouTube, Google Video, video files (majority of formats), groups of files or folders with files to the BEST video format played by your device (automatic settings)
Unique DRAG AND DROP to device functionality of DVDs, files and folders or videos from the browser (YouTube, Google Video)
LANGUAGE selection functionality for DVD
SUBTITLE support for most languages for DVD
QUEUE OF JOBS, do not wait until previous conversion is done, just drag and drop new videos
DRAG AND DROP/convert to PC also works
BEST PERFORMANCE/CONVERSION SPEED
Think of it - not having to wait to watch a video you like to see. Drag and Drop them to your phone in a single drag and drop mouse move!
Get it here for $19.95!
---
Memory Scanner
RNS:: has updated its great Memory Scanner to version 3.0!
RNS:: Memory Scanner - find anything anywhere in the memory of your Palm!
Memory Scanner will scan the whole memory built into your device (RAM and ROM).
You can search for all kinds of data: find system entries find application data find your personal data
You may search and view the results in two modes: find text find binary data
To speed up your search you can use ready made filters: find within applications find within hacks find within preferences find within user data
You may also define your own search filters.
Use the optional "Scan For Errors" command to scan the device's memory in search of database errors. This scanning mode will check memory integrity and look for corrupt databases or storage errors. It may help you diagnose the reason of unexpected behavior of your device or its frequent crashes.
Features:
find system entries
find application data
find your personal data
diagnose database system problems
Take charge of your device and get it here for $9.95!!
Windows Mobile Software >>
Copyright 1999-2016 TreoCentral. All rights reserved : Terms of Use : Privacy Policy

TREO and TreoCentral are trademarks or registered trademarks of palm, Inc. in the United States and other countries;
the TreoCentral mark and domain name are used under license from palm, Inc.
The views expressed on this website are solely those of the proprietor, or
contributors to the site, and do not necessarily reflect the views of palm, Inc.
Read Merciful by Casey Adolfsson