treocentral.com >> Stories >> Hardware
Sprint's Holiday Centros Now Available & Original Centros on Sale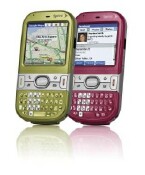 Palm Infocenter is reporting that Palm's holiday Sprint Centros, the refreshed Olive Green and Rose Centros, are now available for purchase on Sprint's and Palm's online stores.
If you recall, the refreshed holiday Centros have twice the storage at 128MB, the ability to add up to 4GB more with a microSD card, soft-touch paint, Facebook for Palm, and Google Maps with the My Location feature. PIC notes that the new Centros also have a slightly revised "gel" keyboard. I wasn't aware of that. Interesting.
You can get the new Centros for $79.99 after $100 mail-in rebate and a 2 year contract. And don't forget that you have a chance to win a Vibrant Rose Centro from Palm and InStyle.com through November. You have until November 30 to enter the contest. One entry per person.
Sprint has lowered the price of the original Black, Red, and Pink Centros so they can clear out existing stocks. You can get these Centros at a low closeout price of $49.99 after $100 mail-in rebate and a 2 year contract.
Sprint really has lots of Centro colors available! The more color choices, the better. I'm still happy with my AT&T Electric Blue Centro though. It was love at first sight. The only thing that could make me change would be if AT&T were to release a Lilac colored Centro. Now I'd grab that in a second! Come on AT&T, give us some more colors! And where's our "holiday colors" with double the storage and the soft-touch paint?
Hmmm.... PIC is also reporting that according to Palm's website, the Black Centro is going to receive an eventual mid-life upgrade to the new memory, paint and software specs. Sweet! Gotta love the soft-touch paint.
Copyright 1999-2016 TreoCentral. All rights reserved : Terms of Use : Privacy Policy

TREO and TreoCentral are trademarks or registered trademarks of palm, Inc. in the United States and other countries;
the TreoCentral mark and domain name are used under license from palm, Inc.
The views expressed on this website are solely those of the proprietor, or
contributors to the site, and do not necessarily reflect the views of palm, Inc.
Read Merciful by Casey Adolfsson