treocentral.com >> Stories >> Software
Treo Software Roundup - v111408
Palm OS Software
Welcome to this week's roundup! We have a new update to Bookworm and Agendus for WM. Plus there are other new and updated apps to check out.
Palm OS New:
Pronto Build Your Own Forms v1.1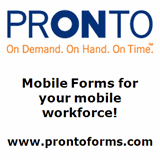 Pronto, by TrueContext Corporation, allows companies to immediately eliminate paper forms with real-time capture and reporting of mission-critical information using BlackBerry and Windows Mobile devices. Pronto easily mobilizes common processes like inspections, audits, surveys and work orders used in multiple industries.
My wife works for a big grocery shipping corporation here in North Carolina as a scanning coordinator. I've helped her scan literally hundreds of thousands of sheets of paper - which are then either thrown away or recycled. If a company were to use this, it could cut back on my wife's workload quite a bit, as well as save a LOT of wasted paper. I'm for it, as long as she isn't out of a job, LoL!
Features:
Create mobile forms without programming or coding
Capture information on your mobile device
Enter data with intuitive form controls:

Drop Down Lists
Radio Buttons
Check Box
And many more

Collect information whether on-line and off-line
Report plus view/export data in common formats (CSV, XML, PDF)
Manage Projects with simple controls for users, devices and forms
Automatically manage communication and battery
Minimum Requirements:
No servers to install or programming required -- just a knowledge of your business.
BlackBerry devices with OS 4.1 or higher
Windows Mobile version 5 or 6 with Touchscreen
Pronto web portal is optimized for Internet Explorer.
Get Pronto here for FREE!
---
Gift Reminder v3.0
Gift Reminder, by ieosoft, is a useful tool to remind you to prepare your gifts for Birthday/Christmas/Anniversaries/Events etc. Each item is sorted by date and can be selected by month. So, you will know this month how many gifts you will need to prepare.
Features:
Featuring special ALARM function. Even the palm is off, when alarm is set, the palm will be power on automatically and display the gift you need to prepare. If you miss the alarm, you will still be noticed by displaying about the gift you need to prepare once you turn on the palm!
Minimum Requirements:
Requires Palm OS 3.5 or above and 193 KB of Available RAM
With the holidays coming up, now's a good time to get that little reminder to help jog your memory so you don't forget to buy that loved one a gift!
Get Gift Reminder here for just $5.99!
---
Bluetooth GPS Tool for Palm Treo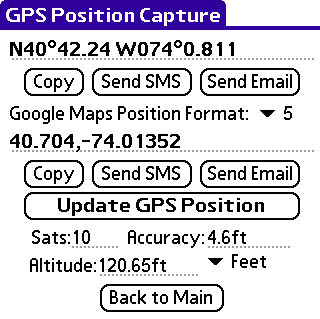 Stephen Heintz has released his Bluetooth GPS Tool for Palm Treo.
Features:
This tool lets you capture your GPS position and send it via SMS or E-Mail! Compatible with Google Maps and Google Earth!

With your Treo and a bluetooth GPS, you can now send your location via SMS and e-mail to others without the need for expensive navigation software.
When you send your position to another phone, the end user can enter the coordinates right into Google Maps or Google Earth and see your exact position. If the other phone is a Treo, they can see your position in Google Maps for Palm OS!
Get it here for $8.35!
---
PocketMac GoBetween for MeetingMaker v4.0
Let's be honest...even as great as Apple's iSync (Sync Services) is, it's limited. If you have an iPhone or any of the other devices it supports and you want to sync using Apple's native OS X Address Book or iCal, you're all set. However, if you depend on Meeting Maker for your contacts, calendars & tasks, you were stuck...until now.
PocketMac® GoBetween™ for Meeting Maker, by Information Appliance Associates, is the first program to sync Meeting Maker data to the iPhone or any and all devices supported by Apple. This means that you can finally have your data fully supported & synched to your favorite devices.
When you're ready to sync, launch PocketMac GoBetween for Meeting Maker. It will sync all of your Meeting Maker data to iCal and Address Book. Then run iSync to sync iCal and Address Book to your device. Then you're all set! It's just that simple!!
What's more, this is a completely 2-way sync. If you make a change to data on your device, it will be synched toMeeting Maker every type you run a sync with PocketMac GoBetween for Meeting Maker. And...it's safe for your data. This software has been tested, re-tested and then tested again for over a year to make sure your data was being routed perfectly! And now it's ready to run on your Mac!
Installing this software will take you 3 minutes and configuring PocketMac GoBetween for Meeting Maker for synchronizing with your Meeting Maker server is a breeze! All you need is is your:
Name
Password
Server Name
IP Address
and you're set!
Features:
How PocketMac GoBetween for Meeting Maker works...
You run GoBetween for Meeting Maker
You run iSync; iSync syncs iCal & OS X Address Book
Get it here for $24.95!
---
Palm OS Updated:
New Initiate Steampunk Skin
You should head over to Hobbyist Software and check out the latest skins available! Rich has added his Steampunk skin, and it includes some AWESOME looking background! Check them out for yourself here!
There are also many other killer skins submitted by other users. You should stop by occasionally and see what's been added!
You can get the new Steampunk skin here for free!
---
Butler 5.10 - Large Keyguard Fonts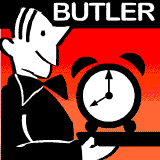 Rob at Hobbyist Software has announced an update to Butler:
People have been asking for this one for ages. Butler 5.10 is now out in beta with the ability to use Font Bucket fonts for the keyguard time. This means that you can now use time fonts that are as big as you can fit on the screen.
Just click in the keyguard page to download font bucket, or get it here.
---
Bookworm for Palm OS
Hey all you Bookworm fans - Astraware has updated its Bookworm to version 2.0!! This is the first update to Bookworm since September of 2006, so I look forward to checking out the latest version.
Bookworm is a popular word game based on the online and PC classic from PopCap. Feed Lex the Worm's endless appetite by joining letters on the library wall! Use up burning letters before they reach the bottom and set the library on fire! Special bonus tiles boost your score if used to make a word.
Bookworm is a superb word game for beginners and experts alike and allows you to test or increase your word power in a fun and enjoyable way!
I have to admit, I'm a word game lover and I've spent MANY an hour playing Bookworm! I get soooo irritated when the library catches on fire because I couldn't use a letter to make a word before it got to the bottom - where the library basically explodes and burns up!
Features:
Intuitive play system
Built in instructions
Can be used to both teach and increase literary skills
Over 70,000 words in the dictionary
Built-in High score tables
Special bonus tiles boost your score if you can use them to make a word
Brilliant for word game fans!
New in Version 2.0:
Behind-the-scenes overhaul to bring up-to-date with our latest framework
Extended dictionary now includes over 70,000 words!
NEW Action mode added
Improved support for newer devices
Improved graphics
Various minor improvements
Minimum Requirements:
High-Resolution color screen
Palm OS 5 or later
If you love word games, then you should enjoy Bookworm!
Get it here for $14.95!!
---
LSL Blackjack
Lakshmi Solutions LLC has updated its Blackjack to version 3.1!
Do you like playing cards? What about gambling in a Blackjack hand? Then try playing the classic card game LSL Blackjack from Lakshmi Solutions LLC!
LSL Blackjack is the simple card game that follows most of the rules of the Nevada Casinos (double down, split pairs, 1 deck cards, etc). It's just you and the house playing. To get started just select your dealer (either Steve, Sandy or Tommy), define your bet, and start playing.
If the house is getting too lucky then change to another table by selecting a different dealer, or changing the ambiance of the game. You may want to hear comments from the dealer to make the game more fun or simply turn off this feature and just play cards.
Features:
The Game contains Help features instructing the novice player on the Basic Rules of the Game, how to select your card dealer, how to configure the game, and how to bet money.
Minimum Requirements:
PalmOs 4.0 or newer, and 650KB of RAM
Get it here for just $5.95!
---
Pretty Map Basic - Earth Atlas, GPS support, Moon and Mars Maps
Maciej Komosinski has updated his Pretty Map Basic - Earth Atlas, GPS support, Moon and Mars Maps to version 3.1.
PrettyMap lets you view off-line vector and raster maps and images (such as country boundaries, world cities, rivers, satellite photos), search in geographically-referenced data, visualize and analyze spatial information, download current weather reports and forecasts, extend your knowledge by taking an educational quiz, and edit your own simple maps.
Features:
support for vector maps (points, lines, areas)
support for raster maps (terrain elevation and bathymetry, images, symbolic)
handles multi-attribute data associated with vector map objects
displays maps of various planets
supports GPS, logging GPS locations, "follow GPS" mode and export to KML/GPX
GPS fleet tracking service: PrettyMap can regularly report locations so that you know where your fleet is, and others know where you are
displays current weather maps, detailed weather reports and forecasts (requires Internet connection)
all maps are free: political - country boundaries with country names, capitals, population sizes; major cities with names, status, population ranks; comprehensive sets of data for each country, based on the current information from The World Factbook; USA states; major rivers; satellite photos and images; elevation data for Earth, Moon, Mars, lunar mountains, craters, seas, lakes, and many more!
spherical projection
relief and 3D elevation (DEM) view with vector map overlay
shows day and night regions, computes shadow length and sun/north orientation
numerous settings to customize the program
and MUCH more!
"PrettyMap Full" license offers all features. In the "Basic" version, the quiz is limited to 20 questions, there is no spherical elevation relief view, no weather forecasts for customized locations, user locations editor is limited to 20 points per map, and the "containing" option in vector data search is inactive

Users who purchased version 4.x can upgrade to 5.x for $10.

Get it here for $24.95!



WM Software >>



Copyright 1999-2016 TreoCentral. All rights reserved : Terms of Use : Privacy Policy

TREO and TreoCentral are trademarks or registered trademarks of palm, Inc. in the United States and other countries;
the TreoCentral mark and domain name are used under license from palm, Inc.
The views expressed on this website are solely those of the proprietor, or
contributors to the site, and do not necessarily reflect the views of palm, Inc.
Read Merciful by Casey Adolfsson