treocentral.com >> Stories >> Hardware
Palm Announces Palm Pre
Overview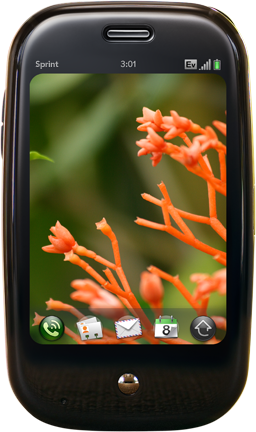 Palm today unveiled its groundbreaking Palm webOS mobile platform, built from the ground up to be constantly connected to the web, and the new Palm Pre, the first phone based on the new platform. Pre is scheduled to be available exclusively from Sprint in the first half of 2009.
Dieter live blogged the event for for us, and he will get a chance to explore the Palm Pre hands-on later today..
Palm webOS is a spanking new kind of platform, invented exclusively for mobile use. webOS recognizes that you want your people, calendars and information to move with you, wherever you are, wirelessly, as opposed to being bound to a personal computer.
Palm says that their Palm webOS is the first mobile platform to automatically bring your information from the many places it resides - on your phone, at your work or on the web - into one simple, integrated view. The new Palm Pre and webOS are designed to be so in sync with your needs that it feels like Pre is thinking ahead for you.
"Palm products have always been about simplifying lives and delivering great user experiences," said Ed Colligan, Palm president and chief executive officer. "webOS and Pre bring game-changing simplicity to an increasingly mobile world by dissolving the barriers that surround your information. It's technology that seems like it's thinking ahead to bring you what you care about most - your people, your time, and your information - in the easiest and most seamless way."
"Pre continues Sprint's leadership in open access to the content customers want for a great web-connected experience," said Dan Hesse, Sprint chief executive officer. "We look forward to bringing this remarkably innovative device to our customers on America's most dependable 3G network."
The Palm pre is an egg-shaped device and is really cute. The pre is inspired by nature. Because of the egg-shape, the touchscreen is curvy. The pre has a gorgeous 3.1 inch 320x480 multitouch display. Yes! There's a rollerball below and the entire face has touch sensitivity. The multi-touch extends down to the "gesture area" below the display. The pre has an accelerometer, proximity, and ambient light. Plus it has extended depth of field capability. Did I mention it has EVDO? Yep, there's EvDO, Rev A, Wi-Fi, GPS, Bluetooth stereo, 8GB storage, and a fast processor.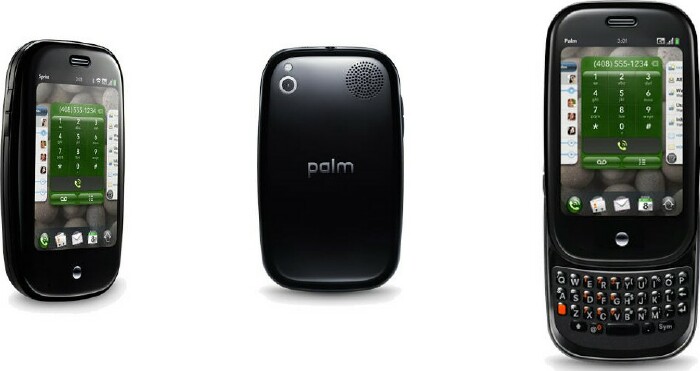 Unlike the iPhone, the Palm pre does have a removable battery. Sweet! There's also a 3mp camera with led flash!
About that keyboard we've been hearing about? Well, it's a vertical slider as predicted. Also, it's a banana slider that curves as you open it. Dieter says that the Palm Pre is shorter than the iPhone and Bold. The Palm Pre should be a blast to use one-handed or with both hands.
The Palm Pre has webOS (connected to the cloud), which Palm says is simple, direct, and almost invisible. The whole thing is built on industry standard web tools. Ed Colligan says that if you can to html, css, javascript, ajax, you can develop for this platform. There are no new languages to learn, period. Says that Palm can build a lot of devices and a lot of flexibility later, but they want to get it right first.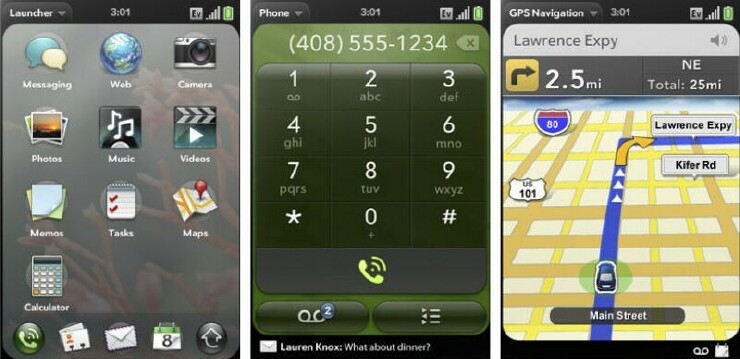 The home screen is just wallpaper with favorite apps at the bottom. Dieter says that the time and stuff at the top looks like it's part of the device instead of inside the screen. You tap an icon and the application glides up. Of course we'll post more details soon!
You can read Palm's full press release here.
You lucky Sprint folks! I'm happy for you that you'll get to get a hold of the Palm pre first! I want one soooooo bad!!!
Head over to sprint.com and get your pre-order in! ;-) You can discuss this article here.
Copyright 1999-2016 TreoCentral. All rights reserved : Terms of Use : Privacy Policy

TREO and TreoCentral are trademarks or registered trademarks of palm, Inc. in the United States and other countries;
the TreoCentral mark and domain name are used under license from palm, Inc.
The views expressed on this website are solely those of the proprietor, or
contributors to the site, and do not necessarily reflect the views of palm, Inc.
Read Merciful by Casey Adolfsson