treocentral.com >> Products & Reviews >> Handhelds
Treo 180 Reviewed
User Opinions
100%
0%
Details
| | |
| --- | --- |
| > | Name Treo 180 |
| > | Company Handspring |
| > | Size 4.3" x 2.7" x 0.7" |
| > | Standby Time 60 hours |
| > | Input Type Thumbtype Keyboard |
| > | Processor 33 Mhz DragonBall VZ |
| > | OS Palm OS 3.5.2H2 |
| > | Talk Time 2.5 hours |
| > | Other Features Jog rocker, Ringer switch with vibrate option, Headset jack, Personal speakerphone, Protective flip lid, GPRS upgradeable upon availability, Microphone. |
| > | Memory 16 MB |
| > | Color Steel Blue |
| > | Screen 160x160 4 bit greyscale |
| > | Fact Sheet & User Opinions |
Availability
Pricing
One Device
One day while I was driving home, a song came on the local classic rock station that fits the Treo perfectly. I don't remember all of the lyrics, but the singer wanted to "be mobile" and not be tied down. The Handspring Treo 180 lets me not be tied down anymore, because instead of carrying a pager, cell phone, and a PDA, now I can carry just one device.



The Hardware



The Treo 180 is a truly unique device in the Palm world. There have been attempts at combining cell phones and PDAs before, but those failed because of size and poor usability. Handspring has done an excellent job of marrying the cell phone and PDA.

One of the Treo 180's unique features is its Jog Rocker on the left side that can be used to quickly select and dial phone numbers when the Treo is opened. In normal Palm OS applications, the jog rocker can be used in place of the scroll buttons. I really liked the Jog Rocker and want all Palm OS applications to become "rocker-aware" so that I can scroll and select any button on the screen.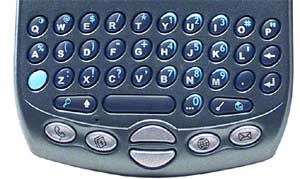 The most talked about feature of the Treo 180 is its QWERTY keyboard, which makes text input very easy for new handheld owners and Palm mavens alike. There are 34 total buttons on the keyboard, including a blue Option (OPT) button that is used for typing the blue characters above some keys.


The OPT button can also be used for selecting some on-screen buttons. Press OPT Enter to say Ok, and OPT Backspace to say Cancel. This is the only time that you have to hold down two keys at once; for other things like typing a blue character or going Home, you can press OPT, let go, then press the desired key. This makes typing when walking or -- God forbid -- driving easier. Just don't let me catch you driving while typing. Use the OPT in conjunction with the application buttons as well (they cannot, however be changed without 3rd party software):
OPT Phone = Memo

OPT DateBk = ToDo

OPT Blazer = CityTime

OPT SMS = Calculator
The ListType button (...) is used for special characters. For example, type a lower-case r then press ListType to bring up a listing of special characters such as ®. Most of the characters have ListType characters available. For the full listing, open a memo in MemoPad then select the Edit | Keyboard Help. Unfortunately, Handspring didn't include this information in its Keyboard application.



The Treo 180, while wider than most traditional cell phones, feels very comfortable when holding. The weight is not a problem, as it weighs exactly the same as my Nokia 3390 when its in its carrying case.

Other Hardware >>



Copyright 1999-2016 TreoCentral. All rights reserved : Terms of Use : Privacy Policy

TREO and TreoCentral are trademarks or registered trademarks of palm, Inc. in the United States and other countries;
the TreoCentral mark and domain name are used under license from palm, Inc.
The views expressed on this website are solely those of the proprietor, or
contributors to the site, and do not necessarily reflect the views of palm, Inc.
Read Merciful by Casey Adolfsson