treocentral.com >> Products & Reviews >> Handhelds
Treo 650
Overview
When the Treo 180 came out, it was the first intelligently designed smartphone. I loved how easy it made it to send text messages. At one point, I managed to send/receive over 1,500 messages in one (expensive) month! I've managed to tone down my texting with the Treo 600, particularly once I started using regular email.

The Treo 600 was a refreshing change over earlier Treo models. I've never been a fan of flip phones, and the size, while still much bigger than my Sony Ericsson K700, is manageable. The Treo 650, although not as revolutionary as the 600, has enough improvements and features to make any mobile profesional take notice. For this review, I will be focusing on the differences between the Treo 600 and 650 so that you can see the improvements that PalmOne has made and decide which Treo is right for you.


Processor


The CPU in the Treo 650 is a 312MHz Intel PXA270, while the Treo 600 uses a 144MHz ARM processor. While a faster processor does not always translate into faster speed, I found that applications that were heavy on calculations were much faster. As a test, I used the astronomy program StarPilot and had the two handhelds refresh the night sky using rural magnitude settings. The Treo 650 finished at least three seconds ahead of the Treo 600.


Keyboard


I was looking forward to the redesigned keyboard of the Treo 650. The 600's keyboard was good, but sometimes the keys felt smallish and the backlight didn't do a very good job when typing in the dark. Typing is much easier on the Treo 650. The letters on the keys are larger and easier to read. The keys are also arranged in a "smiling" pattern that is more ergonomic for typing.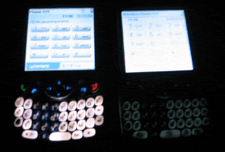 The alphanumeric keys are the same, but Alt now has its own key next to the spacebar, and there is now an additional shift key. These keys take the place of the Home and Menu keys on the 600 and now reside above the Calendar and Messaging buttons. The Power button has been removed, so you press the red phone (End) button. Coming from using a 600, it took some getting used to, but now I find the 600's buttons out of place. The Treo 650 also has an extra button on the left side below the volume control (still requires 3rd-party software to be a scroll wheel) that can run any program you choose.

To make sure that my enjoyment of the new keyboard layout wasn't a placebo effect, I used an old Words Per Minute application. My times on the Treo 650 were consistantly 24 or 25 WPM, while I averaged about 19 WPM on the 600 and even had a few typing errors.

The backlight on the Treo 650's keyboard is amazing. Most of the 600's keys are bluish-gray at best when the backlight is on, while the same keys on the 650 are lit up in white. You could actually use the keyboard to find your way in the dark if it wasn't for the Treo's brilliant screen.

The Screen >>



Copyright 1999-2016 TreoCentral. All rights reserved : Terms of Use : Privacy Policy

TREO and TreoCentral are trademarks or registered trademarks of palm, Inc. in the United States and other countries;
the TreoCentral mark and domain name are used under license from palm, Inc.
The views expressed on this website are solely those of the proprietor, or
contributors to the site, and do not necessarily reflect the views of palm, Inc.
Read Merciful by Casey Adolfsson