treocentral.com >> Stories >> Commentary
The Treo's Future
Give us a Treo mini

Four years ago, I wrote my review of Handspring's VisorPhone for (then) VisorCentral. I loved how the device that carries all my contacts, calendar, and other crucial data could also be used as a phone as well. At the time, this Springboard expansion module was quite revolutionary, and offered a glimpse of what a true smartphone should be.

Handspring, and in turn PalmOne, have given us the Treo, which took the concept of the VisorPhone and gave us a fully-integrated smartphone. The Treo 650 has continued the evolution of the smartphone and is more on par with traditional mobile phones, many of whom now can synchronize contacts and calendar information as well. That's why I think that PalmOne should release a Treo that forgoes the QWERTY keyboard and has a traditional phone keypad.

Looking at recent company activities, PalmOne seems to be puting things in motion to do this. When word first broke on the company's exploring other operating systems for its devices, it was looked at as a way to appeal to Windows-centric enterprise customers. Then PalmSource announced that it was developing a version of the Palm OS for Linux, and the other shoe dropped. PalmSource said that it planned "to make the Palm OS look and feel and the PalmSource PIM applications available for all price classes of mobile phones, from entry level to high end."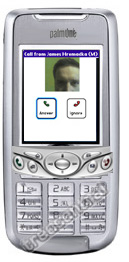 Those free phones people get with cell service aren't going to have full keyboards anytime soon. Looking at some recent numbers, over 167 million mobile phones were sold in Q3 2004. PalmSource and PalmOne alike would love to get out of the "Others" row and become a real player in the mobile market. It is going to take a lot more than having two models available.

When I saw the Treo 650, I looked at its button placement and thought about how well that would work on a mobile phone. I made a mockup of how PalmOne could easily take that button placement and use it on a phone. Users would have one-button access to their calendar and messages, and it's amazing how fast people can type on a regular phone.

Of course this would take a considerable revamp of the Palm OS. No more touchscreen would mean the navigational menus and even programs would have to be rewritten. The more programs take advantage of the current Treo's navigational buttons, the easier this transition would be.

PalmSource will have more information about Palm OS Cobalt on Linux at the company's developer convention this Spring. I don't see a traditional mobile phone coming PalmOne or any other Palm OS licensee until the end of this year at the earliest, and most likely sometime in 2006. But you never know. In an age where there is a $499 Mac, getting a free Treo one day seems a bit more possible.




Copyright 1999-2016 TreoCentral. All rights reserved : Terms of Use : Privacy Policy

TREO and TreoCentral are trademarks or registered trademarks of palm, Inc. in the United States and other countries;
the TreoCentral mark and domain name are used under license from palm, Inc.
The views expressed on this website are solely those of the proprietor, or
contributors to the site, and do not necessarily reflect the views of palm, Inc.
Read Merciful by Casey Adolfsson