treocentral.com >> Products & Reviews >> Accessories
S/E HBH-600 Akono Headset
User Opinions
No reader opinions available.
Details
Availability
Pricing
Overview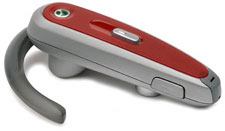 Finding the right Bluetooth headset for the Treo 650 can be an exercise in frustration. Because of the Treo's limited Bluetooth support, sometimes headsets that are excellent for other phones work poorly with the Treo 650. I have a Motorola HS 850 that I love to use with my Sony Ericsson K700 but doesn't autoconnect with the Treo, so I've been looking for a headset that offers good sound quality, autoconnects with the Treo, and has a good price. The Sony Ericsson HBH-600 fits the bill.


Pairing


The HBH-600 will go into pairing mode the first time it is turned on. You can also put it in pairing mode by holding both volume buttons for 5 seconds. You will see its LED repeatedly flash red and green. Passcode is 0000. It paired quickly and painlessly with the Treo 650.


Features


The HBH-600 is small and lightweight yet doesn't have a tiny boom that barely passes your ear. The earloop is sturdy and can be swiveled around, allowing one to easily switch ears. The connector is very secure, so you have to use some effort to remove the earloop. I initially didn't even notice the swivel and was taking the earpiece completely off to switch ears (duh).


The front of the boom has volume buttons on it. An audible tone sounds when adjusting the volume, and it also lets you know when you have reached the max/min levels.

The back of the HBH-600 is where the power cable or lanyard plugs in. It uses a standard Sony/Ericsson adapter that must be lifted up when unplugging. The User Guide has a nice picture explaining this on p6. The LED is red while charging and green when charging is complete. I recommend charging it for 8 hours before first use.

The HBH-600 comes with two color plates (red and charcoal) that can easily be installed. Next to the green Sony Ericsson logo is a spot where you can get your thumbnail in. Lift and slide your nail until all 5 tabs are out to remove a plate, then snap in the other color. I like the red plate, as it's not something I see people normally wear. I also like that the HBH-600 uses a green LED. I love blue as much as the next guy, but it can be really distracting to see a bright blue light. The HBH-600's green is behind the action button and isn't distracting.


Usability


I had gotten used to the Treo's limited Bluetooth functionality, so it was a welcome surprise when the HBH-600 automatically connected to the Treo when making/receiving calls. People that I spoke to had no trouble hearing me, even when I was near a loud radio. Several times I spoke with people that didn't even know I was using a headset. I did have to turn up my volume so my sister could hear me while in her noisy car, but then all was well. The speaker on the HBH-600 is very good, and I didn't hear too much static.

The HBH-600 is very light yet is very secure. I was able to wear it constantly throughout the course of a day. The battery life isn't spectacular, so you'll be charging it at the end of each day.

Conclusion >>



Copyright 1999-2016 TreoCentral. All rights reserved : Terms of Use : Privacy Policy

TREO and TreoCentral are trademarks or registered trademarks of palm, Inc. in the United States and other countries;
the TreoCentral mark and domain name are used under license from palm, Inc.
The views expressed on this website are solely those of the proprietor, or
contributors to the site, and do not necessarily reflect the views of palm, Inc.
Read Merciful by Casey Adolfsson