treocentral.com >> Products & Reviews >> Accessories
Krusell Horizontic Plus
User Opinions
No reader opinions available.
Details
Availability
Pricing
Overview
Of all the case styles available for the Treo, the side pouch is my favorite. It keeps the Treo out of the way and easily accessible. I love my E&B Copilot Case, but some may not like how you have to loop a belt through it in order to wear it. Users that want the most options available to attach the Treo to the side, the Krusell Horizontic Plus has it all.


Features


The Horizontic Plus is no ordinary side case. It can be worn on the side using two straps. These loops have snaps, so it can be attached to a belt while it's being worn. The straps can also be easily attached to the outside of a bag or backpack. There is a small ring on the left side of the case that a lanyard (not included) can be attached. If belt straps aren't your thing, the Horizontic Plus can also be attached using one of Krusell's beltclips (sold separately). Both a swivel clip and a slim clip are available.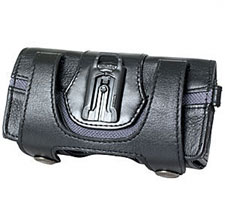 The Horizontic Plus uses a magnetic snap to keep the Treo secure inside. There are generic cutouts on the sides of the case; the best way to carry the Treo is with it facing towards the inside of the case. This allows access to the audio jack on the bottom of the Treo.

The case also has two slits where you can store SD expansion cards. Black leather encompasses most of the outside of the case while the inside is dark gray leather. There are also fabric accents on the front and back of the case.


Usability


Considering it's a generic case, the Horizontic Plus works well with the Treo. The magnetic snap takes some getting used to, so you may have trouble closing the case at first. I really like the beltloop straps; this case is great if you want to attach the Treo to your backpack. It's also nice to be able to carry extra SD cards. I've never been crazy about plain slit pockets because leather stretching over time could cause the slit to become loose, but the Horizontic Plus has a special lining so that fabric is used instead of leather to keep the SD cards in place.

The Treo fits tightly inside the case, so there is not enough room in the Horizontic Plus for a Treo inside a skin case. The case feels very secure on a belt, and the leather is sturdy and does a good job of protecting the Treo.


Conclusion >>



Copyright 1999-2016 TreoCentral. All rights reserved : Terms of Use : Privacy Policy

TREO and TreoCentral are trademarks or registered trademarks of palm, Inc. in the United States and other countries;
the TreoCentral mark and domain name are used under license from palm, Inc.
The views expressed on this website are solely those of the proprietor, or
contributors to the site, and do not necessarily reflect the views of palm, Inc.
Read Merciful by Casey Adolfsson