treocentral.com >> Stories >> Guides
Using del.icio.us on your Treo
Introduction
I love del.icio.us. I use it on my desktop almost to the complete exclusion of local bookmarks. For those of you not in the know, del.icio.us is a social bookmarking site that has four killer features:
it loads fast and isn't ad or text-heavy
there are lots of ways to post your bookmarks
you can share your bookmarks and see other people's bookmarks
bookmarks are 'tagged' so you can easily find them later.
Now, there are plenty of sites that aggregate various links to Treo-friendly sites available. Recently, I got to thinking about how much I love del.icio.us on the desktop. There's this great website that loads quickly, stores my bookmarks, is easy to navigate, and lets me find other people's stuff? Seems like a good fit for the Treo to me, but is it?
This article will briefly discussion using del.icio.us on your desktop, then see if we can't get together as Treocentral users and readers to make ourselves a great link archive, and finally give some tips for speeding up del.icio.us on your Treo.
Using del.icio.us on your desktop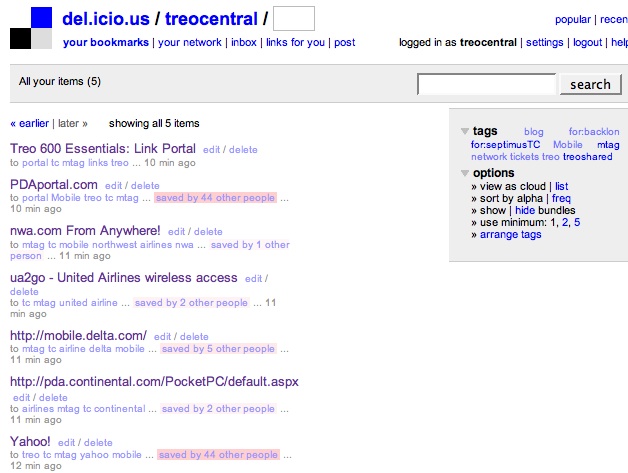 The first thing to do is make an account. Once there, you can, if you like, do a big batch upload of all your locally stored bookmarks into del.icio.us by clicking "settings" in the upper-right-hand corner and then "import." The instructions there are pretty straightforward.
After you've uploaded your bookmarks, how do you bookmark new pages? That's easy too, there are buttons that you just add to your bookmarks bar. If you're using Firefox, then there's a great extension that you can also install.
The key, though is using tags. Tags are great for two reasons:
You can put stuff in multiple categories very quickly
You can find stuff that other people have tagged the same way.
The possibilities are really endless. For example, every day I take a look at the del.icio.us page for bookmarks that have been tagged treo. You can go to any del.icio.us tag page just by typing http://del.icio.us/tag/ENTERYOURTAGHERE. More information on how that works here. You can also enter multiple tags with the symbol in between them.
The upshot of all this is this: When I'm browsing the web and I come across a site that I want to look at on my Treo, I just bookmark it and tag it 'mtag.' Then I can go to http://del.icio.us/MYUSERNAME/mtag to find it on my Treo later!
Lastly, if you use an RSS reader (like mRSS on the Treo or a desktop client like Firefox), every bookmarks page on del.icio.us has an automatically updated feed.
Social Networking? Social Treoworking >>
Copyright 1999-2016 TreoCentral. All rights reserved : Terms of Use : Privacy Policy

TREO and TreoCentral are trademarks or registered trademarks of palm, Inc. in the United States and other countries;
the TreoCentral mark and domain name are used under license from palm, Inc.
The views expressed on this website are solely those of the proprietor, or
contributors to the site, and do not necessarily reflect the views of palm, Inc.
Read Merciful by Casey Adolfsson