treocentral.com >> Stories >> TreoCast Podcast
TreoCentral TreoCast Episode 2
Black Tie Treo Giveaway!

How to listen
(update: had some trouble with Garageband reverting to the non-cleaned-up version. Just uploaded a slightly fixed version, should pop less. --dieter)

Black Tie Contest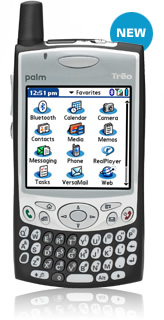 Palm has given TreoCentral a Black Tie Treo to give away! To enter, simply call us up at 800-557-6819 x222 and tell us: How would your favorite fictional character use a Black Tie Treo 650?. The deadline for entry is midnight EST, Sept. 25th. The winner will receive the Limited Edition Black Tie Treo (more information here.
Two runners-up will win a Palm Compact Wireless headset. So get dialing! All three winners will have their entries played on the air. (Yes, you can also email in your entry to [email protected] - but how is that fun?)
News
The Treo 700wx is now available. A bit more on that below. For now, see TreoCentral's first look. I'll have a review up on Wednesday, possibly Tuesday (I'm just one man!).
Ed Colligan supported requiring California drivers to use handsfree kits while driving. Governor Arnold "Jingle all the way to da choppah!" has yet to sign the bill as of this writing.
Yahoo has released Yahoo Go for Windows Mobile devices (among a handful of others). Dieter was mightily impressed with how it automatically set up Yahoo's mail in Outlook Mobile - but it does a bunch of other things too. If you're using a 700w or a 700wx and use Yahoo at all you really ought to give it a try.
Annie Latham's Talkin' Treo column points us to to a couple of non-Treo news items. The Blackberry Pearl is coming out soon, the Motorola Q finally got its push email update, and we slid right over the Nokia e62, but that's on the way too.
Blackberry Connect is finally out of beta for Cingulair Treo 650 users.
Finally, there's this story about the need to erase your data fully before selling you phone. Fully. Check out the Zero Out Reset article in our wiki.
Comments?
Please email us your comments at [email protected] . You can also call in comments at 800-557-6819 x222 to leave us audio comments. Finally, discuss the TreoCast in our discussion forums.
The deadline for the Black Tie Treo Contest, once again, is Sept. 25th. So call.
Also: we hit the #5 gadget podcast last week - Subscribe to iTunes and push up our numbers, hey?
...and I'm not posting a picture of me with my franken-pop filter. We're all better off.
Treo Guide: 700wx
Here's a recap of our disucssion of the 700wx. Be sure to read our first look (with video) and watch for a full review on Wednesday.
Tons of program memory – can't seem to get the thing to slow down. 64 megs total, around 54ish available to the user. I can actually install the today plugins I love – spbplus, spbweather. Etc.
EVDO / sound / camera / boot time / storage all similar to the 700w.
USB tethering out of the box (desktop client install req) – but only USB
Soft buttons during call for speakerphone and mute
Same storage as the 700w
On Demand is fun and cool – appears to be free, but it's odd, there are bit that say "starting trial" but they don't make it transparent whether you're going to have to pay for certain services after awhile.
Available today
Keeping a Treo Questions Thread open in the forums.
Yes. I've owned nearly every darn Treo ever released.
Treo Accessories
We talked a little bit about the Palm GPS Navigator Smartphone Edition 2 (TomTom6). It's a great kit and a great deal. The kit includes:
Bluetooth GPS receiver (SIRF III picks up satelittes fast)
1 gig SD card preloaded with North America's maps
an SD card reader
a Car charger that charges both the Treo and the receiver
A car mount
At $299.95 it's a great deal - and it's compatible with the 650, 700p, 700w, and 700wx.
TreoCentral Community Forums
Only a few days left in the wiki contest! Get details here.
One bit I forgot to mention in the TreoCast is that we updated the version of vBulletin that runs our boards. We got a lot of help from the guy behind Transverse Styles. Check him out - good designer. :-)
There's a ton of great information in the Treo 700w/wx forums. I'm specifically trying to answer questions in this thread.
Mike points out What do to with old Treos - a good thread for those of you upgrading.
Credits
Special thanks to Palm for donating the Limited Edition Black Tie Treo 650 for our giveaway!
Thanks to the TreoCentral Store for sponsoring the TreoCast.
Music comes from ccMixter.org, a great Creative Commons music site. Our specific music is the following:
Discuss the TreoCast in our forum.
Copyright 1999-2016 TreoCentral. All rights reserved : Terms of Use : Privacy Policy

TREO and TreoCentral are trademarks or registered trademarks of palm, Inc. in the United States and other countries;
the TreoCentral mark and domain name are used under license from palm, Inc.
The views expressed on this website are solely those of the proprietor, or
contributors to the site, and do not necessarily reflect the views of palm, Inc.
Read Merciful by Casey Adolfsson