treocentral.com >> Products & Reviews >> Software
Kinoma Player 4 EX - Part One
Overview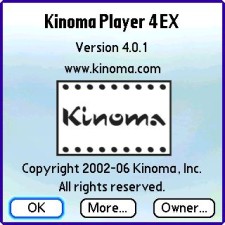 This was a tough review to write - not because the new Kinoma Media Player 4EX ("4 EX" for the sake of brevity) is difficult to use or hard to explain. It's because this new program is so feature-rich.. it does SO much, it's hard to know where to start (or stop) talking about it! So this review will be a two-parter. Tune in tomorrow for part two, which will cover more about 4 EX's Steaming Video capabilities, planned improvements for the mid-December, 2006 update, and improvements and additions that Kinoma has already made in the Media Guide in just the first month since the product's release.
But I'll start off with a bold statement, and then take you on as much of a tour of the capabilities of this brilliant software that I can cram into this space, and for dessert, you'll get a sneak peek at what's coming in the next version and finally we'll cap it all off with a special pricing deal for TreoCentral readers.
Bold Statement
In my opinion, 4 EX is simply the single most feature-rich, entertaining, well thought-out, best supported and powerful PalmOS media player I have ever seen or used. This is one VERY important new product, and I don't say that lightly. I'll make another audacious statement. If you own a Treo 700p and have an unlimited data plan, you'd be nuts not to plunk down the small price for 4 EX. I've seen programs at many times the price that don't do one tenth of what 4 EX does. This goes way beyond cool. The term "killer app" is used so often it's almost lost its meaning. For those of you with PalmOS Treos on a high speed data network, or a TX or LifeDrive with a WiFi connection, 4 EX defines the term "killer app."
You don't have to take my word for it, and I don't expect you to. Reviews are one guy's opinions. But if the concept of a media delivery system in your hand that's basically the equivalent of a portable radio and TV with over a thousand pre-programmed channel buttons ready to go "out of the box" doesn't get your juices flowing, I don't know what would.
If I was in charge of Palm sales, and wanted to blow someone's mind with a Treo, 4 EX is the program I'd use to do it.
You all have your own favorite video and audio players, and sure, I own and use TCPMP, Pocket Tunes Deluxe, mOcean and others and I know folks get religious and love to argue about which is the best, and there are good reasons to like all of them. At the same time, none of them are perfect – what software is? I won't claim 4 EX is perfect either, but as I type this, it's been out barely a month and it's already been through one upgrade and another one is lurking behind the curtain, almost ready to release.
Ancient History Lesson Time
The Treo 700p rolled out in late May, 2006 with Kinoma Media Embedded 1.0 on board.
That icon-less program had just a small sub-set of the features found in 4 EX. It couldn't do local (off your storage card) playback. It couldn't play Windows Media Video 9, Flash, or QTVR panoramas. It was only accessible from Blazer 4.5. There were no icons, menus or bookmarks to let you manipulate the program from outside the browser. About all it was good for was limited audio streaming and watching SprintTV which I found grossly underwhelming.
My long-time contact at Kinoma told me his company was forced to engineer Embedded in that crippled form, but said "we're working on a free-standing player that will blow your mind and it'll be along later this year." And now, it's here.
Unveiled on Halloween, 2006, when I downloaded the self-unpacking 4 EX installer onto my Sprint 700p (you just gotta love over-the-air software delivery).. it put a 2mb program called "Kinoma" into my Treo's internal memory. Internal installation is required and for streaming media, especially video, you really want a high speed connection and, out of necessity, an unlimited data plan, so between my nearly full 650 and my spacious 700p on Sprint's "PowerVision" EVDO network, the choice was obvious. Sure 4 EX will run on any PalmOS V5 Treo, but EVDO with its DSL-like speed is a big fat pipe compared to the 650's 1xRTT garden hose with a kink in it. So if you want to stream smoothly, you want fast data rates and an unlimited data plan.
With the aid of a Reviewers' Guide on my computer, and my Kinoma contact on the phone, as he walked me through 4 EX's features I experienced an epiphany not unlike the first time I used a Web browser in the early 90s. "This program was a year in the making" he told me. A few minutes playing with it and my mind was reeling. I understood why he said that, as he gave me the nickel tour.
Cheap at triple the price
For about the same bucks as 4 EX you could wolf down lunch and a knock back a couple beers at the Sizzler. And what would you have to show for that lunch? A full stomach, maybe some pleasant burps, and the next day, nothing. For the same fistful of cash, 4 EX hands you endless thousands of hours of entertainment, news and information, and enlightenment and since it's on your Treo, and your Treo's always with you (it IS, isn't it?) you're never more than a few taps away from a handheld media portal so staggering in scope, it has to be experienced to be believed.
Okay, I'm raving. But I believe 4 EX deserves every rave I can summon up. There's simply nothing else like it.
A meat and potatoes interface >>
Copyright 1999-2016 TreoCentral. All rights reserved : Terms of Use : Privacy Policy

TREO and TreoCentral are trademarks or registered trademarks of palm, Inc. in the United States and other countries;
the TreoCentral mark and domain name are used under license from palm, Inc.
The views expressed on this website are solely those of the proprietor, or
contributors to the site, and do not necessarily reflect the views of palm, Inc.
Read Merciful by Casey Adolfsson