treocentral.com >> Stories
Browse by Date: June 2009

2001: January, February, March, August, October, November, December
2002: January, February, March, April, May, June, July, August, September, October, November, December
2003: January, February, March, April, May, June, July, August, September, October, November, December
2004: January, February, March, April, May, June, July, August, September, October, November, December
2005: January, February, March, April, May, June, July, August, September, October, November, December
2006: January, February, March, April, May, June, July, August, September, October, November, December
2007: January, February, March, April, May, June, July, August, September, October, November, December
2008: January, February, March, April, May, June, July, August, September, October, November, December
2009: January, February, March, April, May, June, July, August, September, October, November, December
2010: January, February, March, April, May, June, July, August, September, October, November, December
2011: January, February, March, April, May, June
Best of Smartphone Experts, 28 June 2009
Here's the big Smartphone news of the week.

Smartphone Experts Roundtable 5
Join Dieter, Matthew, Rene, and Kevin as they discuss all of the insanely great new smartphones that have been announced and released in the past month.

Unlocked GSM Treo Pro Now only $399
Palm has dropped the price on the unlocked GSM Treo Pro to a very attractive $399

Best of Smartphone Experts, 21 June 2009
Want just the big news in the world of smartphones? Look no further!

Review: Sprint Treo Pro
I've spent some time with the unlocked GSM version of the Treo Pro. Now I've had a chance to run the Sprint CDMA Treo Pro through its paces. Let's take a look...

Best of Smartphone Experts, 14 June 2009
Want just the big news in the world of smartphones? Look no further!

WWDC 2009 Coverage from TiPb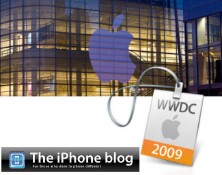 Our sister site PreCentral.net has been covering all thing Palm Pre lately, and I bet you've almost caught up on all that good stuff. Well, if you haven't had a chance to catch all the iPhone 3G S news and all the other stuff from the Worldwide Developers Conference (WWDC) 2009, now's your chance.
That's right, our sister site The iPhone Blog, has got all the WWDC news covered in full in this great WWDC 2009 roundup:
Head on over to TiPb and read up on all the iPhone sweetness! ;-)
Catch Palm's new CEO in Action: Earnings Call June 25

Palm announced that their earnings call (Q4 FY2009) will be taking place on Thursday, June 25 at 4:30 p.m. Eastern (1:30 p.m. Pacific). It will be hosted by Jon Rubinstein, chairman and chief executive officer, and Doug Jeffries, chief financial officer.

To listen to the call via audio webcast, go to Palm's Investor Relations website. If you want to participate via telephone, dial 866.356.4441 (domestic) or 617.597.5396 (international). There is no pass code required for the live call.



Podfather turned Prefather now CEO of Palm
Jon Rubinstein has been appointed CEO of Palm...

Best of Smartphone Experts, 7 June 2009
Want just the big news in the world of smartphones? Look no further!

PreCentral's Palm Pre Review
Dieter has posted up an extensive Palm Pre review over at our sister site PreCentral.net, and you don't want to miss it...

Vertical Reach-Healthcare: Doc with Centro named Skyscape Millioneer

When you've got an established operating system with a large user base, it isn't surprising to see a whole slew of vertical (as in industry specific) applications appear. Which brings us to a recent announcement from Skyscape, a worldwide leader in providing trusted medical information for mobile devices.
The "Millioneer" (the qualifying customer who pushes Skyscape's customer database to over one million users) is Dr. Omar Saleh from Mississippi. Associated with the Diagnostic Radiology Department at the University of Mississippi Medical Center and Emergency Departments across rural areas of Mississippi where he works as an ER physician, Dr. Saleh relies on his Palm Centro to tap into Skyscape. He remarked:
"There has been a tremendous buzz about Skyscape among physicians and nurses. When I decided to add clinical resources to my Palm Centro, based on the recommendations from my colleagues I visited the Skyscape website and was impressed by the breadth and depth of the portfolio offered by Skyscape."
Dr Saleh is subscribed to Skyscape's DrDrugs®: Drug Guide for Physicians and Archimedes 360° Medical Calculator for his smart phone. To learn more about Skyscape's product offerings, go to www.skyscape.com.

By the way, as the Skyscape Millioneer, Dr. Saleh has been rewarded an Apple MacBook, an iPod Touch, and a $200 shopping spree in the Skyscape store.



New Version of Kinoma Play: World's First Mobile "Social Media Browser"
Kinoma has unveiled a major new release of Kinoma Play which includes the world's first mobile "Social Media Browser"...