Best of SPE, 31 May 2009
Each week we bring you the biggest stories from around the Smartphone Experts network. We're changing up our format this week: shorter, bite-sized, yet still delicious.

Palm Centro and Treo Pro Heading to SaskTel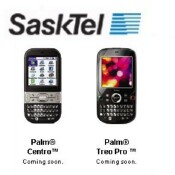 I read over at MobileSyrup that lots of new smartphones are headed to Saskatchewan in Canada via SaskTel, the leading full service communications provider there.
Seems that SaskTel has officially put "Coming soon" on their website for the Palm Centro and Palm Treo Pro, along with the BlackBerry Pearl and the Samsung Omnia.
No word on the prices or actual dates yet.
Treo Pro Now Available on Telecom New Zealand XT Mobile Network
Palm announced today that the Treo Pro is now available on the Telecom New Zealand XT Mobile Network.
The Treo Pro is aimed at business users and lets IT managers support an increasingly mobile work force with the ease of use and robust feature set. Running on Windows Mobile 6.1, the Treo Pro allows for easier device management and access to information on the corporate network. Plus, there are benefits of lower costs and increased productivity.
Treo Pro helps optimize business processes by effortlessly mobilizing users with enhancements to the Windows Mobile 6.1 platform, including:
One-touch Wi-Fi button -- Easy, fast Wi-Fi connection experience (802.11b/g).
Today screen enhancements -- Web search directly from the Today screen.
Ringer switch -- Silences the device immediately.
Screen saver -- Lets users know at a glance -- without turning on the device -- what time it is and whether they have missed a call or have a new SMS/MMS message.
New voicemail indicator -- The center button flashes to let users know that a voicemail is waiting.
Dedicated email and calendar buttons -- Fast one-button access.
You can read the full press release here. And more information about the Treo Pro is available at www.palm.com/TreoPro.



PalmCast Episode 66


Dieter and Mike discuss the Pre release date and price, plus all the latest rumors. Listen in!. Listen in!



Treo Pro Now Available in Mexico on Iusacell
The CDMA version of the Treo Pro is now available on Iusacell.

Palm Eos Arriving 2nd Half of 2009?
Engadget got hold of an AT&T slide showing the Palm Eos coming in the second half of 2009...

Best of SPE, 24 May 2009


Wondering what you may have missed this week in the smartphone world? The Best of SPE is here to ease your mind and get you caught up.



Fictionwise Anniversary Sale

Fictionwise, my favorite eBook haven, is going to be turning 9. They're in the midst of an anniversary sale, so if you're in the reading mood, now would be a great time to browse through their eBooks.
"Fictionwise is turning 9 -- Celebrate with us and save 30% to 50% on EVERY eBook, with Micropay Rebates and discounts throughout the store. Hurry and Save because before you know it, we'll be 10!"
Head on over to Fictionwise and take part in their anniversary sale and save some money.



It's Official: Palm Pre Releases on June 6th, $199 after contract
We finally know when the Pre will be released, and even know the price!!

Best of SPE, 17 May 2009
Each week we bring you the Best of SPE and this week is no exception. From Android to Windows Mobile and everything in between, we've got your smartphone news fix right here.

Hyatt Goes Mobile-Friendly...

Looks like the Hyatt has made some moves to be more mobile-friendly (and not in an Apple App Store way). According to this story posted at FierceWireless.com, the Hyatt just launched its mobile Web site, which will provide guests with the ability to locate and book a hotel, view or cancel reservations, and check in or out through any mobile device. The new mobile site can be accessed on any Web-enabled mobile phone, automatically redirected from Hyatt's homepage at www.hyatt.com.
This mobile site is Hyatt's mobile site powered by Usablenet, a mobile partner for leading brands including American Airlines, Amtrak, Limited Brands, Nissan and Pfizer.
The "magic" is that when you launch the Hyatt website from your browser (i.e. Blazer on the Treo Centro, it arrives formatted for the screen. I gave it a try and was impressed. No left to right scrolling necessary.
The options offered included:
Day of Travel: Check In/Out and Travel Tips
Book a Hotel: Find and Book a Hotel and Hyatt Special Offers
Gold Passport (their frequent traveler program)
Contact Hyatt with access to their 800 number and other means of getting a hold of them (including international numbers).
It looked impressive and is worth bookmarking for anyone who travels frequently and prefers staying at a Hyatt.
Agendus for Windows Mobile Version 3.4
We reported earlier this week that iambic had released an updated version of their Agendus for Palm OS. Today, iambic has announced that Agendus for Windows Mobile version 3.4 is now available.
Agendus enhances, integrates, and extends the built-in Windows Mobile PIM applications (Calendar, Contacts, and Tasks) allowing users to get things done quickly and efficiently when on the go, on their touchscreen and non-touchscreen Windows Mobile phones.
Built from the ground up with the inter-relatedness of the various functions in mind, Agendus includes many indispensable features such as numerous views, advanced contact searching, contact history tracking, address mapping and directions integration, weather forecasts, stock quotes, and much more.
New in Version 3.4:
Month View Clocks: Corrected the inability to see the numerical portion of a date when an event (clock) was present.
Tasks: Addressed alarm dates on repeating tasks not adjusting along with the regenerated task upon marking complete.
PowerSearch 411: Restored the "City" field which was inadvertently removed in the previous update.
Meetings: Corrected changing a "Timed" meeting to a "No Time" meeting remaining "Timed" after saving.
Resoved a stability issue when attempting to create a new Call if using Pocket Outlook edit dialogs.
You can get Agendus for Windows Mobile (Standard Edition - $19.95) here and the $24.95 Professional Edition here. Of course you can always download the Free trial and give it a test run first to see how you like it.



PalmCast Episode 65
Mike and Dieter discuss Palm Pre around the world, the Palm Eos, and much more. Listen in!

Spb Puzzle 1.0 for Windows Mobile
Spb Puzzle is a classic jigsaw puzzle game, the object of which is to piece together the fragments to form a complete image. Puzzles are said to improve concentration, logic, attention, memory, and imagination. Spb Puzzle lets you play the time-tested jigsaw classic on your phone.

Agendus for Palm OS Version 13.06

iambic announced earlier this week that their Agendus for Palm OS is up to version 13.06. Agendus for Palm OS enhances, integrates, and extends the built-in PIM applications (Calendar, Contacts, Tasks and Memos) allowing users to get things done quickly and efficiently when on the go. Additionally, Agendus is optimized for one handed usage on d-pad equipped phones such as the palm os based Treo and Centro devices.
Built from the ground up with the inter-relatedness of the various functions in mind, Agendus includes many indispensable features such as numerous views, advanced contact searching, contact history tracking, address mapping and directions integration, weather forecasts, stock quotes, and much more.
New in Version 13.06:
Calendar Views: Resolved a corrupted date display in some instances on meetings in which the start and end times were the same (no duration)
Split View: Addressed some Tasks not showing in many instances with particular preference settings applied, despite they show in other views
Split View: Addressed a mis-timing issue when using drag 'n drop to reschedule a meeting which previously spanned midnight to a time frame which did not
Split View: Corrected auto-applying of Effects as defined in Meeting
preferences for after Completion/Cancellation not showing in this view when the status was changed via the edit dialog vs. the tap/hold context menu
List View Standard: Resolved an "Out of Memory" error appearing when attempting to define a Custom Date filter in which the beginning and ending dates were the same
Task View: Corrected the inability to scroll properly when this view was Grouped by "Due Date"
Task View: Corrected selecting a "Custom Date" while already filtered by a Custom Date reseting the filter view to "All"
Prefs > Tasks > Show: 'Show Only Dated Items' is now disabled by default, upon fresh install, follow a number of customer requests
You can get Agendus for Palm OS in the Standard Edition for $29.95, Professional Edition for $39.95, and the Premier Edition for $59.95.
Best of SPE, 10 May 2009
Each week we bring you the best of SPE. This week, The iPhone Blog brings you a gigantic Birthday Bash Contest with a grand prize of a Factory Unlocked iPhone 3G done up, Colorware-style. Crackberry.com had the WES 2009 Conference covered six ways from Sunday, too. Meanwhile, Nokia Experts stood out as the single best place to find out all there is know about the just-released Nokia E71x. There's much more, so read on!
Reminder: Have you backed up your Palm lately?
This week, New York Times writer, J.D. Biersdorfer tackled a reader's question about how to get contact and calendar information out of a "dead" Palm device.
You have two options: try to get the Palm organizer fixed or try to harvest the data that it synchronized to your computer transferred to Microsoft Outlook. The latter option, however, may not do you much good if you never (or rarely) synchronized the organizer to the computer's Palm Desktop program.
This is a reminder for all of us... make sure you sync and backup your data. In fact, set yourself an appointment to do so. Better yet, make that a recurring appointment.
Backup options, such as Resco Backup and Right Back Up by Stand Alone, Inc. are available starting at $9.95.
Win an Unlocked ColorWare iPhone 3G in TiPb's Birthday Bash!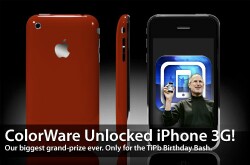 Our sister site TiPb is going to be celebrating their one year anniversary on May 11, and they're having a Birthday Bash!
Starting today (May 7th), TiPb will be having daily give-aways including iPhone accessories, promo codes for some of their favorite apps, iTunes gift cards, and... their biggest grand-prize so far:
A factory unlocked 8GB iPhone 3G in your choice of 35 different color options courtesy of the awesome folks at ColorWare.
Sounds good, huh? Want to enter? Simply enter the daily give-aways, and each time you enter one of the give-away contests, you'll automatically be entered to win the grand-prize.

If you haven't joined the TiPb iPhone Forums, you'll need to Register because the contests are going to take place in the forums.

Now head on over to TiPb and read about the contest details! Good luck! ;-)

And Congratulations to our sister site TiPb for turning One Year Old!!



Palm Developer Talks iPhone and Palm Apps
Bickbot.com chats with Rob from Hobbyist Software about Palm and Apple's failures and successes with apps.

Best of SPE, 3 May 2009


Each week we break down the best of the Smartphone Experts Network for your reading pleasure. It's possible you caught every single one of the 191 posts we published across our network this week, but we won't hold everybody to that. Device leaks, device announcements, and site contests all await you here - so read on!