Treo Software Roundup - v013009
This week we look at the usual mix of new and updated Palm OS and WM software...

Tips and How-To's: Traveling Blogger for Windows Mobile
This week Brian tells us about a free mobile blogging client for Windows Mobile...

SMS Your Subway Order in NYC

That's right, you can "eat fresh" by ordering from Subway via SMS in New York City. I just read an Into Mobile article (via Engadget Mobile) which says that Subway has launched a free service called Subway Now to allow New York City residents to make sandwich orders via text message.

Once you register on Subway's special website where you enter your credit card info, address, and make a list of your favorite sandwiches, you're ready to order. Just text "menu" to Subway's shortcode (466626). Subway will reply with a list of your predefined favorite sandwiches. Simply reply back with the number of the favorite you want to order, and you'll receive a text confirmation and pick up time. Pretty neat.

Since you'll have already paid for your order with your credit card, you can skip the line when you arrive at Subway and just grab your sandwich and go. This service is only in NYC at the moment, but will expand later. I'd love to be able to text in my Subway orders on my Treo Pro or Centro. Well, I know what I'll be buying for supper this evening. Looks like I'll be doing my ordering on the phone though.



Sprint Customers 'Bowled' Over With Exclusive Content
Annie tells us about a sweet Sprint exlusive app for all you NFL fans...

Official Palm Blog Talks About Mobile Gaming

The Official Palm Blog has posted up a short article on mobile gaming. As mentioned in the article, many people are seen playing games on their mobile phones. I've killed a crap load of time myself playing games on my Treo 680 and Centro while waiting around in a boring doctor's office.
According to the article, phones have been equipped with mobile gaming capabilities for over a decade. Plus, the number of mobile gamers around the globe is expected to reach 220 million this year. Yep, I'd say that the mobile gaming business is definitely booming. Big time!
The article lists the most popular Palm OS games over at Handango. Looks like Bejeweled 2 came in at the top of the list. Over at the TreoCentral Store, Bejeweled 2 comes in at number 5. Number 1 at the moment is The Real Dice Network
The Official Palm Blog asked some of the folks in the Palm community about their favorite games. Our own Dieter Bohn was asked, and he singled out Crosswords. I'm not surprised because I've heard Dieter mention a few times in podcasts how much he loves crossword puzzles. The author of the article likes Bookworm. Hey, that's one of my favorites too!
Go check out the article, and you can chime in on your mobile gaming habits on Palm's Facebook discussion board.
Thinking about all those Palm OS games sure does make me wonder what kind of games we'll be seeing on the Palm Pre. With no stylus, I doubt if we'll be seeing many of those games in which you have to tap on the screen to choose something like a colored jewel or a specific letter. Should be interesting to see what happens when the Pre is launched.
Sprint Treo Hands On at WMExperts
Yep, our sister site WMExperts got their hands on that wishy washy released date Sprint Treo Pro. I'm really glad that Malatesta was able to snag one because I figured it would probably be awhile before anyone got a hold of one. There is a thread in our forums regarding the delays. Seems that the Sprint Treo Pros have a software glitch of some type and will be going back for a ROM reflash. I guess the few people who did manage to walk out of a store with a Sprint Treo Pro will be sending them back.

Malatesta has taken the Treo Pro for a spin and has posted his first thoughts and some mouth watering photos to boot.

Mal let's us know that the Sprint Treo Pro is an exact port of the GSM version, with some minor changes for CDMA, the biggest being the inclusion of Mobile Internet Explorer 6, plus a bump in storage memory.

And speaking of memory, in the article, Mal says that it only has 43mb of free RAM (program memory) after a boot but that it's not been a problem so far with regular use.But... I did just now read a post by Mal in the forums where he talks about the RAM being too little. Hopefully, this will be something that will be addressed when the Treo Pros are sent back for repairs regarding the software glitches.

Anyway, head over to WMExperts and check out Malatesta's hands on and be sure to look at all the great pics too!



TreoCentral TreoCast Episode 59
More Palm Pre, Sprint Treo Pro, but best of all: your voicemails!

Mobile Banking a "Killer App"?

According to a story by Aaron Baar that appeared at MediaPost.com, "mobile applications for financial services companies--particularly banks--could become the new 'killer app' for telecommunications." ABI Research says that the number of people banking through a mobile device could hit half a billion worldwide by 2013. Senior analyst of consumer mobility, Mark Beccue, stated, "Mobile financial services have the potential to be bigger than mobile TV and premium mobile content in terms of numbers of subscribers. Everybody's trying to do it, and they're all scrambling."
It all comes down to how comfortable consumers are with online banking, which is the logical first step. If they trust online, they may be more likely to trust mobile.
The story also notes that in the U.S., the mobile banking leader is Bank of America, which had 1.5 million subscribers as of the end of 2008.
Welcome Nokia Experts to the Family!
We're incredibly happy to announce that we're adding another member to the Smartphone Experts family of sites: Nokia Experts! Nokia Experts will be run by the inestimable Matt Miller, also known as The Mobile Gadgeteer, host of ZDNet's Smartphones and Cellphones blog, palmsolo, and all around mobility guru.
Matt has a ton of knowledge about a subject that the rest of us at Smartphone Experts have historically lacked, namely Nokia, S60, and the Symbian OS in general. He gives himself a brief introduction here, in the unlikely event you're not familiar.
Nokia has, as yet, not successfully made a big smartphone push in the United States, but that's quite likely to change as they have a slew of exciting new devices coming out and are also likely to have their E71 messaging smartphone picked up by AT&T very soon. In other words, if, like us, you're relatively new to Nokia and S60 but want to learn more, Nokia Experts is surely going to be one of your best resources. Heck, Matt's already published a full review of the Nokia 5800 Tube XpressMusic touch screen S60 device. The 'Tube' is already a best-selling device overseas and is more of a worthy contender than you might think, so the review is definitely worth a read.
Go on and head over to Nokia Experts now and give 'em a big ol' hello!
Good News: Verizon Locks in Deal with Disney/ABC/ESPN; Bad News: Centro Users Precluded
Verizon Wireless and Disney/ABC Television Group/ESPN just announced what sounded like good news-- That a comprehensive portfolio of news, entertainment and sports video programming, including full-length episodes of shows from ABC Entertainment, ABC News and Disney Channel, as well as content from ESPN, will be made available to Verizon Wireless V CAST Video and Mobile Web customers. The last part is the bad news, because for some reason, the Palm Centro is not on Verizon's list of V CAST-enabled phones. Very strange since the BlackBerry Storm made the cut and is the only smartphone on that list.
Anyway, the agreement covers mobile distribution of on-demand, full-length episodes to V CAST Video, complementing existing short-form content currently available from ABC and ESPN. Full-length programs will include:
ABC Entertainment: "Desperate Housewives," "Grey's Anatomy," "Lost" and "Ugly Betty"
ABC News: "Nightline," "This Week with George Stephanopoulos," "World News with Charles Gibson" and "20/20"
Disney Channel: "Hannah Montana," "The Suite Life on Deck" and "Phineas and Ferb"
Full episodes of these programs will be available on demand on V CAST Video the day following their television premiere. Also, Verizon Wireless customers will now be able to access and view expanded programming from ESPN, including short news clips and other sports-related content.
Not sure if Verizon is purposefully discriminating against Palm Centro customers or if this is just an issue with Palm OS not being compatible with V CAST. But it appears that the data plan for the Centro is exorbitant (Unlimited Data Usage $44.99/month; Email and Web for Smartphone $29.99/month) compared to V CAST, which has a $15.00 VPak monthly subscription fee, which also includes access to Verizon Wireless' ESPN MVP, Get It Now® and Mobile Web services.
Follow-Up: I just had an online chat with one of Verizon's "Live Person" sales reps:
Ashley: Hello. Thank you for visiting our chat service. May I help you with your order today? You: Quick question. Why can't you get VCAST with the Palm Centro? Ashley: I'd be happy to help you with that. Ashley: Unfortunately this phone is not V-Cast capable. This is just how the phone is made. Would you like help finding another phone? You: humm... I need to do more research. Thanks for your time.


Sprint Treo Pro Available for Pre-Order Now at Best Buy
Got $699.99 burning a hole in your pocket? You can pre-order the Sprint Treo Pro at Best Buy now if you do...

Some Details on AT&T's 3G MicroCell
We learn some interesting details about AT&T's upcoming femtocell device, the 3G MicroCell...

Centro Enters Canada Through Another Channel

For those in Canada who aren't Rogers Wireless customers, there is good news: the easy-to-use, Palm OS-based, app-friendly, CDMA version of the Centro is slated to cross the border and be available through Bell Mobility on February 2.
Per a post by Michael Kwan of Mobile Magazine, "the good news is that the launch promo has the Palm Centro going for $49.95 with a three-year contract." To put that in context, when Rogers Wireless unveiled their Centro in June 2008, the pricing was announced as $199 CAD for existing customers and $299 CAD for new customers. In comparison, Bell Mobility is offering the following prices:
Special launch promo (3-year contract): $49.95
Post-promo (3-year contract): $199.95
2-year contract: $249.95
1-year contract: $349.95
Month-to-month: $399.95
Note: It wasn't clear if these are CAD or USD prices.

In his post, Mr. Kwan remarked, "Personally, I think waiting for the Pre is a better idea." But remember that the Pre is not backwards compatible. So those who currently use a Treo and love the apps they've got may find the affordable Centro quite attractive. And besides, if it took Bell Mobility this long to carry the Centro, how realistic is it to think a Palm Pre is around the corner?



Tips and How-To's: Centro Camera vs. Canon PowerShot
This week Brian shows us some Centro vs. Canon PowerShot photos and reminds us that Palm smartphone cameras are good for "on-the-go" shots.

Treo Software Roundup - v012309
New for Palm OS this week is IT Manager, Skulls and more. Updated Palm OS apps include Power Hero, Resco Explorer 2009 and Diagnose. New for WM is Hacker Evolution, PocketPC Battery Monitor and more. Updated for WM is Lyma Power Budget, VITO SoundExplorer and more...

Smartphone Round Robin - Announcing the Winners!


As it did the year before, the Smartphone Round Robin needed to go into overtime again this time around -- but we're finished now! If you haven't been following along, here's what you missed: Each of the editors of our five Smartphone Experts sites swapped phones for a week or so, reviewing and leanring what it's like to wear another smarphone user's shoes. The result is the entire series of articles you see linked on this handy page, the Smartphone Round Robin of 2008.

What will you learn there? You'll learn that there was no single smartphone that 'won' the Round Robin -- but that's by design. There's no perfect smartphone out there, but there just might be the perfect smartphone to fit your needs. If you're looking to get a new smartphone soon, think about what you need it do to and then hit up these articles -- you'll find that depending on what each of us care about, we'll give you a useful perspective on whether a given smartphone matches up.

Read on to hear who the winners are!



Sprint Treo Pro (was) Available Online

Note: Click on pic to enlarge.
As we've been hearing, some Sprint stores will most likely have the Treo Pro available this coming Sunday, January 25th. WMExperts let's us know that the Palm Treo Pro is available to order Now online via Sprint's website.
As expected, we see $549 for the Treo Pro, minus $200 for a contract and another $100 fora mail-in rebate, which totals $249. Malatesta points out one caveat on the mail-in rebate; read the fine print to make sure your current plan qualifies.Although not exactly confirmed, it looks as if the Treo Pro has 96MB RM and 512MB ROM. If true, Palm has doubled the available storage memory for programs, with a total of about 336MB. Malatesta says:
On the other hand, RAM may have taken a hit, meaning you may only have ~42mb of RAM after a soft reset. (See page 363 of the user manual --> .pdf). We're working to confirm this last part, so take with a small grain of salt. And yes, it's okay to pray that it's not true.
Mal says that the Sprint Treo Pro is running the Qualcomm MSM-7501a processor at 528mhz and has a 1500mAh battery. Nice.
I bet the orders will be pouring in on Sprint's website today. I read over in the forums that one forum member has already put in an order. ;-)
Update: Sprint has contacted us and let us know that they inadvertently posted info on the Treo Pro and apologize for any inconvenience caused. Sprint says that they look forward to welcoming this exciting, new device into their portfolio as soon as it has been approved through our customary testing process. And added that they'd share details on the correct availability date as soon as the standard testing of both the device and its interaction with their network has concluded.
Update: Reports coming in that Sprint has taken the product page down.
Weather Clips Without Glitches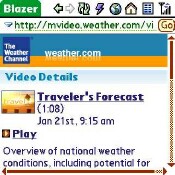 According to Tricia Duryee of MocoNews, The Weather Channel and MSNBC.com have added video and integrated ads into the videos on their mobile sites with the help of Transpera, a Santa Monica, California-based company that offers the industry's first comprehensive platform for monetizing videos on mobile phones. Transpera's award winning mobile video delivery and advertising platform provides online content owners, network operators and advertisers with a turnkey solution that connects all the necessary pieces involved in successful and profitable mobile video deployments.
Transpera currently hosts the video section of The Weather Channel mobile Web site and also powers the video delivery and ad-insertion into these pages. What this means is that mobile users, like those with a Palm Centro running the Blazer browser on an unlimited data plan, will have access to The Weather Channel content such as video forecasts for 100 U.S. cities, updated frequently throughout the day just by typing http://mvideo.weather.com.
Quick test drive: On my Centro, I went to The Weather Channel site and clicked on the Traveler's Forecast. The Kinoma player somehow became engaged and within seconds, a mobile video clip appeared. It ran smoothly with no audio or video glitches.
Duryee remarked:
"This move is pretty interesting. In the past, it seemed big brand names like these exclusively delivered video in applications because it was easier to know what kind of phone and network the user was on, and could guarantee a certain level of quality. The fact that they are now extending it to mobile sites shows that they are getting more confident about the capability of networks and handsets, and the number of users they are getting—there's no point in integrating ads if there isn't the traffic to justify it."
Note: The MSNBC site is slated to do mobile videos starting in March. Also, expect to see embedded video ads of 10-30 seconds in length soon.
Treo Pro Now Available in Colombia on Comcel Network
Palm, Inc. announced yesterday that the Treo Pro has arrived in Colombia. Yep, now those in Colombia will be able to enjoy the easy-to-use Treo Pro, which runs on Windows Mobile 6.1, for businesses that want to simplify their IT infrastructures and lower costs. Users who want to stay on top of their professional and personal lives will also enjoy the Treo Pro.
The Palm Treo Pro will be available in Colombia through Comcel, a Colombian mobile phone operator, owned by Mexican group América Móvil.
Back in November, Palm announced that the Treo Pro was available in Latin America from carriers in seven countries:
Argentina (Personal, Movistar, and Claro/America Movil)
Chile (Entel)
Costa Rica (ICE)
Guatemala (Claro and Tigo)
Mexico (Movistar and Telcel/America Movil)
Panama (Movistar)
Puerto Rico (Claro/America Movil)
We have the GSM Palm Treo Pro being sold unlocked through Palm here in the states. Plus we heard that AT&T sort of picked up the Treo Pro after they chose it as one of the first handsets to have received 3G network certification in the AT&T Specialty Vertical Device Program. This made an AT&T Network Compatible Treo Pro available through AT&T Business Alliance Channels, including CDW, Insight, CNM Wireless, and VOX Mobile.
And as the leaks continue to pour out, it looks like our CDMA friends will soon be getting the Palm Treo Pro on Sprint.
Survey Says... Mobile Apps Hard to Setup/Use; Slowdown Says... Now's the Time to Educate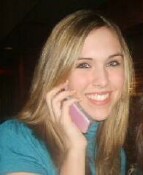 When 4,000 consumers (in the UK and US) were asked about problems related to mobile usage, 95% of them indicated they would be more likely to try new mobile services if setup was easier. Findings from the survey, commissioned by mobile device management (MDM) specialist Mformation, also indicated that "complex setup issues are also preventing 45% of people from upgrading to new, more sophisticated mobile phones. Moreover, 61% of these mobile users say phone setup is as frustrating as changing a bank account."

In a write-up by CrunchGear's Devin Coldewey, he remarked, "I can see that, however I think the iPhone and G1 are doing things right." Which pretty much means that Palm with WebOS and the Pre, has a shot at easing users' frustrations. Coldewey talked about the importance of improving the user experience and why the iPhone has become so successful because "it feels like it's doing what you want, not like it's letting you pick from 3 options."

Another the interesting thing is the Mformation survey results parallel the findings of another recently released report. According to NPD's "Mobile Phone Usage" report, 45% use their phones just for calls, and only 20% for "all-in-one multimedia," which includes a wide range of activities ranging from music listening, video viewing, Web surfing and picture-taking to text messaging, mobile gaming, adding ringtones, and Bluetooth connectivity. In a story ("Almost Half Use Cell Phones Just For Talking") by Les Luchter at Mediapost.com, it is noted that nearly half of U.S. consumers still use mobile phones solely for their original purpose--to make phone calls--with Verizon Wireless customers least likely to use their phones as "all-in-one multimedia devices.

Not only does this indicate an opportunity for Palm, but it also is a call to wireless retailers and operators to take this "slowdown" as an opportunity to educate consumers as to the capabilities of their handsets, said Ross Rubin, director of industry analysis for NPD, in a statement.

By the way, the NPD Mobile Phone Usage Report came from an August online survey of 4,681 pre-identified mobile phone owners ages 13 and older.



Internal Docs Reveal More Sprint Treo Pro Details
We see more details of the Sprint Treo Pro over at WMExperts via some slides from a Sprint document...

Gx5 Obama Wallpaper for Treo and Centro
Gx5 has some Obama wallpaper for your Treo and Centro. If you're an Obama fan, this would be a great time to get this...

More on the Sprint Treo Pro
Seems like there are more Sprint Treo Pro pics popping up. Engadget Mobile has a few this time...

Sprint Treo Pro - TreoCentral Forum Member User Report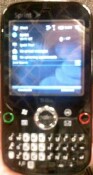 TreoCentral forum member jimh2000 got to play with a Treo Pro at his local Sprint store and has posted his first impressions:
very nice feel in the hand, well made
Flush screen is nice
Touch sensitive butons worked well
Keyboard smaller than my 800w but wasn't as bad as I thought it was going to be
Audio quality was great, earpiece and speaker
Pro has a manual PRL update icon in settings menu
Has a youtube icon that goes to Kinoma Freeplay when pressed
Memmory was 369 storage and program (I think, will verify)
jimh2000 said that it was the first time he'd helda Treo Pro. He noted that his Treo 800w feels like a Ford truck and the Pro fel like a BMW. Sound like he was pretty darn impressed with the Tro Pro.
Malatesta posted something by forum member deanwoof from the Sprint Users forum that was interesting:
The demo phones for the Sprint stores should have all arrived by now.
My thoughts on it so far:
Cons - the phone has frozen up a few times for about 3-4 seconds while playing Bejeweled 2 and having Activesync running in the background. That's not a good sign even though it's supposed to have more RAM on the damn thing compared to the 800wx. Not much of an improvement over 800wx performance wise.


Lawsuit Season Gets Late Start: Saxon the New NTP
Saxon Innovations names Palm, Inc. as one of 5 technology vendors to violate patents...

Treo Software Roundup - v011609
We've got the usual mix of new and updated Palm OS and WM software for you. Read on...

Sprint Treo Pro Specs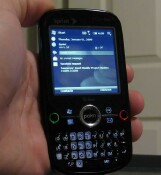 We've been hearing about the upcoming Sprint Treo Pro, but hadn't seen the specs on it. Malatesta over at our sister site WMExperts has just posted the specs after seeing that TreoCentral forum member elistone had revealed them via an internal email. The internal email also has the release date as January 25, 2009, which is what we'd been hearing. Good to have a Sprint executive as a friend, huh? ;-)
Below are the Sprint Treo Pro Specs:
Robust battery life with an 1500 mAh li-lon battery and 5 hours of continuous talk time.
Windows Mobile 6.1 Professional Edition (OS) providing a feature rich experience (with Enterprise SCMDM options)
128MB program memory (DDR) and 256 non-volatile memory (175MB of user store)
A-GPS – for navigation and turn-by-turn directions - Autonomous & Simultaneous GPS allows points of interests searching and mapping from contacts.
Instant-on WiFi short-cut key - WPA/WPA2 certified
2.0 Megapixel resolution Camera for still and video shots with BPP Basic Printing Profile
Price: $549 retail; $249 2-year contract
You can read more details in the forum post by elistone.



Sprint Treo 755p Firmware Update Available
Palm has released a radio patch for the Sprint Treo 755p..

Refreshed Olive Green and Rose Centro On Sale at Best Buy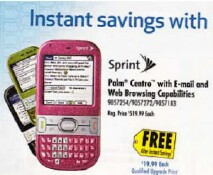 Update: TreoCentral forum member Jimh2000 wrote in to let us know that Best Buy does have the refreshed Black Centro with 128MB of memory. The Black Centro's body is the slick version though and not the soft-touch, rubberized casing. Jimh2000 said that Sprint told him they had several thousand old Centro's in the warehouse and would not sell the new black one until the existing stock was reduced.

Remember those two new Centro's in the pretty olive green and rose for Sprint? Those two new colors were a refresh with expanded memory of 128MB, soft-touch paint, revised "gel" keyboard, Palm's Facebook app, and Google Maps My Location feature.

Well, Palm Infocenter is reporting that there's a leaked upcoming Best Buy retail store flyer showing that the refreshed 128MB Centro is available for Free with contract, in-store at Best Buy.

According to PIC, the Best Buy ad makes it appear that the black Centro which is also offered, is the refreshed version. The black Centro on Sprint is supposed to eventually be updated with the same specs that the rose and olive green Centro's have, but of course that hasn't happened yet. The Best Buy's SKU number listed for the black Centro (9057183) shows that it's still the original black Centro with 64MB.

If you're an existing customer who is eligible for upgrade pricing by signing a new contract, you can get the olive green or rose Centro for only $19.95. This price will be in effect from Sunday, January 18th through Saturday, January 24th. You'll need to check for availability in the Best Buy store in your region.

Speaking of Best Buy, Dieter let us know over at our new sister site, PreCentral.net that rumor has it Best Buy will be the exclusive retailer of the Palm Pre for the first 60 days.



More Treo/Centro Sightings
Yep, I've spotted more Palm smartphones on television...

Weekly Tips and How-To's: fring
This week Brian tells us about fring, a FREE mobile VoIP (Voice over IP) app that enables you to talk and live chat using your phone's Internet connection...

PreCentral.net is Our Newest Site
Check out the Smartphone Experts newest site called PreCentral.net...

PALM Investors: Some Stoked. Some Cautiously Optimistic.
Palm's stock price experienced a boost following the Pre announcement...

Sprint Treo Pro Shows Up On Redfly Beta Software List


Note: Click on pic to enlarge.

We've seen leaked pictures (ok, ONE picture), we've seen FCC approval reports, we've debated about it in the forums.. If you really need more evidence of the looming release of the Treo Pro on Sprint, Celio (makers of the REDFLY) have thoughtfully gone and announced that they are making early beta drivers available for a limited number of phones. And guess what? There seems to be a mention of Palm's latest Windows Mobile release on that list. To make things easy on everyone, they've even gone so far as to give you an option to download these aforementioned drivers OTA. Very convenient. Now all we need is a Treo Pro to test 'em on. Celio - if you're reading, I'd be happy to let you know how they work...

[via Celiocorp.com]

What the Palm Pre Stole from the iPhone
Rene Ritchie has written a great editorial on what the Palm Pre stole from the iPhone and what the iPhone should steal from the Palm Pre...

Treo Software Roundup - v011309
New for Palm OS this week is Phone Tools Pack 2009 and Business Ringtone for Treo (Rainbow). Some updated Palm OS apps are Agendus for Palm OS Professional Edition, OperaFrontEnd and more. New for WM is Volume Switcher, PocketPRP and more. And of course we have some updated WM apps as well...

Palm Could Sell 1.5 Million Pre Phones in 1st Year

I read an article at Electronista saying that Palm could sell as many as 1.5 million Pre smartphones in a year. This is according to an investment note by Citi analyst Jim Suva. Suva has upgraded Palm's stock rating from "sell" to "hold" based on the technical abilities of the Pre, Palm's first large touchscreen smartphone.
I also read an article over at MarketWatch wich quotes Suva saying:
"Pre looks like a game changer for Palm and [a] sell rating is no longer warranted," Suva said in a research note. "With the company's long-term viability in doubt, Palm debuted the best new handset we have seen in quite some time."
Game changer indeed. From what I've seen and read so far, the Pre is the coolest smartphone I've ever seen. It's eye candy inside and out.
Suva also said that Palm could have a very rugged February quarter and a potentially tough May quarter until Pre is actually launched. Citi Group seems to think that many carriers and consumers will wait for Pre rather than order older Treos or Centros.
I sure hope that the Pre will be available from Palm unlocked sometime soon. I'm not switching to Sprint but might consider opening an account at Sprint just to get a Pre.
I wouldn't be at all surprised to see Palm sell over a million Pre smartphones in the first year. Heck, they could sell 2 million.
CES BIS: Something we can Crow About... Finally!
Just think. It was two years ago that the iPhone was unveiled at Macworld 2007 in San Francisco during the keynote by Steve Jobs. You'll recall that the reverberations were felt out in Las Vegas where the Consumer Electronics Show (CES) was taking place. This past weekend, Palm achieved something Apple didn't.
According to a story posted today at RTTNews, Palm's latest offering, the Pre, won the Best In Show (BIS) as well as the People's Voice Award at the Consumer Electronics Expo that concluded at Las Vegas on Sunday.
The awards, instituted in 2006, were handed out by CNET, in partnership with the Consumer Electronics Association. The Pre, which had to face some stiff competition, became the first mobile phone to win the Best in Show award.
Also, in the RTT News story, it was noted "the Palm Pre was designed with women in mind, as women with long nails find it hard to use iPhone, whereas the slider keyboard is handy for them. Similarly, the Pre's shiny surface can be used as a mirror. Also, the phone does not have tangled cords, as it can be used with a wireless charger."
Seems like the Podfather's magic is working.
Sprint to Debut Windows Mobile Treo with Power Boost!
Not to be forgotten... Treo Pro for Sprint (the Windows Mobile based smartphone) is about to debut. There are reports circulating that the Palm Treo Pro has gotten its FCC approval for CDMA. And according to a post by Malatesta at our sister site, WMExperts.com, it shares the powerful 1500 mAh battery of its GSM brother which is a tremendous "boost" over the 1150 mAh in the current Windows Mobile Treo being carried by Sprint (the Treo 800w).
You'll recall that the weakness of the Treo 800w's battery has been pointed out by a number of reviewers, like Adama D. Brown, Brighthand.com, who wrote:
"I'm not at all happy with the Treo's battery life. It's just barely adequate for use as a phone -- add Direct Push, or a little Wi-Fi use, and you're sucking down battery power like it's icewater in the Gobi Desert. Heavy users had best plan to either leave chargers lying around wherever they go, or buy a larger extended battery."
The Treo Pro, with its WiFi and GPS capabilities will certainly be a battery hog, so this is great news for Sprint customers.

Malatesta also points out some other interesting tidbits from the FCC documents which mostly have to do with when the filing took place (September 12), which was just weeks after the Treo 800w was released. So there is some speculation about the timing of the 800w vs. the Treo Pro.

The takeaway, for sure, is that Palm is working really hard to get back into the game. And based on what happened to the favorites in the NFL playoffs over the weekend, who knows? They could be contenders.



First Look at Palm's WebOS SDK, Mojo
The Boy Genius Report gives a first look at Palm's WebOS SDK, Mojo...

Centro 2 Running WebOS Coming?


Palm Infocenter has heard from a seemingly reliable firsthand source that Palm is prepping a new Centro 2 that will debut later this fall on Sprint.
According to Palm Infocenter, the Centro 2 is supposedly around the same size as the current Centro and will run on the Palm WebOS.
PIC also mentions a PCMag article that addresses the top 15 questions concerning the Palm Pre and the WebOS. Question #4 was "Will there be other Pre models?", and the answer is:
Yes. There will be different models, in different shapes and sizes. According to a tipster, the next Pre may be a lower-cost, candybar-style phone without a QWERTY keyboard.
Hmmm, a very interesting rumor. Besides different sizes and shapes, I hope to see different colors also. Let the rumor mills continue to spin!



Palm's App Store Called App Catalog
Palm's new Developer Website reveals name of Palm's app store...

Full Palm Pre Keynote Available Online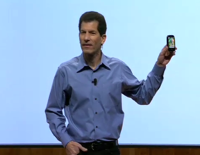 Thanks to EdCates from our Forums (and a tip from DevilsRejection), we hear some good news! You followed our liveblog of the Palm Pre Keynote, now you can watch the video! Palm has posted the video up in hight quality, you can:




Palm Pre Accessories
Let's look at some of the accessories Palm will have for the Palm Pre...

Europe To Get Palm Pre in 1st Half of 2009
Word is that Palm is saying that Europe will be getting the Palm Pre in the 1st half of 2009 like Sprint...

How Much Will the Palm Pre Cost?
There is some speculation around the web on how much the Palm Pre will cost...

The Last Gadget Standing at CES
There's a fun event at CES in which you, the "people", get to vote for your favorite gadget. Read on...

Massive Hands-On Video of the Palm Pre
TreoCentral was able to spend some time with Palm's VP of Product Design, Peter Skillman. Read on for the 25-minute full hands-on with the Palm Pre!

Palm Castle - Pre's Codename Slipped Out: Oops!
Palm Pre's codename was accidentally left in an automatically generated email...

Rubinstein Feels Palm Needs Developers for Pre to be a Success

I read over at the NYTimes.com that writer Matt Richtel interviewed Jon Rubinstein following Palm's press conference. Rubinstein talked about how important the application developers are to the success of the Palm Pre.
Palm's competition such as Apple and RIM have many application developers. So did Palm when they were in the glory days of being the pioneer of the smartphone. The number of applications grew in astounding numbers for the Palm OS. When Palm's Garnet OS became stagnant, many Palm developers had to move on, and we saw the apps for the iPhone and the BlackBerry grow.
Palm was very smart to have changed with the new Palm Pre. According to the NYTimes article, Rubinstein argued that Palm's new operating system, the WebOS, is easy to develop for, and relies on HTML, JavaScript, AJAX, and other program environments that developers are familiar with. He also added that Palm has a long-standing relationship with developers.
From the article:
"There's a large, very loyal Palm developer base," he said. The key to success is "you reinvigorate those developers." He declined to provide details of Palm's efforts to court programmers, saying the company was focused on getting the Pre introduced in the first half of this year.
I've already seen some developers in the forums asking about the new Palm Pre and developing for it. With the Palm's new WebOS being so easy to develop for, I'm hoping to see developers flocking to it and really giving us some wonderful applications. If I was a developer, I'd be very excited to dig in and get in the game. Hopefully Palm will get back many of those developers from the Garnet days who had to move on.



TreoCentral TreoCast 58 - Special Palm Pre Edition
Mike and Dieter jump on to talk about the Palm Pre in a special on-location TreoCast! (Update: feed was busted, should be fixed now)

Hands-On Video of the Palm Pre - with Bonus Q&A with Palm!
We sat down with Palm and got a full hands-on with the device. Click through for the video!

Palm Pre Massive Hands-On Gallery
We had the Palm Pre in our hands today -- take a look at the pictures, including comparison shots!

Palm Pre Specs
Let's look at the Palm Pre's specs...

Developing for the Palm webOS: The Mojo Application Framework
Palm has released some scant details about their development framework for the webOS. We have more details from our one-on-one time with Palm

Tour of Palm's New Pre Stuff on Palm.com
Let's take a look at the Palm Pre on Palm.com...

Full Video of Palm's Announcement Via Qik
There's a full video of Palm's Pre Announcement that you can watch via Qik

There will be a GSM-Friendly Palm Pre

Update: Engadget has updated their article and are now saying:
We've just seen a copy of the Pre's press release, and sadly, the 3G GSM version is listed as being intended for "other regions" -- in other words, places not served by Sprint. The good news, we guess, is that we've also confirmed that it's HSDPA.
Engadget is reporting that they have gotten Palm on the record saying that there's a WCDMA (read: UMTS world 3G) version of the Pre in the works! WhooHoo!!!

That means that we be could seeing the Palm Pre on AT&T, T-Mobile, and Vodafone. Of course no word on when, but just hearing that it's a possibility makes my drool glands go cuckoo. Please Palm! Pleeeaaase!!



Palm Pre Impressions, Part One
I've attended the keynote, here are my thoughts on the Palm Pre. Read on for TreoCentral's first take on the Palm Pre!

Palm Pre and webOS Keynote Gallery
We have photos of the positively revolutionary Palm Pre. Read on for a gallery of the Palm 'New-ness!'

Palm Announces Palm Pre
Palm has finally let us know about that New-ness today; the new smartphone is the Palm Pre....

TreoCentral Live at the Palm Keynote - Palm Pre announced
This is the place -- live coverage has begun. Come on in!

Sprint Treo Pro Outed During Microsoft Keynote

Dieter has reported over at our sister site WMExperts that just like last year, another Palm smartphone has been outed at a Microsoft Keynote. Last year it was the Palm Treo 800w that showed up on the video screen. This year, what "appears to be" the Sprint Treo Pro, was shown on the video screen while Microsoft was showing Internet Explorer 6's flash support.
We know that IE6 Mobile isn't going to be made available on current devices, but requires a completely new ROM, plus a decent amount of power on whichever devices it lands.
Dieter points out that:
"We already have seen screenshots of Internet Mobile 6 leaked here on WMExperts and also seen speed tests from an unreleased Sprint Treo indicating the browser was Internet Explorer 6. So sure, it's entirely possible that we are looking at a GSM Treo Pro running Internet Mobile 6 with a customized ROM. But why go through all the trouble of creating a custom ROM when there's a perfect explanation of what we have here?"
So it seems very likely that the photo here is of a Sprint Treo Pro.
(prelim) Palm at CES: Expands Distribution, Showcases 3D, Flash and other Goodies...
CSI Fans Rejoice! MobiTV Expands Line-up with CBS Shows
We interrupt the Palm Nova watch for some breaking news... Seems that MobiTV, has cut a deal with CBS that enables them to deliver full-length episodes and clips from CBS Mobile, a channel featuring primetime hits like "CSI: Crime Scene Investigation," "Numb3rs," "CSI: NY," and "The Young and the Restless." Viewers will also be able to access video on demand news, sports and comedy clips from CBS Mobile.

Full episodes featured on CBS Mobile are available to MobiTV subscribers on AT&T Wireless and Sprint the day after broadcast, adding to MobiTV's lineup of more than 40 channels of content from partners including ABC, NBC, ESPN and Discovery Networks™.

MobiTV has a monthly subscription fee of $9.99. For details, those with Palm OS Treos and Centros should click here. For those with Treos running Windows Mobile, click here.



Round Robin: Treo Pro Final Thoughts
I'm back home with my Palm Treo Pro as the Round Robin has wound down. I've written up my final thoughts...

Palm Re-Vamps Website
Palm has given their website a new look. Is this a sign of their getting ready for the new platform/device launch?

What will it be? We wait and wonder...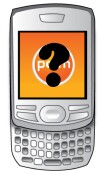 It's nice for a change to be on a Palm watch, as opposed to the Apple watch that is typical this time of year. Seems like there is a lot of buzz about Nova and Palm's upcoming announcement.

The CrunchGear post titled "Exclusive: New Palm phone to have slide-down keyboard, large touchscreen" by John Biggs seems to have attracted the most attention. He wrote, "We have information from a trusted source that the latest Palm smartphone running the Nova operating system will be launched Thursday. The new phone will have a full QWERTY keyboard that will slide down under a portrait-oriented touchscreen."

And regarding Palm's Nova, it was a cover story in the San Francisco Chronicle's business section on Sunday by Ryan Kim, titled: "Palm needs Nova to shine." That's a pretty big deal for a SF newspaper that tends to leave Palm news to AP writers.



TreoCentral Thoughts on the Vertical Slider, Plus PIC Lists 7 Things Nova Should Have
Palm Infocenter has an article about some things that we need Nova to have. Plus some of our forum members have some thoughts on the vertical slider, as do I...

New Palm Smartphone to be a 'Vertical Slider,' More Details
We now know what the new Palm Smartphone form factor will be.

Celebrate with Palm Winner Chosen
The winning entry was submitted by Rizwan Parvez, a TreoCentral Forum member...

PALM - An Open or Closed Case...


In a previous post, it was mentioned how the Fool's Tim Beyers felt handwriting recognition would be something Palm could include in Nova that would leapfrog what others are offering. His write-up was quite positive and somewhere along the line, he may have been accused of being "Pollyanna-ish," because his follow-up post titled "How Palm Could Lose Everything" took a more sobering look at Palm and its potential.

Nova - Open or Closed?

According to Beyers, closed systems (like those offered by Nokia, Apple and Research in Motion) are "crushing" open systems (think anyone offering Windows Mobile or Android).

In particular, he noted that "Palm uses an open environment," and "Investors haven't been well served by that choice" because the wireless carriers like closed systems better.



Treo Software Roundup - v010209
This week we're looking at a few Free Palm OS apps plus some updated apps such as CrazySoft Smart Educational Games, Investments Options and more. Some new WM apps are Superior Theme Pack (Over 500 Themes), Scripture of the Day and more. And some updated WM apps are HiCalc, Alarm Master and more...

TreoCentral Podcast Wins Best Mobile Technology Podcast in PalmAddict Reader Awards 2008


Our friend Sammy McLoughlin over at PalmAddict has let us know that TreoCentral's TreoCast has won Best Mobile Technology Podcast in the PalmAddict Reader Awards 2008.
Sammy said that PalmAddict received in excess of 82,000 votes over the year, so Congratulations to Dieter and Mike for winning the Best Mobile Technology Podcast in the PalmAddict Reader Awards of 2008!! Well done guys!
Best Mobile Technology Podcast:
TreoCentral TreoCast 33%
MobileTechRoundup 32%
1src 19%
Mobility Today Podcast 11%
Other 5%
Dieter and Mike have recorded 57 TreoCasts so far! You can listen in on all of the TreoCasts here.
Thanks Sammy! PalmAddict is a great place to go to read about Palm gadgets and lots of other cool gadgets as well. Be sure to check it out! I've been reading there for years and check it out daily. ;-)
Endangered Animals' Sounds Liven Up Ringtones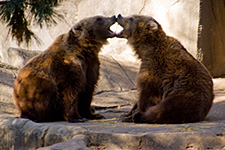 An Arizona environmental group, the Center for Biological Diversity, is celebrating the success of their program that put the calls of endangered species into cell phone ringtones. The New York Times has dubbed it the "call of the wild."
Started in 2006, the program is celebrating 200,000 ringtone downloads. The group offers dozens of sounds, including a few from species that aren't ("yet," they said) endangered.
According to the Times' article:
Bumper stickers produce instant reactions, pro and con, said Peter Galvin, the center's conservation director. But with wildlife sounds, Mr. Galvin added, "people don't already have their filters on for how they receive that information."


Weekly Tips and How-To's: Pocket Forecast
This week Brian tells us about a Free weather app for our Windows Mobile Treos...