Weekly Tips and How-To's: Restoring Service
Brian has a great How-To on doing a true "power down" with your Treo or Centro...

TreoCentral TreoCast Episode 55
This week: ALP on Edelweiss, Treo Pro on Sprint, Palm's stock, and most importantly: your emails! Listen in!

Palm's SVP of Global Markets Leaving


Palm Infocenter is reporting that John Hartnett, Palm's senior vice president of global markets, will be leaving the company. According to Palm Infocenter, Palm has filed a regulatory 8-K statement with the SEC indicating a "Change in Directors or Principal Officers." Hartnett will be leaving Palm effective November 28, 2008. Seems that the circumstances regarding Hartnett's departure weren't disclosed.
John Hartnett has been with Palm since the Handspring days and was promoted to SVP back in May of 2005. Below is a description of Hartnett's job from Palm's website:
As senior vice president of global markets, John is responsible for Palm's sales and customer support for all channels, including retail, distribution, carrier, and eCommerce.
According to Palm's website, Hartnett was a member of the merger leadership team when Handspring and palmOne became one, combined company.

Before joining Handspring, Hartnett was senior vice president of U.S. marketing, support and operations for MetaCreations.

The news of Hartnett's departure comes on the heels of Palm hiring Simon Lloyd as senior director, EMEA Marketing to help Palm win some ground in the European market.



Treo Software Roundup - v103108
This week we're looking at BEIKS Space Lifter Game, Budget Manager Deluxe, and more that's new in Palm OS software. In updated Palm OS, we have Express2Desktop Converter, FontSmoother and more. Some new WM software are Task2Gather and Mobility Skin Suite. And included in the updated WM apps are ActiveCaptain Mobile and FunContact.

Treo 750 No More?

What's this?... Just days before the WM6 update for the Treo 750 is set to go away, we're noticing another absence; The Treo 750 is no longer available on AT&T's website. Maybe they've replaced it with the Samsung Epix, or maybe it means that the Treo Pro is finally on its way to official-dom on AT&T. Having the Treo Pro on AT&T would be pretty sweet.
Looks like the Treo 750 for AT&T is also gone from Palm's own website, but you can still buy the 750 unlocked for $529.00.
And keeping with the trend of Palm smartphones moving on, Dieter reported last month that BGR had uncovered AT&T's upcoming launch schedule and found that the Treo 680 would be officially discontinued on AT&T's network. Earlier this month, Jay reported on some rumors of the Treo 700wx being EOL'd. Jay found no "EOL" indication on Verizon's website though.
We're still wondering if the Treo Pro might show up on Sprint in the near future after WMExperts spotted a mysterious Treo850e via Sprint over at DSL Reports recently.
Anyway, we'll just have to wait and see if the Treo 750 is gone for good on AT&T and will be replaced by the Treo Pro.
Palm Attempting Comeback Against BlackBerry and iPhone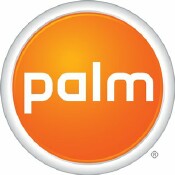 Brand Republic is reporting that Palm is attempting to make a comeback as they've lost their way in the brand stakes against RIM and Apple. The BlackBerry Storm and the iPhone have both been seen in lots of advertising lately. I've seen countless iPhone 3G commercials and have been seeing a new BlackBerry Storm commercial lately too.

According to Brand Republic, the BlackBerry Storm has been in the headlines of technology pages of the national press saying that it's a challenger to the iPhone. Vodafone has the exclusive network rights to the Storm in the UK, and they're spending like £6m on a prominent ad campaign for it.

But Brand Republic says that Palm is planning to fight back and win some ground in the European market. Palm hired Simon Lloyd as Senior Director, EMEA Marketing. Lloyd was the former Nokia UK marketing director, and joined Palm earlier this month.



Harrowing Halloween Sale at Fictionwise
All MultiFormat Horror and Dark Fantasy eBooks at Fictionwise will have a 25% discount through November 1, 2008. I've rounded up some tales of horror for you to check out for your Halloween eBook reading pleasure...

Did Fools Rush In?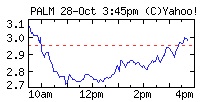 For a few hours today, Palm's stock teetered along at record lows (hitting $2.70). As the market rallied to close up nearly 900 points, Palm seemed to be pulled along to close at $3.32. So what happened? A tour of the message boards (i.e. Yahoo! Google Finance) didn't turn up much besides a reference to a Samsung Epix review by our sister site, WMExperts.com. After revisiting the news sections of the various finance sites, I saw a connection -- on the top of the PALM news was a story titled, "Sell This Stock. Now." from Fool.com. Really? So I took the time to read the 650 word article and guess what? Palm was merely mentioned in a list of competitors to Garmin:
"Today, there's even more vicious competition, with previously unexpected players like Apple, Google (Nasdaq: GOOG), Research In Motion (Nasdaq: RIMM), and Palm (Nasdaq: PALM)."
And Garmin wasn't the stock that should be sold either. It was an example and a way for the author, Nick Kapur, to communicate the following:
"If you own shares of a company that has no real barriers to hungry competition, and it doesn't have anything in the works for the future, then what do you have? Not that much, really."
If you've been following the posts on this site for the last year, it is clear that Palm does NOT fit that profile. In these turbulent times, it is best to just take time to breathe (and read beyond headlines).
Palm and InStyle.com Giving Away 10 Vibrant Rose Centros
We reported on Palm's new holiday color Centros for Sprint recently. If you recall, the Olive Green and Vibrant Rose Centros have twice the storage of other Centros at 128MB (user-accessible RAM), the ability to add up to 4GB more with a microSD card, Facebook for Palm, and Google Maps with the My Location feature all wrapped up in new colors at a special holiday price as low as $79.99 as the $99.99 price is lowered to $79.99 until January 10th.

These two new Centros also have the soft-touch paint. Sweet! I think both new colors look great! You can see some drool worthy pics of the Olive Green Centro over at Palm Infocenter where Ryan has gotten hold of one.

How do you like that gorgeous Vibrant Rose Centro? Pretty, huh? Well, Palm is running a promotion with InStyle.com through November, giving away 10 Sprint Centros in Vibrant Rose. So 10 lucky people are going to win one of these sweet Centros.

So head over to Palm's contest entry page and enter for your chance to win a Vibrant Rose Palm Centro from Sprint! Good luck!



Editor's Ebook Pick of the Week - Special Edition: "Freezing Point" by Karen Dionne
This week I'm looking at "Freezing Point", a wonderful book by a new author...

Verizon Wireless Will Launch Samsung Ubicell

We've talked about the Sprint AIRAVE a few times over the past year. If you recall, the AIRAVE is a CDMA femtocell device that creates a CDMA signal for your mobile phone (like a miniature cell tower). The AIRAVE provides enhanced and reliable mobile phone coverage in your house or office even if your existing wireless coverage is poor.

Engadget Mobile is reporting (via Cell Phone Signal) that Verizon Wireless will soon be releasing a CDMA Base Station from Samsung called Ubicell.

According to Engadget Mobile, there's no mention of a price or release date yet, but from looking over the user manual, installation and operation will be exactly the same as Sprint AIRAVE. Engadget Mobile reviewed the AIRAVE and found it to work great in improving call quality and signal strength. One of their few minor annoyances with the AIRAVE was that it won't operate without a GPS lock proving that you're currently located in the U.S. Seems that the Samsung Ubicell for Verizon will be the same.

If you're a Centro or Treo user on Verizon and you don't get a decent cell signal where you live, you might want to think about the Ubicell when it becomes available.



Cell Phones Causing Allergy Flare-ups
Jay reports on some folks who are allergic to the nickel found in their cell phones...

Introducing 'Around SPE'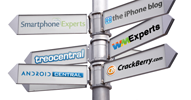 You may not realize it, but the site you're reading right now is a part of one of the premier networks of smartphone news and review sites. We call it the 'Smartphone Experts Network' and if you haven't heard, we've recently added a new member to our family, Android Central. That brings the number of our smartphone communities up to five sites. You can find links to these sites and to their latest stories either in the sidebar or footer of every SPE site.

I thought now would be a good time to introduce a new weekly blog post I'll be putting up at each of our sites called 'Around SPE,' which will give you a very quick roundup of the biggest stories at each of our sites. Now, 'big stories' are just a tiny part of what we offer, as each of our sites also feature vibrant communities, engaging podcasts, and also accessory stores if you're looking to make your smartphone a little better.

In addition to our new sister site, there's also some other SPE Network news to share, so follow me after the break to learn more!



Weekly Tips & How-to's: Guitar Tuner v2.0 for Palm
This week Brian tells us about Guitar Tuner, a Free app that helps you tune each string of your guitar...

Access Announces ALP 3.0
Access has unveiled their new version of the Access Linux Platform, ALP 3.0...

Will Sling Media Get The "Big Picture?"

It's the same story since the dawn of new gadgets - a tale that every early adopter is familiar with. You open up the box to your shiny new toy (you've heard the characteristic "Hoahhh" as you you slide the plastic off, I'm sure), power it up with sweaty palms in tow - only to find out that your "must-have" programs have yet to be updated to assure compatibility with the device. It's an all-too-familiar scene - one that Treo Pro users are wrestling with as we speak, trying to take full advantage of that beautiful high-res screen with the likes of their Sling Box...

To say that the Sling Box forums have been lighting up with posts would be a misnomer - apparently the Treo Pro does not conjure up the same emotional response as those iPhone users (or they are seriously outnumbered, which is much more logical). However, many Sling Users have spoken up and gotten responses from the powers-that-be, only to find out that there is no ETA on compatibility. Treo 800w users have reported similar responses in the forums here at TC. Though this 320x320 resolution is newer, the WM Treos were not the first to take advantage of the new screen resolution. Seriously, Sling? Just telling users that they should simply choose a "compatible" device is not exactly what I would consider "support."



Treo Software Roundup - v102408
In this week's roundup we have PearPrivacy, TextTutorPro and more in Palm OS. For updated Palm OS, we look at Kinoma Player 4 EX, mVoice and more. New in WM is MathTutorMobile, TunesSync, and more. And updated in WM is Elecont Launcher, phoneAlarm Lite and more...

Sprint Finally Reducing Early Termination Fees

Contract, schmontract. Sprint is finally joining their competitors in trimming the outrageous fees they charge for early termination of cell phone service contracts. You know the drill: Sign up for umpty years to get your hands on that hot new phone you just have to have. Then you're stuck. Pay a $200 bailout fee, or just keep on paying every month.
The high cost of canceling Sprint's contract is finally coming down. Maybe it's the fear of lawsuits - a California court ruled the fees a violation of state law and ordered Sprint to refund more than $73 million to customers. Shortly before that, Verizon Wireless agreed to settle an identical lawsuit for $21 million. As of now, AT&T, Verizon, and T-Mobile prorate the termination fee. It declines as you live out more of the contract. Sprint is finally caving.
In an interview with The Associated Press this week, Sprint's CEO, Dan Hesse, said Sprint could start lowering the fees as soon as December, pending updates to its billing software.
Treo 750 Owners -- Word to the Wise...
Perhaps this entry should read, "you'll miss me when I'm gone." A post from our sister site, WM Experts, should serve as a word to the wise… or at least, the wise owner of a Treo 750.

You may recall that last month, Jennifer provided the first warning about how the Microsoft Windows Mobile 6 update for the Treo 750 expires on October 31, 2008. You read that right… in essence, the WM6 update turns into a pumpkin on Halloween. How appropriate is that?

But seriously, if you own a Treo 750 and haven't done it yet, go to the Palm Support site www.palm.com/us/support and get thee the download! You don't need to install it until you are ready. Heck, you can keep it in a folder on your desktop for as long as you'd like. Just don't put yourself in a position to regret not doing it. Consider yourself warned.



Pink & Black Case Comparison
I got two pink and black cases for my Palm Centro and I love them both. Which case do I prefer? Read on....

Guilt By Association... Sbarro, JetBlue and Palm?

Just when things were going well (i.e. the Treo Pro garnering great reviews. The Centro gaining market share, etc.), comes some financial guy to throw cold water in your face. And in this economy, it seems like we are experiencing a steady drenching of cold water.

So here is what happened. On Tuesday, Palm got itself included in a list of 140 U.S. companies that Standard & Poor's says are in danger of not being able to pay their bills in the next few months. Swell! Per the story posted at the Time.com site, among the troubled firms on the agency's list are such household names as clothing retailer Eddie Bauer, amusement park operator Six Flags and pizza chain Sbarro, doughnut baker Krispy Kreme and mobile technology titan Palm, as well as a number of the nation's largest airlines, including JetBlue and the corporate parents of United and American. Per Sam Rovit of Bain Corporate Renewal, "We are seeing companies across a wide variety of sectors that are struggling." Mr. Rovit also stated that he expects a "tidal wave of bankruptcies among large companies."

Humm... It seems like Mr. Rovit missed what Palm's CEO, Ed Colligan, communicated during the earnings call last month - that is, that "Palm's cash position was fortunately still sound and will allow them to navigate this period while still positioning Palm for a timely launch of future products. After that, they look forward to delivering consistent and growing revenue, profits and cash flow."

So who do you believe?



Software Developer Sets Out to Create Palm OS Compatible Operating System
Dmitry Grinberg of PalmPowerups is setting out to create a Palm OS compatible operating system...

A Little More Juice for your Centro or Treo 800w
You can now get the Seidio 1350mAh OEM sized extended battery. No need for a big door for this one. Plus, we have a few battery saving tips...

BMW Key-card Unlocks Car, Does Contactless Payment & More
Soon there will be a BMW multi-fuction key that will let you do much more than just unlock your vehicle's door....

Sprint First to Launch WebCapTel(R) On the Go, a New and Free Mobile Solution for Hard of Hearing Customers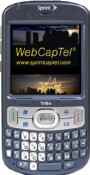 Sprint announced today the availability of Sprint WebCapTel(R) On the Go, a new, free mobile Web-based service that allows hard of hearing customers to read word-for-word captions on Windows Mobile 6 Web browsers, like the HTC Diamond, HTC Mogul, Palm Treo 800w and the MOTO Q9c by Motorola. In addition, the service is also compatible with the Safari 2.0 Web browser. Spint WebCapTel On the Go is expected to help an estimated 30 million Americans with hearing loss. Way to go Sprint! I think that's great!From the press release:
"Sprint is committed to equal access to all individuals," said Mike Ligas, director of Sprint Relay. "As such, we pride ourselves on offering the newest technology to hard of hearing individuals. This new solution offers the hard of hearing community mobility by being able to read real-time Web-based captions on Windows-enabled mobile devices."


Craving a Palm Clamshell Phone
I sure would love to see Palm come out with a clamshell smartphone. Remember the Treo 270 and 300? Palm could update the clamshell design and have a real winner.

NY Times Explains Why Windows Mobile Is In Trouble

Om Malik of the NYTimes.com has written an article explaining why he thinks that Windows Mobile is in trouble.
Our sister site WMExperts reported back in September that Windows Mobile 7.0 would be delayed. According to the NYTimes, VentureBeat reported that WM 7 could be delayed as late as 2010. Malik says that WM 7, which was aimed at giving Microsoft a bigger presence on the mobile stage, wouldn't have been enough, delayed or not. He says that Windows Mobile is facing its toughest environment yet with competition from RIM's BlackBerry, Apple's iPhone, and mainly the new Google Phone platform.
From the article:
I'm not saying that Windows Mobile is no longer relevant. What I am saying is that Microsoft's grand mobile ambitions might have to come down a few notches. Just like open-source server software made it impossible for Microsoft to extend its stranglehold to servers and the back-end infrastructure business, these newer mobile platforms will act as speed barriers to Microsoft's mobile ambitions.
Malik goes on to talk about research firm Gartner's recently released market share data for the second quarter, showing that RIM's market share shot way up. He noted that this was even before RIM figured out its game and announced a bunch of devices aimed at higher-end consumers. You can read up on all those BlackBerry devices over at our sister site CrackBerry.com. If there is even the slightest whisper about a new BlackBerry, Kevin will have it covered and has probably already gotten the full lowdown on it. ;-)

Malik talks about T-Mobile pre-selling 1.5 million G-1 phones and how he got a chance to play with a G-1 recently. He seems pretty impressed with the G-1. Malik says that Google's Android is a direct competitor to Windows Mobile. In fact he says that it's "Windows Mobile done right".

You can read the full article here.



Treo Pro Coming to Sprint? Sure Looks That Way!
WMExperts has spotted the Treo Pro listed in the device selector on Sprint's website!

Tip o' the Week: MemoManager for Palm
This week Brian tells us about MemoManger, which he says add quite a bit more horsepower to your vanilla Memos app...

ACCESS Announces Official Opening of NetFront Browser Widgets Community Site
ACCESS has announced the official opening of the NetFront Browser Widgets Community Site. There are also some Widget Player updates...

TreoCentral TreoCast Episode 54
This week - an interview with Charles Wiltgen of Kinoma, the latest Centro news, and a ton of listener emails!

Treo Software Roundup - v101708
This week we look at Budget Planner, TopNewRingtones, The Belt 2120 and more in new Palm OS software. In updated Palm OS software we look at Reset Doctor, PocketCopy and more. In WM software we list some Free apps and some updated apps such as Kinoma Play, Winterface and more...

Palm's Treo Pro Launch in UK
Palm Europe is having the Treo Pro launch this week in the UK with an all week event at the Black Sheep pub...

Today's eBook: iPhone 3G Portable Genius
I found an eBook today all about the iPhone 3G. Plus fictionwise is having a great sale...

Kinoma Updates WM Kinoma Play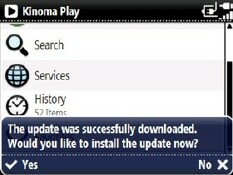 Kinoma's hard at work getting rid of the things people have complained about in Kinoma Play for Windows Mobile smartphones. The company has announced an update for Kinoma Play ($29.95), as well as the free Kinoma FreePlay for Windows Mobile.
The update will install automatically over the air. You can update immediately by opening Kinoma Play's Main screen. Show the menu pod and select Player > Check for Updates. Naturally, the update process depends on your having a data connection through your carrier.
The new and welcome changes include improvements to the program's Scanner function. It's been scanning on startup, uninterruptibly. The updated version lets you configure whether you want that to happen. You'll appreciate this change if you normally use the program to play online media and don't need it to check your memory cards for media files.
Gx5's Ringtone Shuffler
Gx5 has created a small app that they think Treo and Centro users will absolutely love. With Ringtone Shuffler, each time a call comes in you hear a different custom ringtone that you've put on your Centro or Treo. Click on the pic to the right and you can see a larger pic of the Ringtone Shuffler screenshot showing some ringtones chosen from a list.
If you have many custom ringtones and you want to be able to enjoy all of them, Ringtone Shuffler is a great feature because you're getting to "shuffle" the ringtones so you'll hear a different one instead of just one particular ringtone over and over.
With Ringtone Shuffler, you can select the ringtones that you want to shuffle. Maybe you have created 3 ringtones from one song; the first verse, second verse and the chorus. With Ringtone Shuffler, you can select those 3 and enjoy them all. Another scenario would be that you have like 20 ringtones and 5 of those are from one or a few artists you're really into. With Ringtone Shuffler, you can just select those 5 as the ringtones to shuffle.
Sounds pretty neat! I'm not one to create a lot of ringtones for my Centro. If I was, I'd give Ringtone Shuffler a try because it sounds like a nice app. I know that when I listen to music, I always enjoy being able to shuffle the songs as it is a way of surprising myself and not hearing the songs in any particular order.
You can check out Gx5's Ringtone Shuffler, which is currently in Beta, at Gx5's website and also in our TreoCentral Store.
Winterface Updated with Weather
We recently told you about VITO Technology's cool app Winterface for WM devices. Apparently, many Winterface users asked for weather support. VITO Technology says in their press release today that many users find Winterface much more attractive than the Today screen and they want to see Weather information in Winterface.

So VITO Technology has kindly developed a free stand-alone product Weather, which installs on your device just like any other app but its icon displays the actual weather information when added to Winterface. Weather is completely finger-friendly and easy to use.

Besides the Weather icon, the new version of Winterface features other status icons with "live" info like time, calendar, e-mail, tasks and other icons. Winterface 1.14 also addresses some minor device specific bugs and provides further improvements.

You can download Winterface here. You can download Weather here for Free.

Winterface is an app that would look pretty cool on your Treo Pro or Treo 800wx.



Palm's New Holiday Color Centros for Sprint Have Twice the Storage (128MB) of the Original Centro for Sprint!
Palm has officially announced two new holiday Centro colors for Sprint, which have Twice the storage of the original Sprint Centro! Palm is also introducing some new lightweight Centro accessories.

"Official" Treo Pro Bug List on TreoCentral Forum
Found any bugs on your Palm Treo Pro? Some of our forum members have, and there is an Official Treo Pro Bug thread up in the Treo Pro forum section...

T-Mobile Sells 1.5 Million Android Smartphones

Brighthand is reporting that T-Mobile has already sold 1.5 million T-Mobile G1 smartphones. Man alive, that's a lot of phones! All those were pre-ordered, and since the availability ran out, I'm sure there would have been many more sales. T-Mobile has sold all the smartphones that it has available to ship by October 22, which is the launch day.

Geek.com reported last week that T-Mobile had received so many pre-orders that they nearly tripled their production.

Those numbers are pretty interesting since Apple sold 1 million iPhone 3Gs during their launch. Looks like the iPhone and the G1 will be fierce competitors.

According to Ed Hardy at Brighthand, there are two options available for those who are wanting a T-Mobile G1 as soon as possible but didn't get their pre-order in. There will be about 2 million units in T-Mobile stores across the U.S. later this month when the smartphone launches. If you don't care to brave the crowds in those stores, you can put in a pre-order now, but those won't be delivered until some time after the launch day. If I were going to get a T-Mobile G1, I'd go the pre-order route because I cannot handle crowds.

Head over to www.T-MobileG1.com to find a store.



Dell Has Treo Pro for $475
Dell is offering the unlocked Palm Treo Pro for $475

Tip o' the Week: Treo Two-fer
In this week's tip, Brian shares with us a couple of useful Treo/Centro apps...

Your Centro's Camera Can Help Tell a Story
Sometimes a photo tells the whole story, but sometimes it doesn't. You can take all kinds of pics with your Palm Centro, and you never know what you might see on the go or at home...

Kinoma Offers Palm OS Player 4 for Free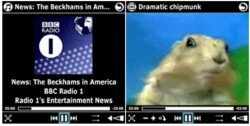 Kinoma, makers of the feature-laden Kinoma Player, has announced a new product, Kinoma Player 4 for Palm OS. The best part is: it's free.

You read right. Kinoma Player 4 is a free edition of the company's flagship Palm OS product, Kinoma Player 4 EX, now in version 4.5. The free version plays music, of course, plus podcasts and Internet radio. It also displays pictures and shows YouTube videos. Both products include Orb support. That lets you stream your music, video and movies from home - with a few gotchas.

Kinoma brags that they were "the first in the world to support YouTube on mobile devices." Kinoma Player 4 includes the same YouTube support as Kinoma Player 4 EX, so you can play your favorites on your Palm OS Treo or Centro.



Treo Software Roundup - v101008
New for Palm OS this week is BEIKS Pocket Medical Encyclopedia, Kinoma Player 4 EX - Spanish, and more. In Palm OS updated apps is Phone Tools Pack 2008, Phone Technician, and more. New in WM this is Spb Online Games, SPORE Origins, Halma Sharp, and more. For updated WM apps we have mDesktop, Mobile Jigsaw and more..

Palm Prunes Accessories

In this economy, retailers are taking a closer look at their inventory to ensure they are carrying a product mix that best meets the needs of their customer base. Therefore, it isn't surprising to hear when some SKUs (as in "stock keeping units") are placed on the "End of Life" list. According to a story posted by Kris at Palm Infocenter, Palm has put the 3202WW Palm Hard Case (SRP $39.99) for the Treo 650 and 700w/wx/p line on "the list." Considering that this particular case was designed to accommodate an antenna (no longer a staple in Palm devices), this move makes sense. Palm's website currently lists it at full price, so if you own an "antenna'd" Treo and are seeking a new case, you might want to check back for "blow out" prices.
The other EOL move has more to do with confusing SKUs. Apparently the 3291WW Palm Vehicle Power Adapter for Treo 800w Vehicle Power Adapter (with micro USB plug) has received its EOL notification. Palm carries another micro USB car charger, the 3437WW (SRP $29.99), which will be updated to reflect its compatibility with the new Treo Pro as well as the older 800w.
The moral of the story? The only constant is change. And if you have an older device that you want to "dress up," keep your eyes open for deals.
ZHMICRO Releases New Processors for Pocket PC and Windows Mobile Devices
ZHMICRO LLC, today announced availability of new Z47 Processors for Pocket PC and Windows Mobile Operating Systems. These new processors provide software development organizations with one development platform for the creation of Mobile Applications without the need for additional third party tools, SDK's, API's, or Emulators.
According to the press release, the Z Visual 08 IDE offers an "All-in-One" Integrated Development Environment that provides software developers the capability of building mobile, desktop, and enterprise apps that require, or would be enhanced by, extending the capabilities of C++. When used with the corresponding Z47 Processor, apps written with Z++ Visual 08 are capable of running multiple Operating Systems. ZHMICRO says that these would include Operating Systems for the Enterprise and Desktop such as Microsoft Windows, LINUX and Unix, and for mobile devices like Windows Mobile, Symbian, and Palm. The combination of apps written with Z Visual 08, and the use of the Z47 Processor, allows for the fast development of Multi-OS Applications and the integration of these Applications onto a wide range of devices.
New Patch Release and New Skins for Pocket Tunes for Windows Mobile
NormSoft has just released Pocket Tunes Deluxe 4.1.1 for Windows Mobile. This patch release fixes a number of known bugs and is available for free to anyone who purchased Pocket Tunes Deluxe 4.1 for Windows Mobile. If you are new to Pocket Tunes Deluxe 4.1 for Windows Mobile, a 15-day trial can also be downloaded for free.

Also, the download for this release now Includes the 320x320 skin for new devices such as the Treo 800w and Treo Pro. Nice!

There's a long list of changes for version 4.1.1, and you can see them all here.

There are also some New Skins for Pocket Tunes for Windows Mobile. One of the new skins is called Thy Gold, and you can see it to right. Check out the skins Pcok Green and Lean too.

All three new skins will support 240x240 or 240x320 or 320x240 resolutions and can be downloaded free.

Be sure to read Brian Hart's Pocket Tunes for Windows Mobile review.



CrackBerry.com Covers the BlackBerry Storm
RIM put out their official press release today announcing that their first touchscreen phone, the BlackBerry Storm, will be available later this fall. Our sister site CrackBerry.com gives a rundown of all the BlackBerry Storm news.

Two Takes on the Cellet Cradle for Centro
TreoCentral Writer Jay Gross and reader Jeff Clayton both used their Centros with the Cellet Cradle. Let's take a look at their experiences and see how the cradle fared with each...

Treo Pro + S&C Cable now in the TreoCentral Store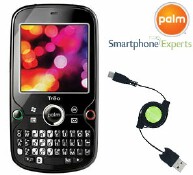 The TreoCentral Store is happy to announce that we're now carrying the unlocked Palm Treo Pro bundled with a Free Retractable Sync & Charge Cable ($11.95 value). So you get the unlocked Treo Pro and the Retractable Sync & Charge Cable for $549.95!

The Treo Pro has been said to be Palm's best Treo to date. We must say that we agree. It's got the sexy looks and has built-in Wi-Fi, built-in GPS, Windows Mobile® 6.1 Professional Edition, flush screen, and we could go on and on of course.

If you're thinking about buying a Treo Pro, why not head over to the TreoCentral store and purchase it there? That way you can support the site! We've got some nice accessories in stock for the Treo Pro too.



Centro Spotting and Goodbye to My Black Centro
I spotted a Centro on "The New Adventures of Old Christine". Also, I gave away my Black Centro.

Palm Dares to "Be Different" - Gastro Pub in UK Tapped for Week-long Treo Pro Event


Note: Click on pic to enlarge.
All next week, as part of the launch of the Treo Pro in the UK, Palm Europe is doing a very hip event that feels almost Apple-like. Within The Truman Brewery on London's fashionable Brick Lane, Palm will have a pop-up gastro-pub named The Black Sheep. For five nights it will be the home (and stage) for mavericks, innovators and those that refuse to follow the herd. The underlying message here is that the Treo Pro is for those who want to "Be Different."
Interesting... Seems like sort of a twist on Apple's "Think Different" campaign (1997), which sought to capture the spirit of the original Macintosh launch - as witnessed in Apple's most famous "1984" Super Bowl ad.
Per the announcement distributed by Palm Europe last week (and posted by Phones Review of the UK), "slated to appear at The Black Sheep are: Piers Morgan former editor of News of the World and Daily Mirror, Karren Brady CEO of Birmingham City FC, synth-pop pioneers Human League giving a one off performance (on October 14), along with a primetime comedian and a Beijing Olympic gold medallist!"
Guests will also be invited to enjoy "a stunning two-course meal by Michelin starred chef Brett Graham, head chef at The Ledbury in London's Notting Hill, and have the opportunity to sample the new Palm smartphone."
Fun times. Since most of us won't be able to cross the pond to participate, we can do the next best thing - check out The Black Sheep website.
A Film Festival for the Tiny Screen

The GSM Association, a wireless communications group, has teamed with a digital content provider named Mofilm and announced the first Global Mobile Film Festival. That's right, Cannes for Thumbelina's TV.
The festival will be held during the Mobile World Congress in Barcelona, Spain, in February. Mofilm and the GSMA are calling for entries from filmmakers worldwide. The opportunity is for short films, up to five minutes running time, that are produced with traditional cinematic technology, or films made with mobile devices.
Facebook Co-Founder Leaving For Own Software Startup
I just read over at InformationWeek that Facebook co-founder Dustin Moskowitz is leaving the company to start his own business with Facebook engineer Justin Rosenstein.

Dustin Moskowitz helped design Facebook, the popular social networking site. InformationWeek is reporting via Valleywag that Moskowitz plans to launch a software startup. Evidently CEO Mark Zuckerberg notified Facebook employees in an e-mail.

Rosenstein left Google in 2007 to join Facebook. Rosenstein said that the company did with 60 engineers what 600 other engineers could not pull off and was on the verge of "changing the world". Facebook has hired several former Google execs since then.



Is the Smartphone the New Laptop?
InformationWeek has an excellent article about whether or not our smartphones will replace our laptops...

Xohm At Home in Baltimore Now
Baltimore is going live October 8 with Sprint Nextel's Xohm WiMAX broadband wireless service.

TreoCentral TreoCast Episode 53
This week: Treo Pro, some sad End of Life news, and the great Android Debate

Searching for Cases for the Treo Pro?
New Treo Pro owners are on the hunt for a case for their new device. Are you one of them? Some of the cases I own are a great fit for the Treo Pro...

Treo Software Roundup - v100308
This week we look at some new Palm OS apps such as Idea-Jot-It and Training Time Log as well as some updated apps. And in WM we look at some new apps like Chronos Alarm Clock and Vehicle Master, plus some updated apps...

Tip o' the Week: Treo Pro Tips
This week Brian gives us some tips on accessorizing our new Treo Pros until more accessories arrive on the market...

Does Palm Need Android?


I read an interesting article over at Big Tech (via Palm Infocenter) in which the author Jon Fortt talks about "Why Palm needs Android". Fortt talks about how things aren't going well for Palm lately as it gets 80% of its sales via the troubled U.S. market, and that Palm's Treo smartphone has given up market share to the popular BlackBerry. Plus Palm losing profits and their revenues dipping.

Fortt notes that Palm has been promising to launch its own new Linux-based platform which has been delayed, and that Palm already licenses and will contine to license Microsoft's WM for its corporated smartphones.

Fortt says that the smartphone world has changed a great deal since Palm started working on their new OS and that Palm might be better off scrapping the new OS plans and joining Google if Android turns out to be all it's cracked up to be.



Palm Treo Pro Unboxing/First Impressions
I got my Treo Pro and am sharing some unboxing pics plus my impressions so far...

Are the days numbered for Verizon Treo 700wx?

The rumor mongers are busy as usual, reading doom for the Treo 700wx into a "While supplies last" flag on Verizon's website. Your mileage might vary, but when I went to Verizon's pages just now to verify the report, I found it clean of any "EOL" indication. Sure, there's that $100 discount if you sign your life away for two years and agree to mortgage your cat to pay Verizon's rates. But no While Supplies Last sticker.
This doesn't mean the 700wx isn't at the end of its run. Palm has new models to sell, and the new 800w from all accounts improves on the 700wx considerably. There's also the Treo Pro, just shipping, which moves much closer to today's cell phone must-have feature list. But take a look at Palm's website. The 700wx is still alive and well, and available for a mere $649.00. Maybe EOL, but if I bought one at that price I'd be furious if it had as short a model life left as the rumors are claiming.
EOL is business-speak for soon-to-be-discontinued or new-model-on-the-way. A cell phone model reaches End of Life quicker than anything in the known universe - usually much quicker than the 700wx, which has been around for much longer than most cell phone models. That's typical of Palm. I'm content to wait.
The conjecture, of course, is that the 700wx is to be replaced in Verizon's lineup with newer Windows Mobile Treos. Maybe so. There's plenty of rumor on that issue, too. The big day is October 12, so say the rumors. This week. But why read my cynical take on it here? If Windows Mobile is your thing, cruise on over to our sister site, WMExperts.com and get your fill of 800w rumors, Verizon and otherwise.