Treo/Centro Sightings
We've got a few more TV and movie sightings for you...

Treo Pro Smartphone by Palm Now Available in Brazil on Vivo Network

Palm, Inc. announced yesterday that Treo Pro by Palm is now available in Brazil on the Vivo network.
Treo Pro is an easy-to-use smartphone for businesses that want to simplify their IT infrastructures and lower costs, and for users who want to stay on top of their professional and personal lives. With its streamlined design and Palm? innovations layered on Windows Mobile 6.1 Professional, Treo Pro is a unique combination of sleek simplicity and robust productivity -- including email, Wi-Fi and GPS(1) capabilities -- that meets the needs of businesses and end users alike.
The Treo Pro smartphone, based on the popular Windows Mobile platform, helps optimize business processes by effortlessly mobilizing users with enhancements to the Windows Mobile 6.1 platform, including:
One-touch Wi-Fi button -- Easy, fast Wi-Fi connection experience (802.11b/g).
Ringer switch -- Silences the device immediately.
Screen saver -- Lets users know at a glance -- without turning on the device -- what time it is and whether they have missed a call or have a new SMS/MMS message.
New voicemail indicator -- The center button flashes to let users know that a voicemail is waiting.
Dedicated email and calendar buttons -- Fast one-button access.
Good to see the Treo Pro making its way around the globe. You can read more about the Treo Pro here.



ArrivedOK: Mobile tool that notifies friends and family when you've landed
Let your loved ones know when you've safely landed with ArrivedOK...

Best of SPE, 29 March 2009


Each week we round up the best of the Smartphone Experts Network in a few pithy paragraphs designed for your reading pleasure. Everything from a new leaked Storm ROM to waiting on any number of new smartphones to finally arrive to a comprehensive look at iPhone 3.0 can be found here.



He's Got a Point... It's Time to Speed Up Cell Phone Approval Process!
Jamie Lendino thinks that the wireles industry should speed up the approval process for new phones...

Heartland Hearts Mobile

eMarketer posted a story talking about mobile-only households that included a state-by-state breakdown. These stats are actually from 2007 and were compiled by the National Center for Health Statistics (NCHS) which is part of the Centers for Disease Control and Prevention (CDC). And the reason they are tracking this type of information is "to assess potential implications for data collection from health surveys and other research conducted using random-digit-dialing methods on landline phones."
So here are some interesting tidbits:
There were ten states that had over 20% of the households and adults with only mobile phone service: Arkansas, Idaho, Iowa, Kentucky, Nebraska, New Mexico, Oklahoma, South Carolina, Texas and Utah. You read that right: 20% of the states had over 20% mobile only users!
In 2007, nearly 15% of all US households were wireless-only, with wireless-only adults making up 13.7% of the population.
The numbers for 2008 are still being figured out. Through the halfway point, the numbers were 17.5% and 16.1% respectively. Clearly trending up.
In case you were curious, the states under 10% include: Connecticut, Delaware, Hawaii, Massachusetts, Missouri, Montana, New Jersey, Rhode Island, South Dakota, Vermont, and where I make my home, California (I blame Comcast and their Triple-Play product offering).
No doubt that the major wireless carriers are monitoring these stats closely.
PC Mag's Take on the Sprint Treo Pro - Solid, Good, LATE!!
Jamie Lendino's review of the Sprint Treo Pro was posted on the PC Magazine webiste on Wednesday. While remarking that it is "a solid, responsive handset for business customers who need Windows Mobile compatibility," and giving it a "Good" rating (3.5 out of 5 stars), he definitely called out the fact that its lateness was not a good thing.
"Timing is everything. And Palm can't get it right," is how his review opened.
He followed that with this complement:
"Sprint's version of the Treo Pro is one of the better Windows Mobile options out there-mostly because Palm hasn't tried to turn it into an iPhone with ineffective finger-friendly overlays that drag down performance."
Other highlights include:
"You'll need the built-in stylus most of the time, but at least the display is bright and clear."
"The small keys on the Centro-like rubber keypad feel cramped, but typing on the device is blissfully quiet and surprisingly accurate."
While he seemed to enjoy voice quality, he had issues with reception. He was definitely disappointed with the performance of Internet Explorer Mobile 6.
Circling back to the timing thing, he noted:
"The Treo Pro for Sprint would have made more sense had it come out at the same time as the unlocked model. That GSM version, while quite good, appealed only to enterprise-level shoppers with AT&T and T-Mobile SIM cards because of its high up-front cost. Sprint's version brings those benefits to a much lower price point, and adds a welcome speed bump and more third-party software."
Timing is Everything

Hopefully, The Sprint Treo Pro will be the last Palm product that's late getting out the door. Maybe, just maybe, the Pre, true to its name, will actually show up before it is expected. Wouldn't that be grand?



Palm Kills TealOS
If you haven't tried TealOS, you've got until Monday, March 30th to pick up a copy...

Treo Software Roundup - v032709
Let's go roundup the latest Palm OS and WM software and see what we have this week...

Twice - New Game from HeroCraft

Hey gamers! Are you like me and love games of logic that require good memorization? Then, check out Twice, by HeroCraft!
Twice is an amazing logic game AND memory training tool in one! Flip the face-down mosaic tiles and remember the pattern on the other side. When you find two similar patterns, you score points. Twice - when simplicity and genius go together!
From reading the description on the HeroCraft Website, Twice sounds very similar to the old Match game!
Twice combines the main principles of a classic game: an attractive appearance, popular and simple rules and a variety of game modes. Its rules are well known: you have to flip the face-down tiles in the puzzle one by one and remember the pattern on the other side. When you flip two identical tiles, you score points. To complete the level you have to find all of the pairs.
Twice combines the main principles of a classic game: an attractive appearance, popular and simple rules and a variety of game modes. Twice has 3 game modes so you can pick the game that suits your tastes — race against time, limited number of attempts or no limits at all. The game really does sound addicting!
Check out some of the screenshots!
Twice's Features:
Colourful Oriental style graphics
Pleasant, relaxing music
Three game modes for all tastes
Excellent memory training tool
Captivating gameplay
Twice is available for Palm OS, Windows Mobile, iPhone and Symbian (S60 v.3 & UIQ v.3) platforms!

Head on over to the HeroCraft Website and check it out!!



Let's Check with Phil... Will there be an Early Pre?
Some analysts say that the Pre could arrive earlier than expected...

Sprint looking to non-phone devices to stay afloat
Netbooks, e-readers, GPS units, and carputers all powered by Sprint's cellular network, at no customer service cost to the company.

Treo/Centro Sightings
A couple of Centros make appearances on "Celebrity Apprentice" and a Treo Pro is spotted on "Heroes". Plus, a contest is coming soon...

New Service Hopes To Find Lost Stuff

Note: Click on pic to enlarge.

Finally, a real use for social networking. A website called SendMeHome.com lets users register their treasures and offer rewards (or not) to people who return them. The users can also create collaborative blogs about physical objects. To help get users on line, so to speak, the group is making its free service available to 175 million Facebook users with a Facebook app.

According to the service, which started last year, 94 percent of people surveyed said they would return a standard mobile phone if they found one. Isn't that nice of them? Only 88 percent would return an iPhone. By my calculation, that makes iPhones fomenters of theft and corrupters of morals. But I'm biased.

The service works similar to the commercial one, StuffBak, but it's free. The plan is to put a SendMeHome ID on your valuables - cell phones, laptops or what have you – so if they go missing, the finders can easily contact you through the SendMeHome website. You register your item with SendMeHome.com to get an ID number for it. Virtually anything can be registered, including the frivolous. You can mark (permanently!) the ID on the item, cross-stitch it onto garments, or spend four bucks on the website to get special stickers. The service has a deal with an engraver, too, for those inclined to super-permanence.

The IDs are transferable, if you sell or donate the item, and you can reuse them for other stuff if you discard its original target. You can offer a reward, or not. If the item is found, communication about it goes through a website that protects your identity and information. Nice!

For more information, and for a laugh at the less-than-serious other services and some more social networking minutia, check out SendMeHome.com. The company's offering cash prizes for creativity in its "Stories" section. They define creativity as bringing in lots of people to read the stories. Wonder if the Pulitzer committee knows about this.



PalmCast Episode 62
This week: What else? iPhone 3.0 and the Palm Pre. Listen in!

Palm Pre landing in a Fertile Market...
When the Palm Pre arrives, it'll find itself in a very fertile market with lots of growth potential beyond Palm aficionados and gadget geeks...

eBook Picks of the Week: Tom Clancy
Tom Clancy's entire library is now available at eReader and Fictionwise

Apps and How-To's: Opera Mini for Palm OS
This week Brian tells us about Opera Mini, which breathes some life into the tired lungs of the Palm OS platform and makes the Centro more of a delight to use. Plus it's FREE...

Palm Pre Analysis In the NY Times

The venerable New York Times has seen fit to print an analysis of Palm's and Sprint's prospects with the new Pre. The article appeared in print editions March 22, after an online version showed up in the paper's web edition March 21.
My favorite part of the article:
"The Pre is a bet-the-company product," says Ken Dulaney, an analyst at Gartner.
A Palm spokeswoman said it is not the Pre, but Pre's new operating system, WebOS, that is the bet-the-company offering. Palm plans to introduce additional products for WebOS, but has not announced any specifics.

Written by Randall Stross, the article looks at Palm's missteps in underestimating the impact of Apple's iPhone and cursorily examines Sprint's precarious predicament. It's way worth a read, but much as I love the Times, the author missed a couple of points:

The iPhone debuted, everyone whined, on a slow and poor network – AT&T, formerly Cingular, even more formerly AT&T – and succeeded anyway. Sprint's network is much faster as the outset, and the company even claims better coverage in more metropolitan areas (temporarily, says AT&T). So, better network, nice Pre phone features. Watch out, iPhone.

And second, those "other devices" with WebOS might be more appealing to more people than the Pre itself, as well as coming in at a lower price point.



A Strange Palm Delay Story
The Commercial Times has a story saying a Palm device will be delayed. What device are they referring to? It's a mystery

Best of SPE, 22 March 2009


Tuesday was a big big day at Smartphone Experts. Not only did we have comprehensive coverage of the new iPhone 3.0 software announcement (and more keeps coming here) at The iPhone Blog, over at CrackBerry.com we had one of the very first hands-on with the BlackBerry "Niagara" 9630. If you add in late developments like some additional Windows Mobile 6.5 features sneaking out at WMExperts and anticipation that the Nokia E71 will finally hit AT&T at Nokia Experts, you make for a fairly exciting week in the smartphone world.

Read on for the Best of SPE!



Treo/Centro Sightings
Just a couple of sightings this time around...

Screaming Bee Releases Voice Changer for Windows Mobile
Voice Twister provides "Tweak and Speak" capability which allows Windows Mobile users to morph their voice...

Palm Announces Q3 FY09 Results
Palm has posted their Q3 FY09 financial results, which are grim as expected...

New Version 1.8 of iWindowsMobile Communication Suite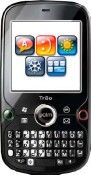 On March 16th, 2009 VITO Technologies released version 1.8 of iWindowsMobile Communication Suite. Want your Windows Mobile device to look stunning? With new graphics and finger-friendly interface, iWindowsMobile can reveal the real potential of your Windows Mobile device! Combining 5 of VITO Technologies' best sellers, iWindowsMobile Communication Suite has it all!
With iWindowsMobile you get the new version 1.3 of Winterface, the Next generation shell for Windows Mobile which includes the options of a launcher, a task manager and a multitude of Today plug-ins. Winterface is intended to virtually replace the default interface of your touch screen Windows Mobile device, allowing you to lay out your icons exactly the way you want them! Winterface 1.31 offers you the possibility to choose between black skin with white stylish icons or bright one with colorful icons and 3d images. Furthermore, what makes Winterface even more attractive is the ability to switch on or off Windowed mode. This mode allows you either to show or hide the standard top WM bar that shows the essential info like start button, time, profile, mobile operator, etc.
iWindowsMobile also includes:
FunContact for managing all your contacts in a fun way with clear and stylish icons.
SMS-Chat for threaded SMS on your device where all SMS written and received appear in a very user friendly way.
ZoomBoard for finger-friendly typing with options to add any language you need.
Weather gives you regular updates on weather of the day and weather forecasts. The new Weather gives the option to choose how frequently updates should appear: every hour, 3 hours or 12 hours. The skin of Weather app changes together with the Winterface skin. All major bugs have also been fixed.
iWindowsMobile Communication Suite is available here for $30! That's a savings of around $30 compared to purchasing the individual applications! Interested but want to test it out first? Perfect! Just download the 14-day free trial and see if iWindowsMobile is for you! What do you have to lose? Try it today!



Friday the 13th: Smartphone Meets Concrete
Sadly, the concrete won...

RNS:: Speedometer GPS for Palm OS
Speedometer GPS is the first GPS speedometer for Palm OS devices, and it looks pretty cool...

New Pricing Options for Gogo Inflight Internet Service; Treo Pro Owners Among Those to Benefit


Aircell provider of the Gogo(R), inflight portal which enables "a robust Internet" experience at 35,000 feet, has just announced a pricing plan for Wi-Fi enabled smartphones like Palm's new Treo Pro, Apple's iPhone and selected BlackBerry devices. Passengers can now connect using their handheld devices for $7.95 on any Gogo-equipped flight of any length. That's a $5 savings over the laptop price. Currently, American Airlines, Delta Air Lines and Virgin America are offering Gogo-equipped flights.
The new $7.95 handheld pricing option allows smartphone users to surf the Web, download entertainment, check e-mail, stay connected to their social networks and basically use their handheld devices to their full extent on the Gogo Inflight Internet service. Laptop users can still connect to Gogo for $12.95 on flights lasting longer than three hours and $9.95 on flights lasting less than three hours.
More information about Gogo can be found at: www.gogoinflight.com. It's a good idea to register ahead of time here. There is also an option to sign up in flight.
Smartphones Sales Forecast According to Juniper Research
Hey folks, I was reading about Next Generation Smartphones Players, Opportunities & Forecasts 2008-2013 by Juniper Research and found the article particularly interesting!
According to the article, by the year 2013, smartphones will account for 23% of all new headsets sold per annum! What's driving the interest in smartphones? According to Juniper, the proliferation of online stores selling specialized applications that make these devices better suited to the individual users' needs!
This isn't really surprising to me! Take the typical iPhone user, for example. These users loved their phones so much that the Apple's App Store reportedly sold 300 million applications within five months of its launch!! And, watch out - other players are jumping in on the bandwagon! Look for similar trends from Google, Nokia, etc.!
I look for games to be one of the biggest selling points of the availability of mobile applications and perhaps a driving force behind smartphone sells! Being someone who enjoys playing games on my PC, I can see why people would love to be able to play some of their favorite games which make the transition to the mobile platforms! Sure, the screen is smaller and the graphics aren't always top-notch, but being able to play that particular arcade classic on the go has its merits to me!
According to the article, other findings include:
By 2013, annual smartphone sales will reach around 300 million
Sales of smartphones will remain healthy during the recession as fewer mid-range devices compete for buyers' attentions and pricing becomes more attractive, while consumers will come to believe that they will be getting more for their money by buying high-end devices
Device vendors are seeing falling margins on handset sales and need to diversify into service provision with high-value content from which they and their network operator partners can profit
Juniper Research provides research and analytical services to the global hi-tech communications sector, providing consultancy, analyst reports, and industry commentary.
I hope the percentage of sales is even higher as folks are exposed to and learn to love smartphones!! Get back to me in 4-5 years and let me know how it all turns out!!
New Palm OS Games From Handmark and Capcom

According to Kris Keilhack over at Palm Infocenter, 2009 has been a busy year, so far, for mobile published Handmark when it comes to Palm OS entertainment titles!
He goes on to mention that the latest Handmark promotion is focused on 4 new entertainment titles for Palm OS devices, all of which are based on licensed media properties or existing console game ports. The 4 games are: Who Wants to be a Millionaire 2009, Are You Smarter than a 5th Grader, American Gladiators and Resident Evil Degeneration - all of which were developed by Capcom - a giant in the gaming industry! Let's look briefly at each game!
In Who Wants to be a Millionaire 2009, players are challenged with 1,000 mind-bending questions. Just like the show, players utilize four lifelines and their wits to work their way to the $1 million question, and the real sound effects from the show keep the action tense, fun and fast-paced. Of course, I always would have won the $1 million if I were the contestant on tv! Not!! But, I love that game!
In Are You Smarter Than A 5th Grader?, all the charm, humor and deceptively difficult questions that made the show a household name are present! In the game, players are asked a series of up to eleven questions ranging from subjects like U.S. history, math or social studies. Perform well, and you can work your way to the $1 million question...choke and you'll be forced to utter the unenviable phrase "I'm not smarter than a 5th grader." I love the television version of this game and hope the charm and humor do make it through to the mobile edition!!
Handmarks version of American Gladiators for mobile pits everyday amateur athletes against action stars and stunt professionals in contests of physical strength and endurance. Test your mettle in seven classic gladiator events such as The Joust, The Wall, Assault, Powerball and the Eliminator as you compete against 12 of the toughest gladiators from the 2008 season, each with unique strengths and abilities! The actual show American Gladiators was cool and I hope some of the charm of the television show makes it through also!
Resident Evil Degeneration is based on the DVD and CG-animated movie. Resident Evil: Degeneration allows players to assume the role of Leon Kennedy as he fights his way through an airport overrun with an army of undead. In the game, players take control of an arsenal of bone-shattering weapons in order to combat a horde of zombies, infected dogs and horrific tyrants through 50 pulse-pounding missions! The movie series was awesome and, again, I hope some of the original charm and feel of the movie make the transition to the mobile platform!
Head on over to the Handmark Website and check out all of their products for the mobile platform!
Putting the Treo Pro & IE Mobile 6 To The Test
Mike Heck of InfoWorld's Test Center just posted his thoughts on the Sprint Palm Treo Pro, which officially goes on sale Sunday, March 15. Since Sprint is the first wireless carrier to ship a device that uses Microsoft's Internet Explorer Mobile 6 browser, which will soon become available on other Windows Mobile 6.1 handsets, this is like a two-for-one review with more oomph on the IE side.
Since many enterprise applications are written for IE 6, and IE Mobile 6 uses the same rendering engine as the desktop version, he was curious to see how the Treo Pro would do. And for comparison purposes, he also gave it a try with an alternative browser -- Opera Mobile 9.5 beta.
Mike's testing occurred on Sprint's EV-DO network in the Philadelphia area where he was able to obtain consistent connections in the 1,000Kbps to 1,200Kbps range (considered the upper end of the EV-DO Rev. A specifications). Basically, a test page that he could download in two seconds from his desktop was being downloaded on the Treo Pro in five seconds, which he described as "a very good showing."
He ran into some challenges accessing complex sites -- in particular Google applications, YouTube, and Facebook. Palm didn't have an immediate answer for him.
"If you're shopping for a Windows Mobile-based handset, the Palm Treo Pro is one of the best. If you want the cost subsidized, and the IE Mobile 6 browser, Sprint's offering may be a solution."
Humm... "May be a solution" isn't exactly a glowing endorsement. Similar to what Bonnie Cha at CNET said, it is clear that the Sprint Treo Pro is a player and should be added to the consideration set.
He also rated it Very Good (8.5 on InfoWorld's scale).
Sprint Treo Pro Now Available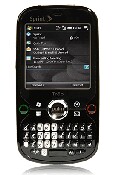 Alltel beat Sprint to the finish line, but we learned on March 4th that the Sprint Treo Pro was confirmed for March 15th. And as of yesterday, the 15th, the Sprint Treo Pro is finally on sale. Good to know you can finally get the Treo Pro from Sprint after the delays. A few people were able to grab a Treo Pro from Best Buy last month before the devices were sent back due to some problems. Malatesta over at our sister site WMExperts got a hold of one and posted up a review.

Dieter gave us a great unboxing and hands-on video recently so be sure to check that out! Plus he answered your Sprint Treo Pro questions from the forums.

So, rejoice and get your Sprint Treo Pro here for $199.99 after contract and rebates.



Around SPE for 15 March, 2009


Welcome to Around SPE, where we highlight the big news of the week from around the network in a format that's more than just a list-o-bullets. This week we're putting the spotlight on Android Central, which saw a fairly hefty redesign on Wednesday night. Search, registration, commenting, navigation, the whole shootin' match is all much improved.



Sprint Treo Pro: Your Questions Answered


We asked if anybody in the TreoCentral forums had questions about the Sprint Treo Pro and dang if you didn't. Slightly delayed but fortified with some nitty gritty details from Autonomous GPS to Titan to Program Memory, here are some technical details on the Sprint Treo Pro.

Full review coming soon!



Tale of Gartner's Smartphone OS Rankings
Looks like Symbian OS comes in at the top of the heap...

Mobile Assistance for SxSW Attendees

Today, South by Southwest (SXSW), the legendary film, music and interactive festival, will kick off -- attracting approximately 11,000 registrants to Austin, Texas. This year attendees will have the opportunity to tap into some mobile assistance as they try to maneuver around this expansive three-ring circus of events.
SXSW has teamed up with The Social Collective to provide anywhere/anytime access to all the official films, music showcases, parties, interactive panels and other events via a site accessible from mobile web browsers: http://my.SXSW.com.
Per the press announcement issued last week:
"The launch of my.SXSW's mobile experience will make finding contacts, finding great events, and finding the locations of the different venues dead-simple, quick and portable. With The Social Collective's modular design, enabling the mobile version of the hosted software was easy and painless. The resulting mobile web application carries the SXSW trademark and brand, just like the rest of the integrated social networking, messaging and scheduling features of my.SXSW."
my.SXSW can support personal schedule export into Microsoft Outlook, which can be synchronized with smartphones such as Treos and Blackberrys. Also, registrants can use my.SXSW to sign up for SXSW Alerts, which provide real-time schedule updates via SMS.



PalmCast Episode 61
Mike and Dieter return for the PalmCast! This week we give our eulogy to the PalmOS, discuss Roger McNamee's hijinks, and take a look at the Sprint Treo Pro and Internet Explorer Mobile 6.

TealOS Beta Version 1.27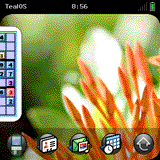 Wow, TealPoint Software is really working hard on their Beta version of TealOS, their multifuctional application launcher that gives your Palm OS device the look of WebOS on the new Palm Pre.
We reported on Beta version 1.14 being available on March 5th, and it looks like TealPoint Software has been updating the Beta everyday since. The Beta for TealOS is now up to version 1.27.
Changes in version 1.27:
Added support for customizing quick launch bar icons
Added support for customizing wave launcher icons
Added ability to preview background jpeg before loading
Added automatic filtering out of launcher-x launcher stubs
Added bouncing anim when trying to discard locked cards with 5-way
Added tip suggesting forcing full scan after effects change
Improved quick launch bar preferences to preview icon images
Improved wave preferences to preview icon images
Fixed icon duplication after installing new apps
Fixed icon process to allow background circle even if desaturate and edge options disabled
Fixed loading jpeg menu from bringing up icon screen
Those are just the changes that were made yesterday! There are a crapload of other changes that you can see here that were added since version 1.14.
I'm glad to see TealPoint working so hard on this app! If you'd like to download the latest pre-release, beta version, 1.27, go here.
And if you want to download the stable, for sale version 1.06, you can do so here. TealOS for Palm OS costs $14.95. If you're longing for the Pre and want a little taste of that cool WebOS, why not give TealOS a whirl?
And don't forget to read Andre's TealOS review.
Palm Discontinues ChatterMail App
Palm Infocenter is reporting that Palm is no longer processing new registrations for the long-revered alternative email application for PalmOS, ChatterEmail. Curiously, Palm's app store still provides documentation and other information, and no announcement if the app's demise has been posted, so the problem might be temporary. But maybe not.

A user post on the ChatterEmail support forum describes the difficulty: the app's "Buy Now" click now leads to an empty page, and the registration links have disappeared.

Palm bought the application and hired its developer shortly before the Centro became a reality. However, the developer of ChatterEmail, Marc Blanc, left Palm in December. See this thread in TreoCentral's forums. The app enables continuously updated email on PalmOS Treo and Centro smartphones. It supports a wide range of IMAP and POP3 servers and IMAP IDLE (RFC 2177).

The Palm Infocenter article recommended that existing users of the registered versions record their registration information and store a copy of the program somewhere, to prevent potential disaster.



Kinoma to power mobile media on new Treo Pro
YouTube and The Wall Street Journal on Audible will be available to Treo Pro owners with Kinoma FreePlay

Palm Treo Pro (Sprint) is Very Good says CNET
CNET's Bonnie Cha posted her thoughts on Sprint's Palm Treo Pro...

Palm's "Bake Sale" and Clarification

On a day that started with some euphoria, as the amount of money raised by Palm was elevated to over $80 million due to an increase in the size of public offering, the "real news" of the day was the statement issued by Palm where the company moved to distance itself from comments made by Roger McNamee of Elevation Partners. A summary what was submitted in the Form FWP (Free Writing Prospectus) - Filing under Securities Act Rules 163/433 can be found on our sister site, PreCentral.net. You can view CNBC's Silicon Valley Bureau Chief, Jim Goldman's thoughts on Palm's Profit Picture.
Circling back to the early morning euphoria, it all started at about 9pm PDT Monday night, when Palm issued a press release, Palm Announces Pricing and Increased Size of Public Offering stating that the company increased the size of its previously announced public offering of common stock to approximately 23.125 million shares, including approximately 18.5 million common shares underlying 49% of the units of Series C preferred stock and warrants acquired by Elevation Partners in January 2009. The public offering price per share will be $6.00, which means that upon the closing of the offering, Palm will receive net proceeds of approximately $83.9 million.
At All Things Digital, in his Digital Daily column, John Paczkowski referred to this as a "Bake Sale" and proclaimed that it was a "resounding success."
"Clearly, the $83.9 million Palm (PALM) netted from the sale went a long way toward reassuring investors that it can afford to give the Pre the strong launch it deserves."
On Tuesday, PALM rose to as high as $7.00 before closing at $6.92.

###

Disclosure: I do not own stock in Palm.



Busy Monday: Palm Remarketing Shares; Files 8K
Palm remarkets some shares to strengthen working capital position...

Around SPE for 8 March, 2009


This week CrackBerry.com broke the first real photos of the BlackBerry "Niagara" 9630, WMExperts brought you hands on details of Internet Explorer Mobile 6, Android Central brought you a walkthough of buying apps in the Android App Market, and PreCentral.net wondered whether Palm would survive long enough to release the Pre. Plenty more happened this week in the smartphone world, naturally, so the thing to do is continue reading to find out what you may have missed this week around the Smartphone Experts network.



Time Change Alert! We Spring Forward on Sunday

It may come as a surprise to many of you that this Sunday, we will be moving our clocks ahead one hour for the start of the daylight savings time season (which officially begins at 2 a.m. Sunday).
I'm all for extended twilight, but was having no problem with the sun setting at 6pm. Especially in March when it still is kind of chilly to be out running around at the end of the day. Tell that to the government, right?
Believe it or not, this is actually the third year that daylight savings time has fallen on the second Sunday in March -- all in the name of saving more energy. At least, that was the game plan. But according to Bob Aldrich, a spokesman for the California Energy Commission, extending daylight saving time had "little or no effect on energy consumption in California."
I know I'm not looking forward to a sleepy Monday as my body tries to adjust to losing an hour of sleep. And according Al Neuharth in his Plain Talk column at USA TODAY, chickens and their handlers aren't pleased either.
"They won't lay their eggs in the dark, so we have to hook up a light in the chicken house. Then we can't let them out for their morning run in the dark because the raccoons get them. You need to start a campaign to get this time change stopped," said Centi Thomson of Canaveral Groves in Cocoa, Fla.
My advice is to lay off the caffeine on Saturday so you can get to bed earlier. Also, be extra careful when you are driving. Per the National Road Safety Foundation's spokesperson, David Reich:
"Drowsiness, a condition most drivers fail to recognize, can be as dangerous as drinking and driving. Studies show 60 percent of us have driven while feeling sleepy, and more than a third admit to having fallen asleep at the wheel in the past year."
That being said, enjoy your weekend and plan accordingly for Monday.

[clock pic courtesy of Examiner.com.]



Sprint Treo Pro Unboxing and Hands-on
We have the Sprint Treo Pro here at TreoCentral. Read on for a video unboxing and a quick look at the new version of Internet Explorer!

Fictionwise Acquired by Barnes & Noble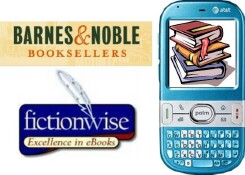 I just read over at Palm Infocenter that Barnes & Noble has announced today that it has acquired Fictionwise, a leader in the eBook marketplace, for $15.7 million in cash.
Barnes & Noble plans to use Fictionwise as part of its overall digital strategy, including the launch of an e-Bookstore later this year.
Fictionwise founders Steve and Scott Pendergrast will continue to operate the e-book marketplace as a separate business unit within Barnes & Noble.
There is a FAQ section on the Fictionwise website regarding the Barnes & Noble acquisition. As to the question, "Why was Fictionwise sold at this time?", the answer is:With the eBook market expanding rapidly, Steve and Scott were looking for the right partner with a shared vision on the future of the industry. Barnes & Noble was an excellent match and Steve and Scott look forward to working with them during this exciting time for eBooks.
Another question was, "How will Barnes & Noble's acquisition of Fictionwise, Inc. affect the Fictionwise.com and eReader.com websites?"
The Answer:
The acquisition is very good news for eBook customers at both websites. Customers can expect to see more eBook content than ever before. It also means that additional resources will be available to improve the websites and continue the expansion of the eReader format onto more platforms.
Fictionwise is my favorite eBook website, and I'm excited to learn that we can expect more eBook content than ever and the expansion of the eReader format onto more platforms. I may have just bought a Kindle 2 and also put the Kindle App for iPhone on my iPhone 3G, but that won't stop me from reading eBooks on my Palm smartphones. I love reading eBooks on my Treo's and my Centro and have found many great eBooks at Fictionwise over the years. Plus many great bargains!
Congrats to Steve and Scott and to Barnes & Noble also!
New Beta of TealOS for Palm OS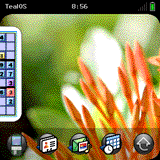 Jason over at our sister site PreCentral.net reported on the photos circulating of what appeared to be a Centro running on WebOS. Annie let us know that what we were actually seeing was a new app by TealPoint Software called TealOS. Then Andre wrote up a review of the app after downloading it to his Centro. Andre wrote:
..A few days after seeing Palm's webOS debut at CES (yes, after, not before), the TealPoint devs rolled up their sleeves and set out to recreate the webOS experience on the well-aged Palm OS.
The result, TealOS, emulates much of the basic eye candy and user interaction found on the Palm Pre: swipe gestures, card representations of multiple applications, updated icons, and a "wave launcher" callable from within almost any application. But while TealOS mimicks the Pre, there's no true multitasking, no Synergy, no universal search, and of course, none of that lovely hardware we're all dying to get our hands on...
Andre was impressed with TealOS, but concluded:
I'm too used to my hardware button settings to replace my default navigation with TealOS, and I'm too close to replacing my Centro to register this app, but I was very impressed nonetheless. If nothing else, it gives you a way to test drive some of the Pre user experience. But while I wouldn't avoid getting the Pre for the lack of a D-pad, the ability to navigate TealOS with the D-pad is a clear advantage over the "real thing."
Be sure to read his full review.

I just read over at PalmAddicts that there is a new beta of TealOS.



Whoa Nelly! Reaction to PALM News Swings Hot N Cold
Annie takes us through the different reactions of analysts and tech blogs on Palm's stock news...

Alltel Treo Pro On Sale Now for $199.99

Phil over at our sister site WMExperts has let us know that the Alltel Treo Pro has gone on sale a day before expected. So Alltel beat Sprint out of the gate for having the first CDMA Treo Pro for sale in the United States. As we heard earlier today, Sprint's Treo Pro is confirmed for March 15th.

The Alltel Treo Pro retails for $519.99, but you can get it for $199.99 after an online discount of $195 and and a mail-in rebate of $125, and other contract stuff.

I couldn't find the Treo Pro on an Alltel site for my zip code but finally found it for a Charlotte zip code. Yep, I reckon I live out in the boondocks y'all. I noticed that Alltel is offering a Free Bluetooth headset if you order online.



Deal Alert! Pocket Express by Handmark is now Free!
Here's a treat for any of you who have a Centro (or Palm OS Treo) and want to hold your own with those sporting iPhones...

Sprint Treo Pro Confirmed for March 15th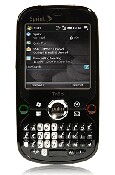 Well, we finally know for sure when the Sprint Treo Pro is coming; March 15th!

Palm, Inc. and Sprint today announced the upcoming availability of the Treo Pro smartphone for the Sprint Mobile Broadband Network on March 15th.

Treo Pro will be available through all Sprint retail channels, including www.sprint.com/treopro, 1-800-SPRINT1 and Sprint retail stores, for $199.99 with a two-year subscriber agreement (after a $100 instant rebate and $100 mail-in rebate, with an Everything plan with data or a $30 per month or higher data add-on). It also will be available through the Palm Store www.palm.com/store and Palm's B2B sales organization beginning March 16.

Don't forget you can read Malatesta's world's only hands-on over at our sister site WMExperts.



Palm's Preliminary Q4 Results are Grim
Palm halted their stock briefly today so they could release the bad news: their earnings for Q3 of Financial Year 2009 are going to be way down

Sprint Paying $125 for Referrals

Note: Click on pic to enlarge.
Looks like Sprint has a new way of getting some new customers that will also make their current customers happy. Sprint is now offering a plan that pays $125 for each referral. This is a limited offer that's valid until 3/31/09.
So if you refer a friend to Sprint before the end of this month, you and your friend will receive a Sprint Referral Reward Visa debit card. After your friend's account has been active for 30 days, you'll receive a $100 card and your friend will get a $25 card.
You're limited to 12 referrals over the course of a year, and of course you can't refer yourself.
To refer someone, go to Sprint's web site and send an email from this link. If your friend buys a new Sprint phone, he or she is to call #REF (#733) within 15 days or by 3/31/09. Sprint will ask your friend for your Sprint number so you can get credit for his or her new account.
Think of all the new customers Sprint would be getting and all the gift cards given out if the Palm Pre were to be released this month!
via PhoneArena
Alltel Treo Pro Rumored for March 5 Release
Sprint customers are still waiting for a CDMA Treo Pro to be released. Looks like Alltel could be releasing one as soon as March 5th, this Thursday, according to WMExperts via BGR.

Apparently, BGR got word on this little secret, and the news is spreading. After a $125 rebate, Alltel subscribers can get the Treo Pro for $199 on a 2-year contract.

According to BGR, "this might just be for divested customers only".



Around SPE for 1 March, 2009
Read on as we summarize the week's news from all of Smartphone Experts